Stefan Bradl has taken the world of grand prix motorcycling by storm in recent races. From taking his first Moto2 win at a damp Estoril late last year, he's turned his world around over the winter and now has an astonishing 43-point lead in the championship.
From winning that 'tyre' race in Portugal (some are sceptical of the outright pace of a rider who cannot win in fully-dry conditions), Bradl and his German Keifer team have clicked with the Kalex chassis that didn't even feature on grand prix racing until last year. So where on earth has the speed come from?
Bradl hasn't stopped winning in 2011 © LAT
"It's a difficult answer," says Bradl. "Many guys are asking this. I think progress was something we did at the end of the last season. If you watched the whole series, I made progress, and it's the step we made towards the guys in front. I think the last three races [of 2010] especially, with Portugal where I won in strange conditions, made this click.
"Over the winter we changed the bike from Suter to Kalex and immediately I felt great, especially the acceleration and the corner speed. The back of the Kalex bike just feels better with more feedback from the rear tyre, better drive and better acceleration. And this can be fine-tuned. Also the front end. During the winter tests we had no problems and everything worked quite good - we were a little bit lucky that we didn't get any problems with the bike. At the [official pre-season] IRTA test I made good job, and came to the first race with a good feeling in that respect."
Confidence is very close to arrogance in many people's minds, and while everyone can now see the strength of the rider/bike combination, only a select few - including Bradl himself - were aware of it before the circus rocked up to Qatar's Losail circuit. But did he seriously think he could start as strongly as he did though?
"Yes. I can say this because at the test at Jerez and also the test before in Portugal, I knew that I was there and I had the feeling that I was there. I'm not always in the best during the winter tests, but I knew that I had more potential if I needed, you know? If we have to make the attack for the time, I knew that I am there."
So when was the decision made to end the association with Suter and come to the Kalex instead?
"It was a very early one. I think we made the decision last year in Brno."
While this conversation is taking place, Bradl is proudly wearing an Omega watch on his wrist - despite having just collected his fourth Tissot timepiece of the year for taking yet another Moto2 pole position. What follows is a fascinating insight into his character.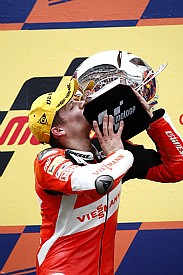 Victories have tasted sweet so far for the German © LAT
"I didn't want anything too flash, so after Estoril I went and bought this as a treat for myself," he says.
This really confirms that here is a very quiet and gentle guy who has managed so brilliantly not to get caught up in the whirlwind that is life in a modern motorsport paddock. The inevitable is to ask how he has bonded with Kalex, the former DTM engineering specialist that has taken the two-wheeled world by storm in a way that fellow four-wheeled converts John Barnard, TWR and Ilmor did not.
"That's actually one reason why we, or why Keifer [his team] took the position to take the Suter bike for 2010. We were not 100 per cent sure about the Kalex. We were thinking about the Kalex for 2010 but then we choose the Suter. And then everybody saw that they were in front, that their motorbike is good, and then we decided to make it all-German."
"It is the first time the car guys have had any success in the bike world, but they made it very simple [Kalex chiefs] Klaus and Alex Baumgartel Hieskorn. They did a good job. They just took a standard [Honda] CBR 600 and then they fine-tuned everything. I think Alex is on the computer; he is a good designer, and he is thinking very clever but in a simple way. Not too... not too... how do you say it in English?"
I offer the word complicated.
"Yeah, not too complicated. Exactly."
Bradl isn't complicated either. He's on the the crest of a wave at present and all after jacking it in during 2006 after the pressure got too much for him in 125s.
"Yeah, yeah. But I think I made good progress! It's already four years ago, and it was difficult because coming from the German Championship where I had my family around me all the time, and then going to the World Championship in 125s, it was a bit of a jump. It was a dream to get into grands prix, the World Championship, but was very difficult for the first year because at this time in the 125 class, I think it was one of the best years in 2006, and the fastest."
Unfortunately for the KTM team it all came to a grinding halt overnight, leaving mutual friends stuck in the lurch. We speak for a moment, a clarification needed on whether what's to come is off the record?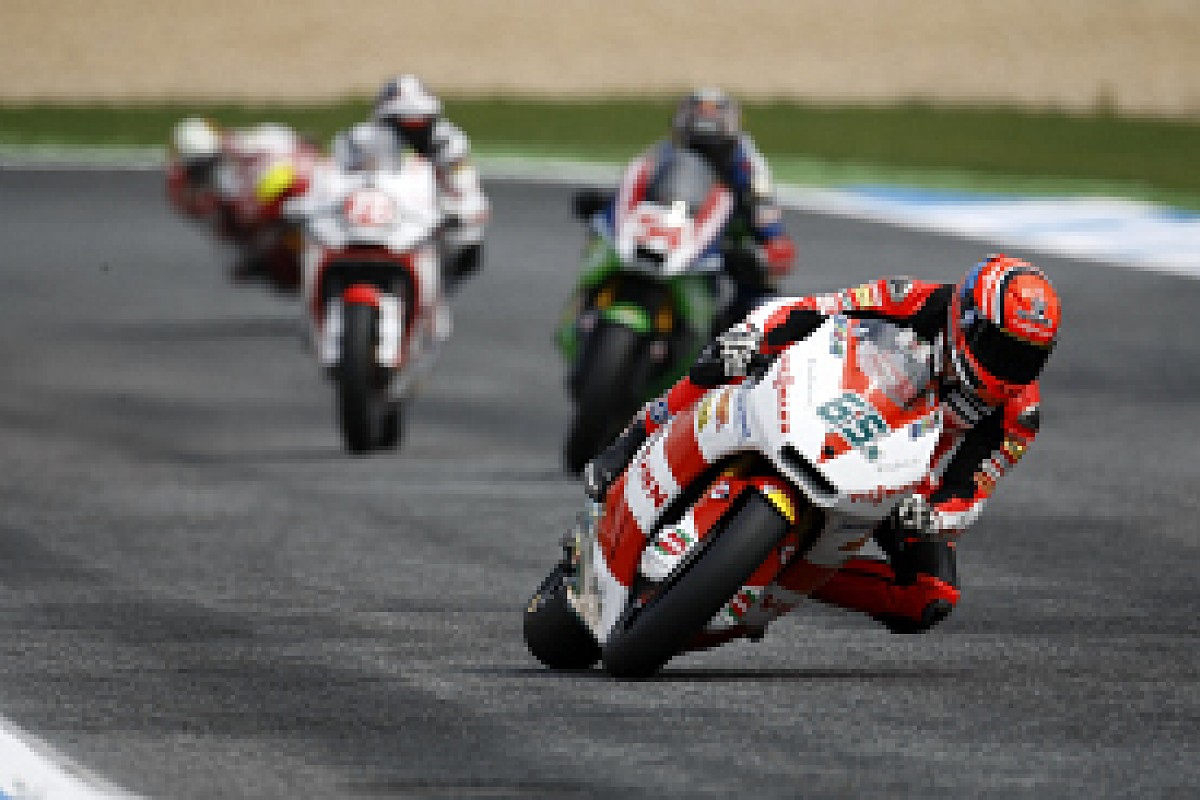 A common sight in 2011: Bradl's Kalex at the front of the field © LAT
"No, you can write it because I am very angry with them. Everybody, I don't know how to say, was disappointed. They [KTM] don't have any character."
Bradl then got an offer from Repsol 125 team but turned it down, citing that he was pushed a little too hard by the project's prime mover Alberto Puig.
"They pushed me very hard," is all he says on the subject.
Again, this shows that he's a guy who is mature ahead of his years, something that enables him to keep his head while those around him throw theirs into the gravel traps. Surely, I ask, there is a time when nerves kick in?
"No," he responds. "It's also because I have good confidence now, I know what I am able to do, and sure the success gives me the support. But MotoGP's not all in my life. It's a big part in my life but it's not everything. I have a family at home, this is more important.
"I am also a little bit surprised what they are saying about Japan and why we need to go. If they ask me I [will] say there is no reason to go because they have problems. Stop. That is all. I think we [in Moto2] made it a good show in the last time, compared to MotoGP. Some races were better."
The dig against some of the less interesting MotoGP races is subtle. Here is a thinker.
Returning to racing, the conversation turns back a couple of races to Estoril [this year] where Thomas Luthi and Andrea Iannone both led and fell, yet Bradl held it together. I read from my notebook that after practice Bradl told me "I want to make a clever and safe race tomorrow."
But is that something that's always in his mind when he starts a race? An idea of letting the 'hooligans' go?
"Yeah. Many people ask what is my plan for the race. I always say I will do my plan during the race, because you never know what happens: if you have a good start, if you have a bad start... You never know. So my plan is to do a clever race and finish the race. And I don't know how my physical condition is, how I get into the room, and many questions I can just answer during the race. If I have not the pace of Tom [Luthi], or of Iannone, or whatever, I have to be clever and say 'okay, I have to be happy with third, or fourth, or fifth'. This is what is my plan for the whole season. If I see there is the possibility to get the podium, or to get the victory, I will try because I am a racer. But not 110 per cent."
So what is it like to ride a Moto2 bike, especially for a small, stocky guy like Bradl? Is he giving away anything to the minuscule Marc Marquez or the strong, but taller, Iannone?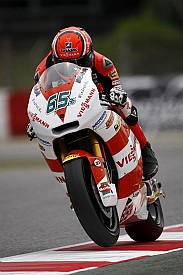 Bradl has kept his head down and reaped the rewards © LAT
"It's a prototype racing bike, so it has to be easy to ride fast. But physically it's a lot more than 125, because it's double the weight and more than double the horsepower, but it's also a little bit more fun because you can spin with the tyres. Yeah, it's a bike, it's a real motorbike, but compared to some street bikes, or Superbikes, or Supersports you see on television - which really move a lot - they are far more stable."
Now we're talking about prototypes and he's touched on Superbikes moving around a lot on track. That, I've learnt, is a GP racer's way of lightly dismissing production racing. That leads onto the big MotoGP question.
"I think about it. I think it's a dream, it's another step of my career. When I was young I followed Valentino [Rossi], I followed those guys and I said 'my dream is to go in MotoGP'. I think right now I have a good progress so I think about it, yes, but it still is too early in this season."
He mentions Rossi and the maths comes along quickly; Bradl was just 10 when Rossi came into the big class. Was he a hero?
"It is a strange story, because I watched all races when I was like five, six, seven years old, and then I said '500cc, I don't want to see because [Mick] Doohan wins all the races, so it's boring for me'. Then I go in the garden."
Aussies and Spaniards dominate the big class, but when will the Germans return? Rumours are already abounding that this softly-spoken Bavarian on the Bavarian bike with the fast Bavarian father [Helmut Bradl, a winner of five 250cc grands prix in 1991 and that year's championship runner-up] may well be on a Japanese MotoGP bike next year. If so, the established riders had all better watch their backs as this guy is the real deal.