Talk around the MotoGP paddock over the Jerez weekend peaked regarding weight limits and how it's unfair for the heavier riders to haul as much as 20kgs more bodyweight than some of their smaller rivals. With bikes weighing in at just 150kgs in 2011, and all having access to a about 225bhp, should there be a minimum weight limit in MotoGP for bike and rider combined, just as there is in 125cc?
Let's look at a few facts.
Dani Pedrosa is the lightest rider
When he leaves the line, Dani Pedrosa and his Honda RC212V weigh 202kg, while Valentino Rossi and his Ducati are 217kg and the Marco Simoncelli/Honda combination with 222kgs. There are many advantages for Pedrosa to shift 19kg less than Ben Spies, least of all off the startline from a dead stop - a time when the shifting of the mass is the hardest for the engine.
For Spies and Simoncelli, it's the equivalent to carrying an extra weight that's not far off a bag of cement. But there are also obvious advantages too for the bigger guys in that they're inherently stronger and able to wrestle the bike in and out of corners with greater ease than their 'weaker' rivals. Though I use the term 'weaker' in a MotoGP world level that is still way ahead of mere mortals who watch from the sidelines.
A heavier rider is also stronger but can also move his weight around the bike fore and aft to aid anti-wheelie or traction, while a lighter rider such as Pedrosa has less weight to affect the attitude of the bike with.
Putting it into percentage terms, Pedrosa weighs 25% of the package while Simoncelli weighs about 33%.
Word is that a weight limit had been suggested in a Safety Commission meeting by Rossi and Simoncelli. It was treated with some interesting chat around the paddock.
If there was a minimum weight limit introduced, would it be in between the light and heavy ends of the riders' weight scale in MotoGP? For argument's sake let's pick on 220kgs as the minimum weight limit so that Pedrosa has to move around the same mass on two wheels as Valentino Rossi.
This throws up all sorts of conundrums, not least the multi-million dollar cost of developing a motorcycle that is 150kg, only to bolt on another 20kg of ballast. These bikes contain exquisitely machined parts that are as light as 2011 technology allows, and all in a prototype class that does have a direct effect on some road bikes further down the technological food chain.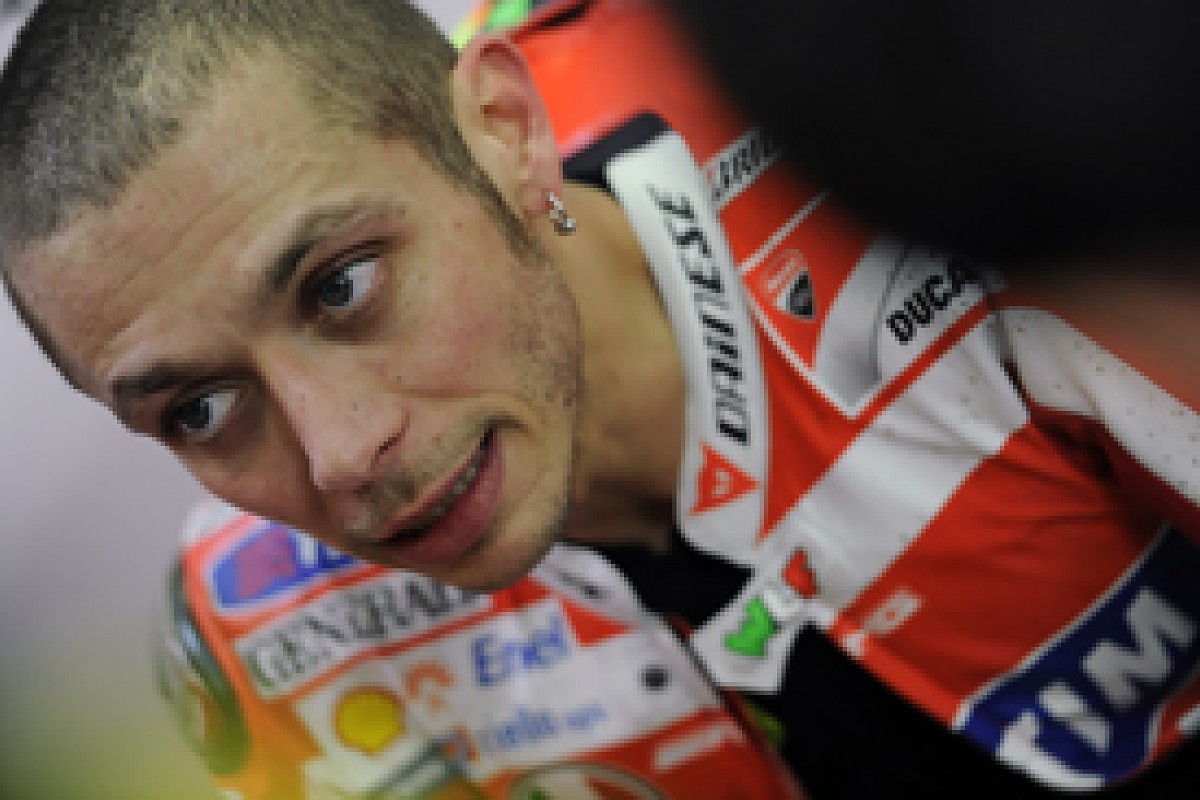 Valentino Rossi
Secondly, what ballast should be used? F1 uses Tungsten that's three times heavier than lead. It's bolted to the bottom of the tub in a manner that is not ever, ever going to come off in a crash. F1 cars have carried up to 70kg of ballast in the past.
With bikes though there is a problem. There is no perfect place to put ballast. Firstly, there is no low down mounting point that might be strong enough for a 20kg lump of tungsten, while anywhere higher up is in no way the engineer's friend, nor a diminutive rider like Pedrosa who would then have a heavier bike to move around.
You can't attach it to the bodywork. The only centrally strong mounting point on a MotoGP bike is the triple clamp / headstock area. Under the seat is rammed full of fuel pumps and exhausts fitted to the millimetre. That could be adjusted to find space for ballast, but designs are already as good as finalised for the 1000cc bikes, and in the case of Ducati, already turning wheels this week.
My fundamental argument against ballast is why is it even needed? The guys that have won recent world championships aren't breaking the scales.
990cc
2002 - Rossi 67kgs
2003 - Rossi 67kgs
2004 - Rossi 67kgs
2005 - Rossi 67kgs
2006 - Hayden 69kgs
800cc
2007 - Stoner 60kgs
2008 - Rossi 67kgs
2009 - Rossi 67kgs
2010 - Lorenzo 65kgs
Lots of featherweights in there aren't there? Why does the class need to be ballasted? Should short people be on stilts for basketball, or maybe thin people be given free burgers to become sumo wrestlers?
Casey Stoner, Honda, Jerez 2011
One final thought; if riders have to weigh the same, then why do the bikes have to adhere to a weight limit? Horse racing has survived for generations without the horses from being weighed.
The 'horse trainers' of MotoGP are the designers and engineers that construct the bikes and that is the battle between the manufacturers and the very reason why they want to go toe-to-toe with each other to prove that they are the best, not to go racing with a 20kg lump of metal bolted on to the frame.
Besides, there is one very clever mind in MotoGP and if we understand it all correctly it was Valentino Rossi (and his mate Marco Simoncelli) who suggested it to the Safety Commission. A gathering of non-technical people who should be discussing anti-slip paint on kerbs, air bags in leathers and the run-off at Laguna Seca.