Casey Stoner confirmed what most people already knew from pre-season testing in Qatar - that he is the man on a mission into 2011.
He was always going to win the Qatar Grand Prix last Sunday having been first or second at the end of every one of those eight days of pre-season testing. What we didn't know is that his rivals would give him such a push in the early laps... but there may be a couple of reasons for that.
One, is that Jorge Lorenzo and Dani Pedrosa rose to the occasion plain and simple, and two, Casey has realised that trying to beat them into dust on every lap and risking falling off is an idea better left for others to fall afoul of.
Honda has certainly made a motorcycle that is a level above the rest at the moment. But more than that, it looks as though Honda has returned to building 'rideable' bikes capable of being competitive in the hands of more than a couple of people, just as the latter NSR500s and V5s were.
Stoner's victory answered a couple of questions that many might have missed on Sunday night too. At times in the past it's been him against the press and the press against him. He's sometimes produced answers negatively, opening with, "I won the race, but..." He isn't all flash and me, me, me like others though. All he wants is recognition for beating his rivals, something he now deserves having won the same amount of MotoGP races as triple world champion Wayne Rainey - 24.
What has to be admired is that all of the 23 races he won on a Ducati were achieved with no-one but himself in that team really pushing him for superiority. Now though, there is someone pushing him in the shape of Dani Pedrosa. But Casey proved in Qatar that he can still dish it out.
Sure, the telling tale will be at Jerez next time out where he's traditionally struggled compared to the Spaniards. However, Pedrosa who said he's so happy to start a GP season uninjured discovered that over a 43-minute race he is actually still lame and is still suffering the effects of his Honda's throttle sticking open on the Friday afternoon at Motegi last October.
Fitter than his small size lets you believe, he ran into the brick wall that was his left shoulder collapsing with weakness half a dozen laps from home in Qatar. From leading the race at the start, he was lucky to maintain third as team-mate Andrea Dovizioso closed in. Alarm bells are ringing in Camp Pedrosa to try and cure a problem they didn't think they had. He looked devastated in Parc Ferme.
Maybe he won't have a full MotoGP season uninjured after all... and that's going to steal a title challenger to Stoner and Jorge Lorenzo from us. Shame that.
The stand out ride may well have been Lorenzo's to again clinch second place at Qatar, just as he did in 2010. He and his engineer Ramon Forcada found 1.7s in qualifying from where they left the bike post-test on Monday - a pretty remarkable leap without any new parts arriving from Japan. The battle of the Spaniards is nothing less than intense, so at the moment it's one-nil to Jorge.
Surprisingly, Shuhei Nakamoto of HRC wasn't so much over the moon happy at the result, but relieved. After Casey's pole he said: "Yes, but I wanted to beat the 1m53.9s that Lorenzo did on qualifying tyres in 2008." The determination to engineer a steam-roller was very apparent in his matter of fact statement.
Dani Pedrosa leads Casey Stoner © sutton-images.com
I got the same sense of relief after the race from team manager Livio Suppo, whose plan is coming together now he is starting his second year at Honda. Proving that he can assemble a package that works, just as he did at Ducati. The Marlboro reds were being lit from each other in celebration.
The big step for Honda is now to see if they can do it at the other 17 tracks.
Stoner is a bit of a given at Qatar so that needs to be taken out of the equation. He's never really gone very well at Jerez, so that will be an acid test that will really show us what's in store. As Casey said before the race, "I'm looking forward to later in the season to see how we're going to go."
The Aussie is being as self-effacing as ever about his bravery and commitment but 2011 is not a given after Lorenzo's second place. Jerez is going to be very interesting indeed - probably more so than Qatar.
There's already been a race, but maybe the championship starts in Spain in 10 days.
KALEX
The Moto2 race was won by Stefan Bradl after the German had taken his first pole position in any class. Same team, same people but different chassis was the key for the German to win his second race in three grands prix after switching to the Kalex bike.
Crossing the border from the Swiss Suter to the Bavarian Kalex has sown a seed that could prove that true car engineers are able to win in bike racing.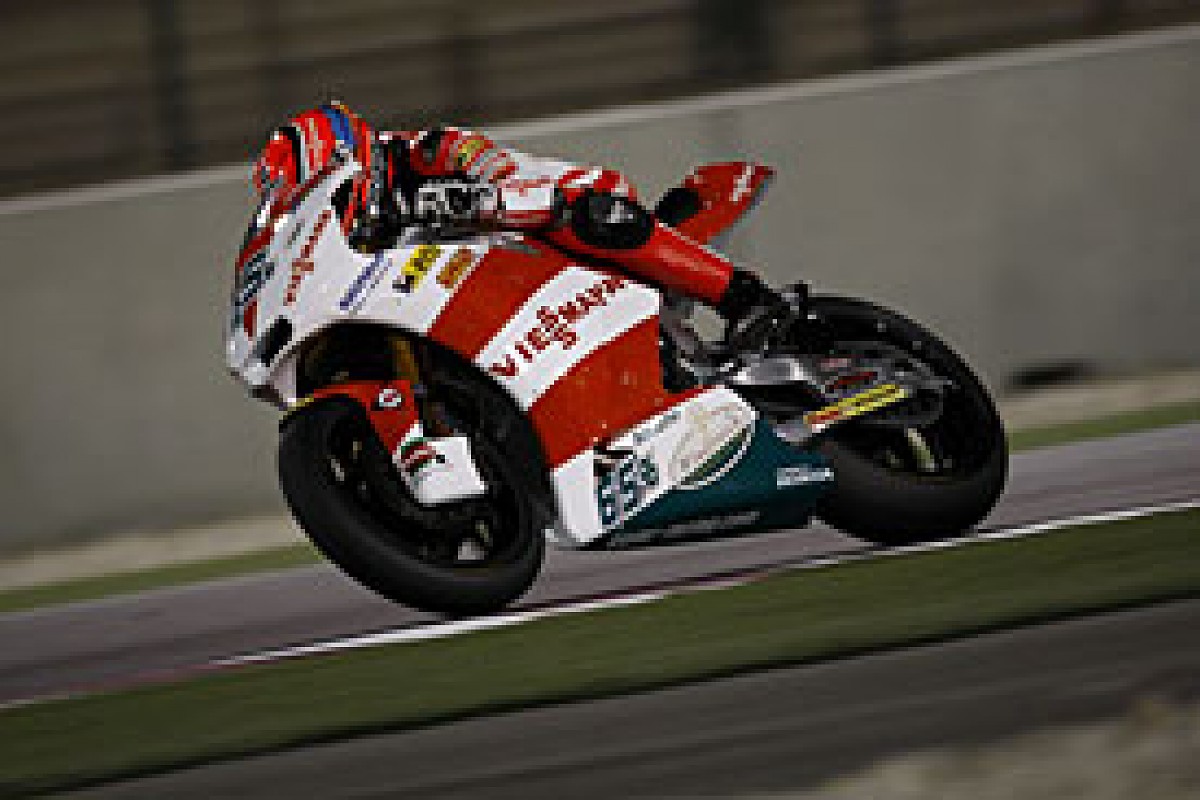 So who are Kalex? Never heard of them? Nor had I until last year when leafing through Performance Bike magazine - which was lusting over one on a track test at Hockenheim. Kalex is Klaus Hirsekorn and Alex Baumgaertel who worked for the Holzer squad - which ran Opel DTM cars until GM pulled out of the series at the end of 2005.
"I was a design engineer for the works Opel cars but when it stopped we did our first fun project which was a bike for the Sounds of Thunder Championship in Germany (a 'run what you brung' kind of championship). We made a chassis and put an Aprilia Mille engine in that we ran in 2007 for the first time. It had 156bhp with 155kg. We got pole and we won the race," said Alex.
It's quite a way to start a chat about the project. In the first 30 seconds of conversation you realise these guys might just have got it right in making such a complete part of a bike - where others have got it off target - for reference see TWR Team Roberts triple in '97, see Team KR V5 and the Ilmor project.
"As soon as we heard that Moto2 was going to be a control engine, that was when we wanted to do this. We don't do engines.
"In the same building as the original Team Holzer, Mr Holzer being a share holder of Kalex, there are now 100 people making suspension parts for HRT F1, machining F1 clutches for Sachs and doing some other machining and welding for Airbus."
Another verbal bullet just gets thrown over the flight case that we're leaning on in the Qatar paddock. Airbus? Aviation machining? Crikey...
"Oh yes, there is quite an area around us in Bavaria that is technological," explains Alex. "It is a composite world too with an ex-Sauber guy making perfect quality carbon fibre for the bike too. He's an English guy."
Alex talks openly if only a little nervously as people are milling around with the sun going down on the Sunday afternoon before the very first Moto2 race of the season. He's very confident in his work, as has been backed up by the client list, but he's not at all brash: "Ah yes, but you still have to have the rider. You still need him to do the thing on the track."
Someone better sign Kalex up to make a MotoGP chassis for the new rules that start next year. How about BMW?