Was 2010 was a classic MotoGP season? Anything that featured Valentino Rossi truly battling against rivals and his team-mate for the first time was always going to be fascinating. Until Jorge Lorenzo, he'd rarely even been bested by a team-mate in a race let alone a championship. Then Jorge turned up and beat him in a race at the third time of asking - as a rookie too - back in 2008. Ever since then, Rossi's had to contend with this annoying young pup.
Jorge Lorenzo sports his newly-earned #1 plate © LAT
Looking back at it now, the writing was always on the wall for a Lorenzo versus Rossi showdown. And while we just revelled in Rossi riding and developing the Bridgestones on his own through the 2008 season that he went on to win, once Lorenzo stopped crashing and banging his head, he was always going to fly.

As a mere 23-year-old, Lorenzo has now beaten a guy with eight years more experience in the MotoGP class, but we mustn't however be too quick in writing Rossi off just yet. He's not going to 'do a Michael Schumacher' at Ducati and slither down the order in 2011.
In fact really all the 2010 season has done is tee-up 2011 to a greater degree; the buzz around the paddock in Valencia was more about the tests on Tuesday and Wednesday than celebrating Lorenzo's title, which admittedly was secured some time ago. Having said that, he did rub their noses in it from way back last Sunday, nearly crashing, and yet still winning his ninth race of the season. That's a 50% of the races in fact.

So how did those races unfold? What were the highlights?

Lorenzo began this season having missed pre-season testing after falling off a SuperMoto pre-season, wrenching his right hand in the process. He couldn't ride many laps on the trot as he went into the first race, but he still battled through - unaware of his own heroics until he scored a very unexpected second.

From sixth on the first lap in Jerez, he won the race in the last half a lap with a cool ride. His campaign then blended into domination mid-season. He was either first or second from April until the end of August when he finished third at Indy. Out of 18 races he was on the podium 16 times. It's no wonder he scored the most amount of points ever amassed by a rider in a single season, eventually winning it by 138 points over Dani Pedrosa. Doom mongers and non-racers might complain that this it was only a Lorenzo title because Rossi missed four races, but I say the facts are that he beat Rossi by six complete races, 150 points.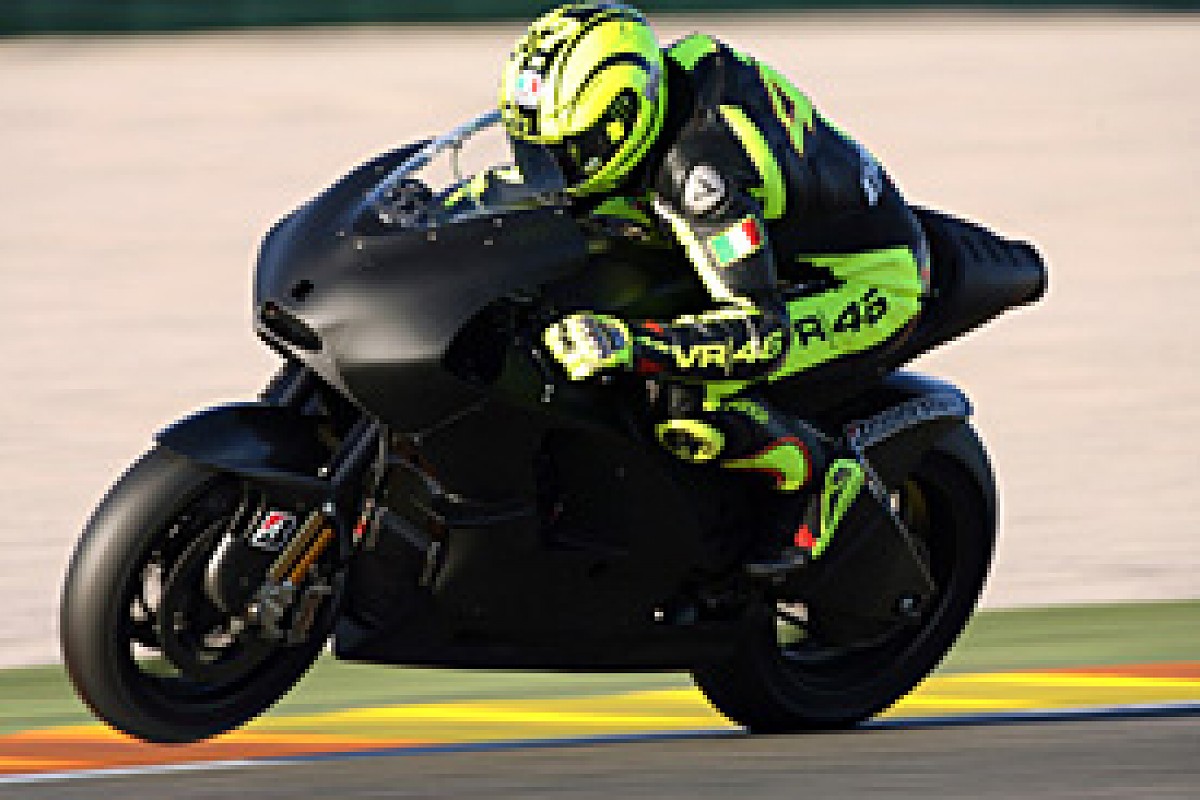 Valentino Rossi melted Italian hearts and servers when first he rode the Ducati on Tuesday © LAT
Rossi really only rode one race all season fully fit before he fell off a moto crosser and wrenched his shoulder, then got it misdiagnosed and finally treated all before the broken leg at Mugello took over the headlines. But even when his leg got better and he returned to the winner's circle in Malaysia, the shoulder was still not right. Or at least it was in rhetoric.

Many believe that Rossi's leg-breaking crash was down to many things catching up with him at the same time; cold tyre in the morning (the bane of the season) and pressure to beat the already championship-leading Lorenzo.

It is all part of the championship; Fridays, free practices, press conferences. The races start on Thursday when they walk through the gates, not just when the lights go out at 2pm Sunday.

Casey Stoner had the 2007 speed back in the palm of his hand, but it fell out of it just half a dozen laps into the very first race of the year when he crashed while leading in Qatar. It knocked his momentum, and then Jerez came next and he's never liked that place. Falling at the next round in France hardly helped his confidence - anyone who's ridden a bike with a front-end that falls away you will tell you how it felt to ride a Ducati this year. Just ask Nicky Hayden...

The team finally sorted the problem out at Aragon sorted when it introduced a new setting to the Duke that the test crew had uncovered at Mugello. Ta daa! Three wins from four races promptly followed.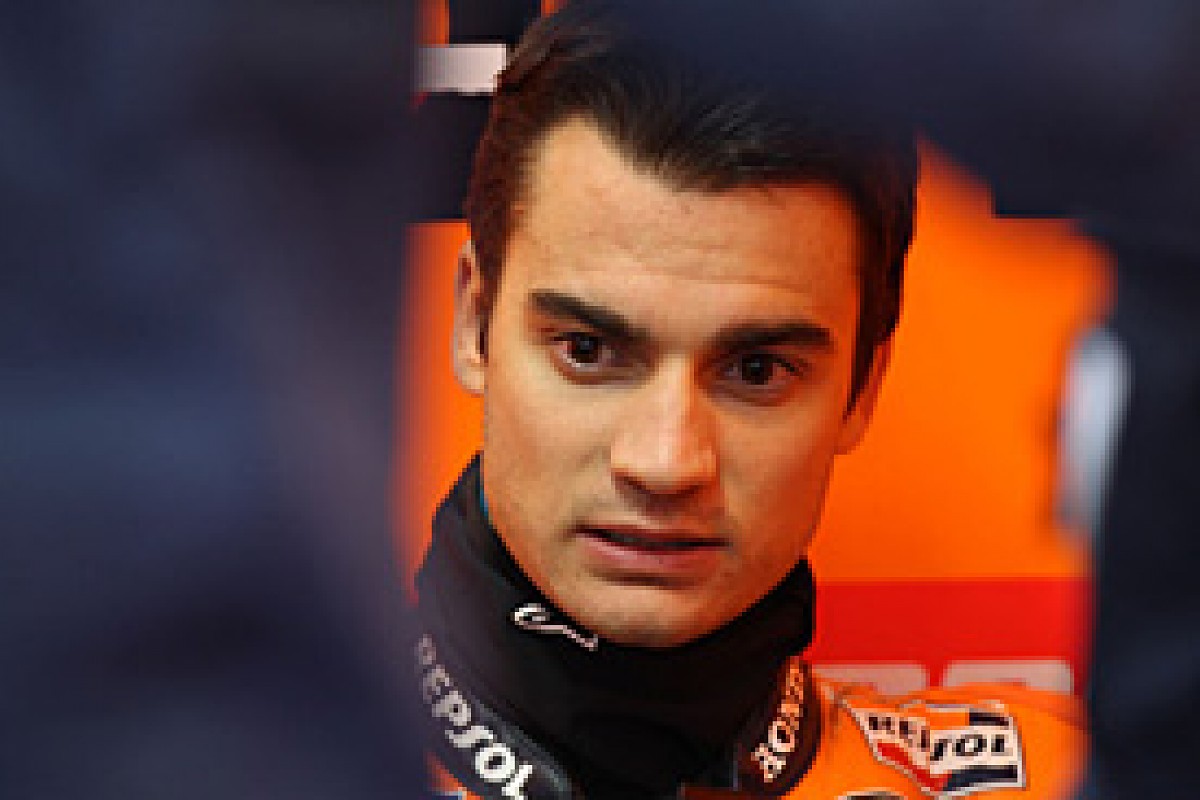 Dani Pedrosa © LAT
Elsewhere the opening race saw Honda in a bit of a flap with Dani Pedrosa's bike trying to shake itself to bits in a straight line, while Andrea Dovizioso's RC212V got on the podium. Electronics wizards decamped from Yamaha immediately began to make their mark - the very same who will work with Stoner next year - and things swiftly improved.

Honda did what it is so good at and threw everything at the bike, making it win by just the fourth round. Pedrosa would either be first or second, or he'd crash. The trouble then came with a rare electronics glitch at Japan that threw him over the bars prompting three race absences. He just doesn't get the luck that guy. And you need some luck at this level.

Dovizioso justified his works ride at the start, struggled mid-season, and found form towards the end of the year but alas he was overshadowed by lil' Dani.

Ben Spies worried me at the start of the year when he pulled into the garage in Spain when a tyre wasn't quite right, but only he knew what was really going on with the bike so he took that on the chin. And he took it well too. He crashed again at Le Mans, knackering his ankle, but then got into his stride. Very Ben. He's got that old school thing about him. No silly cartoon teddies on the grid, no gurning at the cameras, just cool gun slingin' late 80's 500cc style. Fantastic.

Marco Simoncelli was a hooligan when he rode 125s and 250s so successfully and pre-season testing in the top class was no different, looping it in Malaysia. Crashing twice in an hour on Fridays was a regular occurrence, but once he got the proper 2010 electronics at Laguna Seca (that he and the Gresini team had to re-learn over the 2009 software) he really got it together. He deserved a podium somewhere somehow, but that'll come in 2011.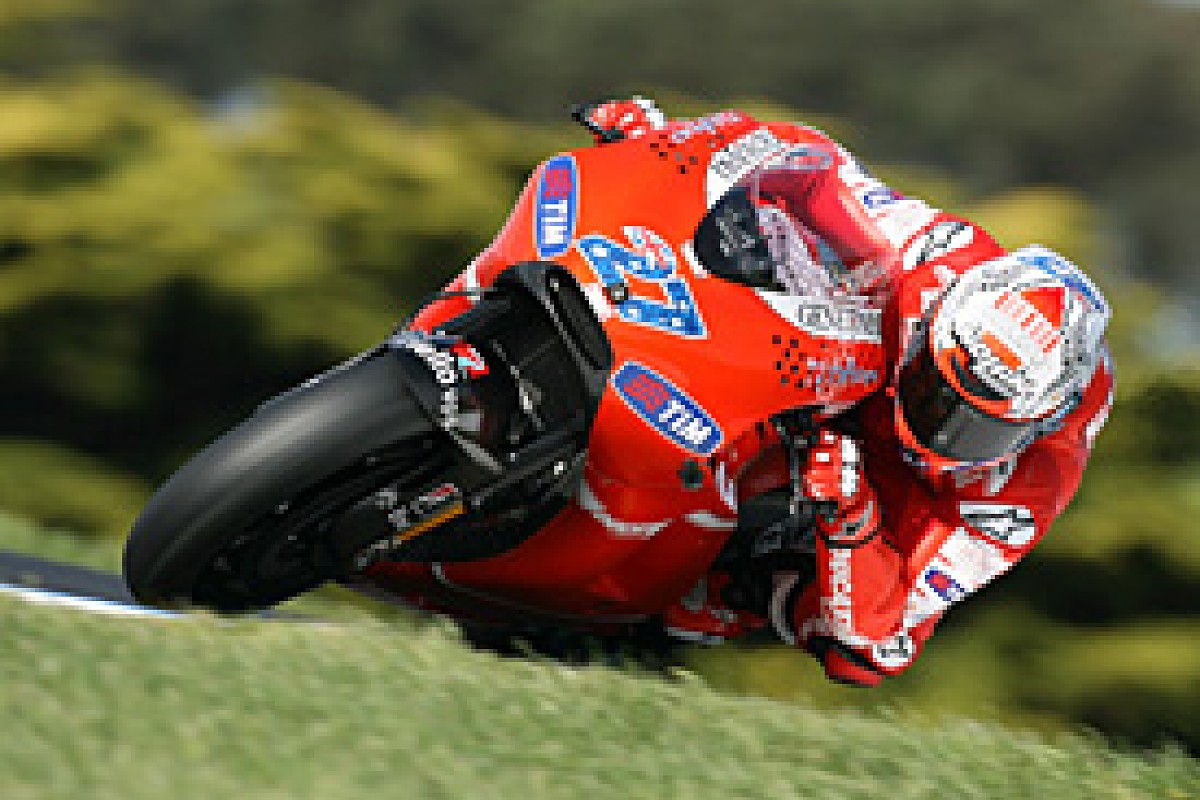 Stoner flew at the end of the season © LAT
However, not in recent times have things changed so much after a season. Stoner moves to Honda and Rossi moves to Ducati while others stay put on similar bikes, even if they move teams, like Spies [to the factory Yamaha squad]. That holy blend of Italy's greatest sportsman on Italy's iconic Ducati melted servers for websites the world over as feverish fans searched for those first images of him riding a GP11 at Valencia on a chilly Tuesday morning.

Stoner said the Honda engine was 'like glass' when he rode a Honda for the first time since 2006. Even he'd forgotten how good a V5 was after four seasons on the rip-snorting Ducati.

But while the world got their knickers in a twist over Rossi on a Ducati, Lorenzo just put the #1 plate on the front of his bike, with the same team and the same colours and went to the top of the timing sheets.
There is much work to do to beat the man from Majorca. He was Mr 100% in 2010.