Seven years ago this weekend, Valentino Rossi got his backpack, jumped on his Austin Powers Repsol Honda for the very last time and rode into the history books as an ex-works HRC rider. He walked away, of his own volition, from HRC who'd made the three cylinders forward, two cylinders back Honda V5 that had conquered every race but three from two seasons in MotoGP.
We all thought it was brave, even I thought he might win three races at a push during his first season on a Yamaha, but he proved me wrong and smoked 'em. Max Biaggi rode the race of his life at Welkom in 2004 and still finished second.
We go to Valencia for the final MotoGP race of 2010 already knowing Valentino will ride for Ducati, following the August announcement by Gabriele del Torchio
As one Ducati person said to me this week: "We are trying to prepare for it all, but we really don't know how big it's going to be."
I said that even if it's not big, it'll still be massive. He knew exactly what I meant, making his eyes wide open, staring into the distance in the realisation of what his workload is going to be like in 2011.
The Mohammad Ali of motorcycle racing is joining Ducati, and it's getting closer and closer for them - under a week to go before he tests the GP10 on Tuesday and Wednesday.
However, as the first half of this column has thought about 2011, spare a thought for the Yamaha guys who are losing a rider, an inspiration, a friend. For some of the more emotional Yamaha people, it'll be akin to watching a recently lost girlfriend/boyfriend move in next door with their new one.
But just like the emotion of Rossi breaking his leg at Mugello, no-one's died, the world will keep spinning the right way, and back in Tavullia those close Italian friends still at Yamaha will still see him and text him, albeit not quite be the same.
Yamaha has put a historic effort into turning itself around to win five titles in seven years. But just as it did it for Rossi, it's still doing it for Jorge Lorenzo now, while Ben Spies hopes that in 2012 he might take the title in his third year of MotoGP - just as Lorenzo did.
One has to admire the foresight of Yamaha to sign Lorenzo and put him into the lion's den with Rossi and let them battle it out - which led to the hardest decision of all, letting one of the greatest marketing devices walk out the door for whatever reason it was.
So spare a thought for not what is going to happen next Tuesday when Rossi throws his leg over a Ducati for the very first time, but for the Yamaha guys this Sunday afternoon when he rolls into the garage for the final time - or, they hope, into parc ferme as the winner just like he did on the Honda in 2003. In fact, it's probably just as well there isn't any testing on Monday as many may struggle after a huge party following a long season.
Hold that thought.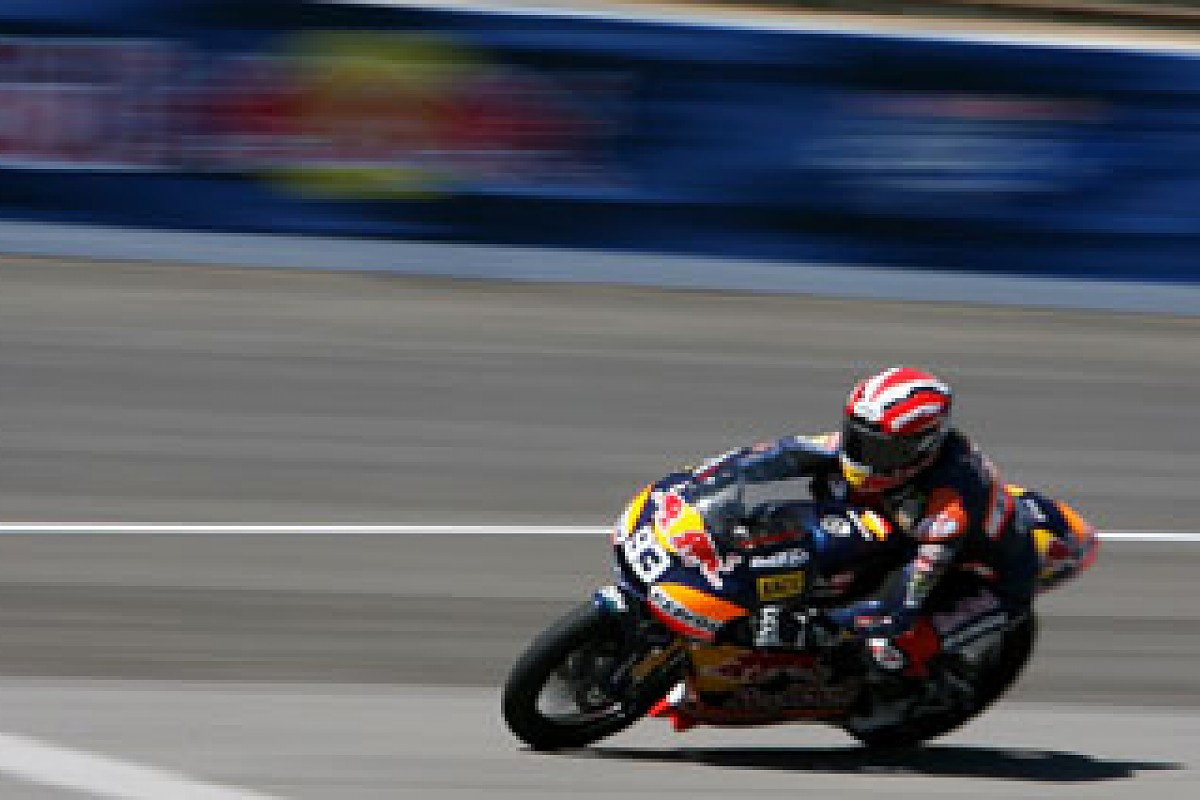 Now, not since 1997 have I given so much time during a season to ferreting around a 125 team's garage while on my paddock wanderings. It's the Finnish-run Ajo Motorsport garage with Marc Marquez and the super-nice German-with-the-Italian name, Sandro Cortese that I've visited. There are some great guys in the garage from all over Europe - Finns, Germans and Spaniards. Young guys, old guys, new guys, race-winning mechanics and a world champion with Emilio Alzamora who's trying to 'win it' all over again with Marc, some 11 years after he won it himself at Buenos Aires in 1999.
Talking about nationalities, my hero when growing up was, like Aki Ajo, a Finn. Keke Rosberg won the 1982 F1 title; I couldn't put my finger on why I liked him, but this 10-year-old just thought he was cool. Scruff of the neck sideways driving, Ray Ban Aviators, golden locks over an Ibiza tan and pretty girls. To then sit in his 1983 Monaco-winning car when I was just 11, it fixated me on motorsport to this day.
In the mid-'90s I worked for many years in rallying at the British and world level, and I got to work with the Finns with their no bull, 'just get it done' attitude. Life was just great around them.
125cc team boss Ajo is a very humble Finn, but when he's talking he has that slightly broken English with the odd word missing; those long 'verrrrrys' and 'Silverrrrr-ston' pronounciations I think are great, sparking memories in my head.
However, I've had to urge myself to not hark back into the depths of my memories where everything is rose coloured due to the spectacles, but instead remember what a tremendous battle this year's 125cc championship has been, irrespective of the outcome between Marquez and Nico Terol this Sunday. Pol Espargaro has put the line in the sand for having the most amount of speed, but alas at times not quite enough of it tempered.
Terol is a wise cookie though, with more experience than the others he's battling. Is he now regretting not riding at the Sachsenring even though he got the all clear for his still-recovering bad back. Maybe he had a chat to Kevin Schwantz who was there that day and had a look at his crippled wrist. Fair play to Nico though, it takes a brave man to shy away from racing when there is the chance of a championship; see Niki Lauda at Fuji in 1976.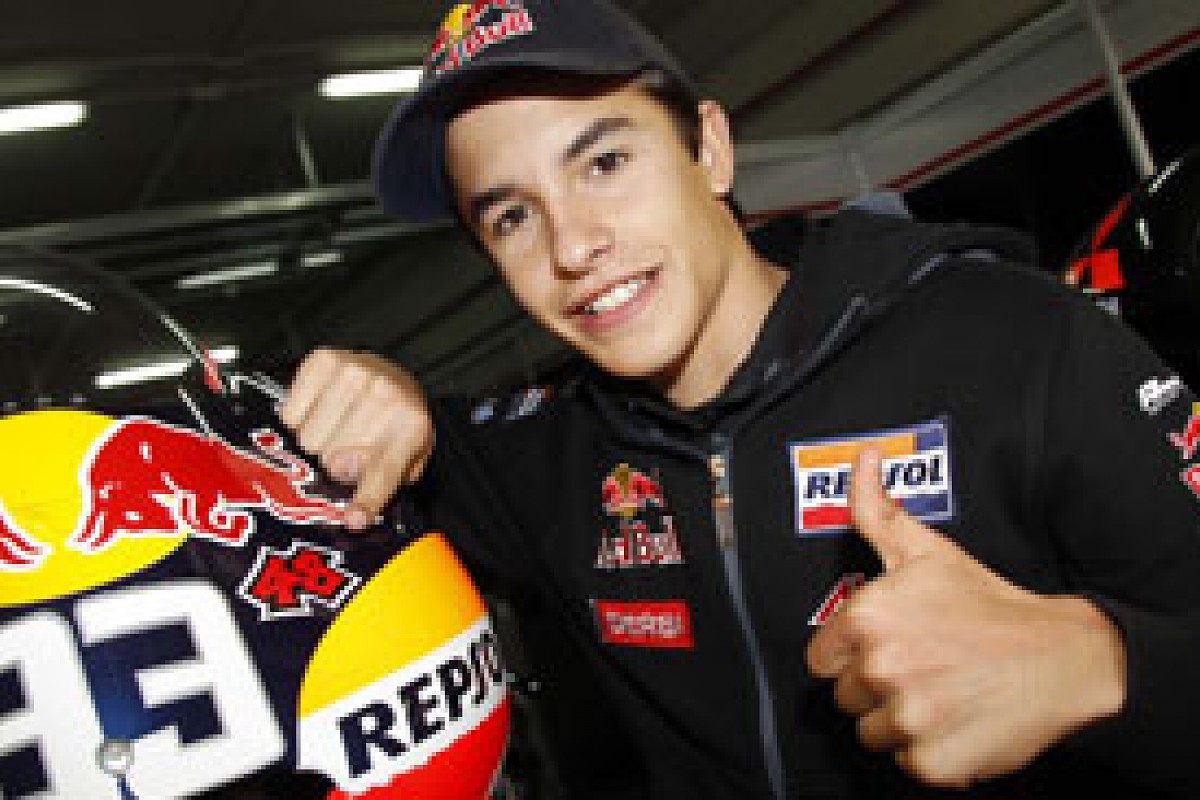 Marc Marquez © LAT
From Le Mans this year, round three, Ajo was not quite gushing, but massive in his praise for his new rider. Little did we know at that point that he would go on to beat Rossi's records - he had yet to even win a race! Into the autumn after being knocked off at the first turn at Aragon, and having a proper teenager's strop in the gravel trap as the field sped away, Marc fought back in Asia with three victories.
75 points as the others rode out of their skin and still got beaten. They probably went to the airport never so disappointed to have ridden the best race of their lives. Welcome to Max Biaggi's world from Welkom 2004.
This kid is really something special. A jewel who could well be beating a 30-year-old Lorenzo in 2017. Just as Lorenzo won his first ever 125 race seven years before winning the MotoGP title, so Marquez could do the same.
We're more than a decade on from Valentino Rossi smoking the 125cc class; Marc Marquez is the new star. Anyone who drops it into the gravel trap on the out lap, limps it back to the pits where, for a moment, proper chaos ensues, and then keeps cool enough to not play it safe, fights hard and risks his points lead to cut through and win on the last lap, is someone exceptional.
All this from a lad who isn't even old enough to order a pint of beer to celebrate. Indeed, have we ever had a Spaniard with a Finnish head? Aki Ajo and Emilio Alzamora may well have found one.
Roll on Valencia and appreciate it before we get into next season, Yamaha and 125cc championship alike.