Valentino Rossi beat them on the day but Jorge Lorenzo beat them over the year. In Malaysia it was a day of celebration for Lorenzo to win the title from pole position, getting a wise third place while the battle raged ahead of him. He needed a top-nine place to be assured of a whacking party in KL that night. It sure is easier to have a party in KL rather than have on Phillip Island. Those who've been there will get that...
Lorenzo has ridden the year of his life. He's won the title and won it well after banging in seven wins in ten races. In fact, I'll have to think up another word that is better than 'banging'. Maybe cannoning in is better as to thump 235 points on the table from a possible 250 in those first 10 races is nothing but stunningly impressive.
Lorenzo ceebrates his first MotoGP title © Sutton
The moaners and groaners will say that he's only won because Rossi fell off on, but then they're the type of people who'll stop watching racing when Rossi stops. They just don't understand the intricacies and nuances of grand prix motorcycle racing. Sure, it would have been a thrilling and historic battle between them at their respective heights aboard the YZR M1, but we'll just have to wait and see what Rossi can do with the Ducati over the next two seasons.
Rossi fell at Mugello, breaking his leg and then missing four races, while under pressure from Lorenzo. The Italian was already 11 points behind after three races, with 59 points to the Spaniard's 70 points. Rossi may well have won the season opener at Qatar, but he knew it was a little bit of a lucky win after Stoner had lobbed it and Lorenzo was injured with his hand. But Lorenzo had pushed like racers only know how; just like Rossi pushed on Sunday in Malaysia to win; just like Lorenzo won at Jerez against the might of Pedrosa. There are days when even the racers fight at such a level they know they can only hit once in a while.
One has to also mark 2010 down in history as the first time that a team-mate on the same kit has fair and square beaten Rossi, and even then has engaged in the post-race celebration 'thing' too, something that champions Nicky Hayden and Casey Stoner had, and continue to have zero interest in whatsoever... The stealing of the limelight with things off track is very Jorge now, but that all became apparent when I read that his hero coming into GP racing was Max Biaggi. He even looks like Max on the bike with his style...
Looking at things from Lorenzo's point of view, he raced first in a GP at Jerez in 2002 when he finished 22nd in the 125cc race. Two hours later he watched Valentino Rossi win the MotoGP race when he was the reigning champion in the premier class and just about to click into seven straight wins about the glorious Honda V5.
Jorge was 15 years old the day before he watched Rossi win.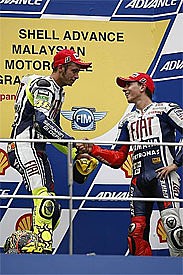 Rossi congratulates Lorenzo © Sutton
Now eight years later he's won races in all three classes, back-to-back 250 titles with runaway victories on the notoriously difficult to set up Aprilia, got signed straight into the works Yamaha team, getting pole position at his first three MotoGP races, winning his third ever premier class race. That even out-did Rossi when he arrived in the class, and there aren't many who can say that.
Now, Jorge has out-done them all in 2010, but with the last hurrah of the 800s next year before the 1000cc big bangers in 2012, it'll be a fascinating battle to see Lorenzo defend, Rossi try to win on his fifth type of bike in the big class (500cc, 990cc Honda and Yamaha, 800cc Yamaha, Ducati 800cc), Stoner with a fresh start, Pedrosa to see if he can complete a season injury-free, and Spies being the one who cooly and calmly takes the Yamaha that will have been vacated by Rossi. Oh yes, perr-lease.
In the meantime, there are three remaining races in 2010 and the gloves are off. ...and the next race this weekend is at the place they all love: Philip Island.