Indianapolis is a mega place. It oozes history, professionals work hard to make the place have a real genuine vibe for MotoGP and it has a peerless blue sky to boot. Come Saturday afternoon, the IMS guys could even boast two out of three Americans on the front row too. Their powers are clearly magical...
Ben Spies was in confirmed in MotoGP next year aboard the works Yamaha that Valentino Rossi will vacate, but it's a deal for a single year only, a bit odd I thought, but a deal nonetheless for the new member of the 'Alien Elite' in MotoGP. Then Nicky Hayden was confirmed for two years at Ducati, literally as he slung his leg over the Ducati Dirt Tracker at the downtown Indiana State Fair Ground that is becoming an integral part of the Indy MotoGP weekend.
Roger Lee Hayden was entered on the coolest looking Moto2 motorcycle that the paddock had seen in yonks, while he had the coolest team manager in the business even though this was his first weekend in the role - Kevin Schwantz.
Race day dawned and optimism was in the air for Spies and Hayden on the front row of the grid, and although Spies fought through to an initial lead, the race went Dani Pedrosa's way, as it had done 12 months earlier before he dropped it. Great for Repsol Honda and great for lil' Dani to finally win more than two races a year - the first time he's done so since 2005. He actually closed in on championship leader Lorenzo by the biggest margin anyone's done all season; a measly nine points to a still-Grand Canyon-sized 68 points.
However, the atmosphere back in the press office among the seasoned commentators was not great after the champagne had evaporated. It was not a thrilling race with regards to racing, only Marco Melandri, Casey Stoner and Mika Kallio bringing any perverse excitement to the action when they fell off, once Pedrosa had bolted.
There is no magic answer to making the racing exciting again, but there has to be an ear lent over to those in the sport who really do know what they are talking about. Those who don't need to worry about money or the commercialism of merely getting bikes on the grid. Herein lies the voice of the rider, or more particularly, Valentino Rossi. Firstly, he's richer than the Kaiser, secondly he can see outside the box of his own garage and watch the races from a racing fan's point of view because Rossi himself is a fan.
Rossi is a scholar of motorsport in detail and can see through the bull if it's being poured onto the fans, or more importantly, him. He knows that people cannot stand being dumbed down and is prepared to shoot from the hip.
"I think this is a big problem for MotoGP, because the races are very boring," he says. "So we lost our best card especially compared to Formula 1 (He means with the loss of the 990cc era), because until 2006 with Michelin and Bridgestone, but with 990cc engines and less electronics the races were unbelievable, so a lot of people watched the TV because you knew that MotoGP would be exciting."
"When Bridgestone arrived, 800 arrived and this amount of electronics arrived to make these races very, very boring. It's like sleeping, like with Formula 1. (He's said that before). I hope that they think about this; not for next year, because for next year the rules are the same, but for 2012 when they have to make new rules for the 1000cc. Take out some electronics, take out some anti-wheelie and take out some anti-spin.
"The people want to see the bike that wheelies and slides. Racing is like the remote control (PlayStation). The rider cannot make any more difference. Now, is like everybody is the same, because all the acceleration, all the anti-wheelie, is controlled from the bike.
"So I hope for a fix to this problem. It is not enough just to go to 1000cc. The problem is the electronics. I hope they make less electronics with the 1000cc bike."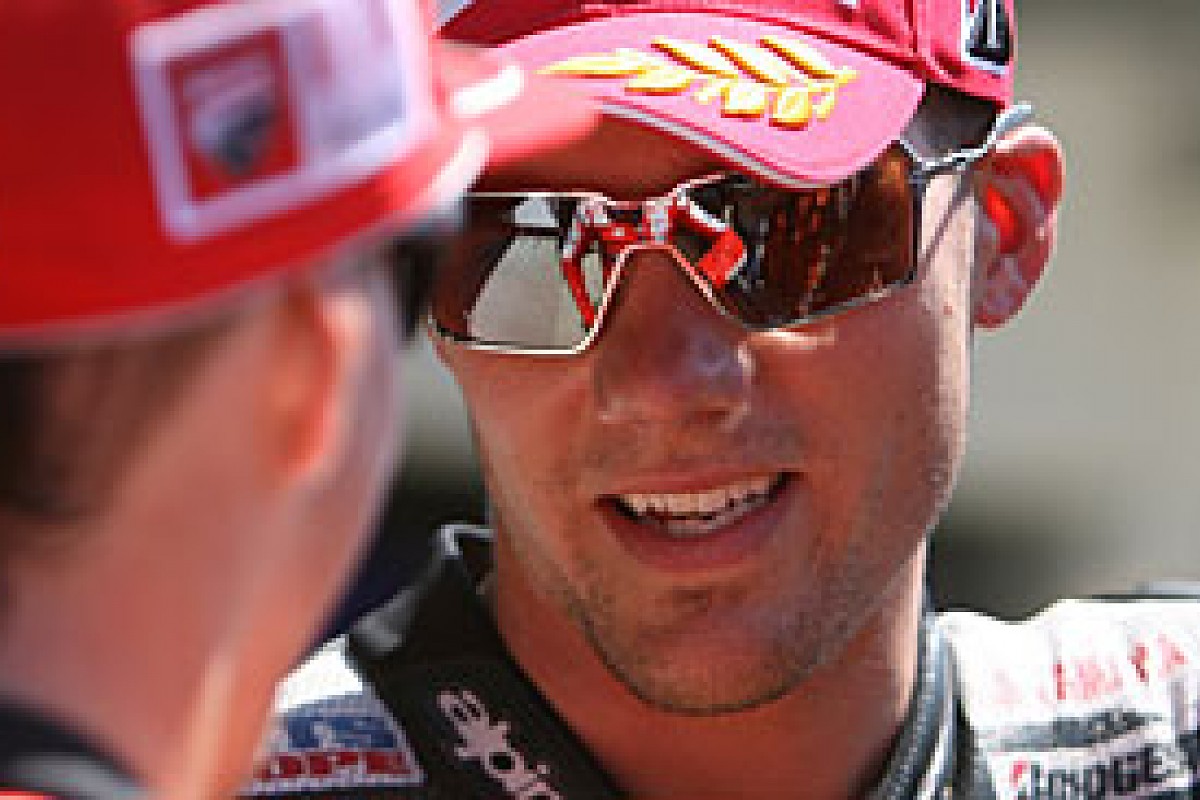 Alex Criville has called for a banning of TC as have many other former champions. The opposing argument from some engineers is that you cannot un-invent technology. But actually, the bikes have already been un-invented a little with the limit of fuel they can use and the banning of 'dustbin' fairings that aided top speed. And c'mon, does three-litres less really save the planet? No it doesn't. But apparently kerbing their top speed from 345kph to 310kph makes things all the better - yeah right.
If the new 2012 regulations actually have a limit on electronics as Valentino says, it won't actually change the front running order. If you're quick you're quick, but surely everyone will be a bit closer together which is actually all we are looking for. Hell, one could say that the Moto2 championship is only being led by Toni Elias because he's the most experienced rider out there and he's with the most experienced team with regard to four strokes. Moto2 has control electronics from FIM/Dorna, which eliminates any chance of cheating should traction control be banned.
I have not heard one Moto2 rider complain about the lack of TC, while certainly there have not been so many 'cold condition' crashes off the Moto2 Dunlop tyres as there has been off the control MotoGP Bridgestone tyres - which is another story.
And has anyone complained about the loss of 250cc bikes and that they were significantly faster around a race track? Only a few old school fans are bothered, but for the rest of the fans on TV, there are many, many more tuning in to watch Moto2 than any 250cc race of old.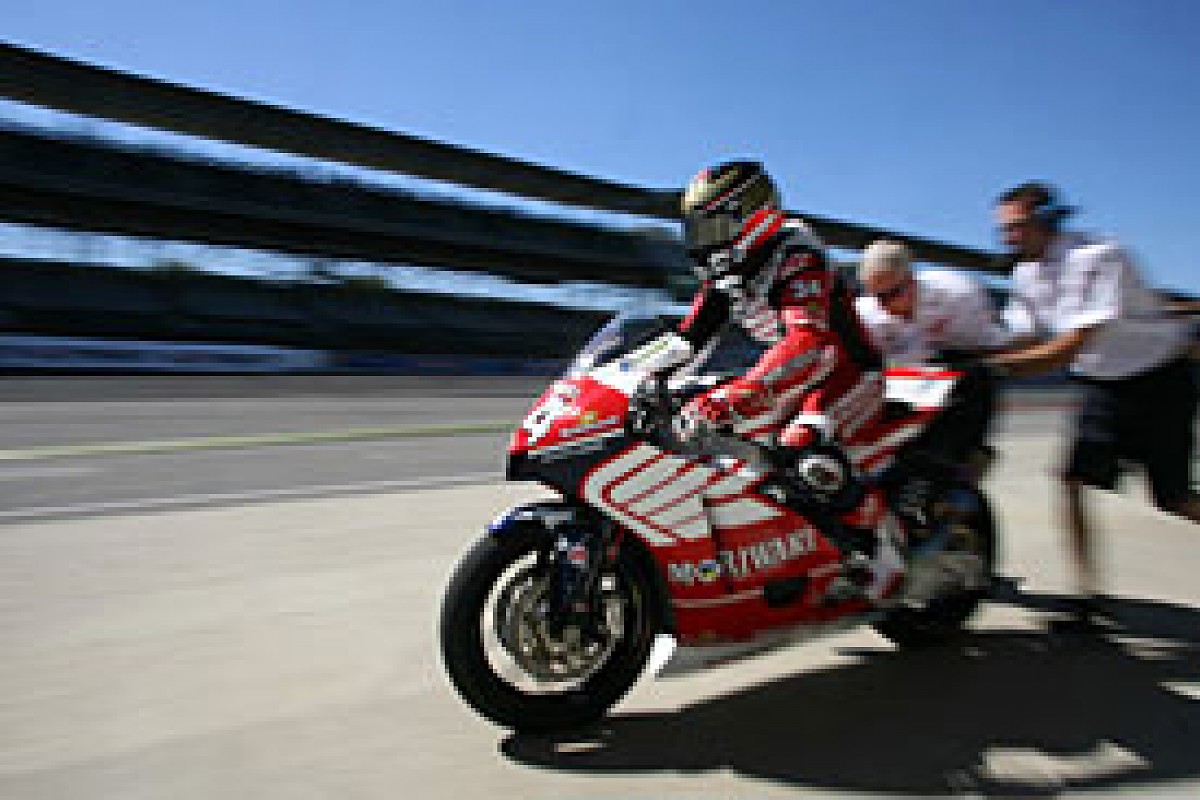 Roger Lee Hayden © LAT
Above anything that I say, the opportunity to mould another new era in MotoGP racing from a clean sheet of paper is now written on this website. Not by me, but because of the seven time MotoGP world champion in the middle who cares more than anything else about a show and a spectacle in the world of sport. He may have had some whacky post race celebrations that didn't sit well with the more snooty types, but the people who view MotoGP and actually prop it all up with their TV figures have watched him and enjoyed him. When he wasn't there the figures dropped because he wasn't there. The anticipation of a close race was not there during those four races when Rossi wasn't riding, so people just didn't bother to tune in.
It is now down to those on the board of the MSMA (Motorcycle Sport Manufacturers Association), the FIM and Dorna to realise that here is a very intelligent man who knows more than anyone with regard to this subject.
As permanent pass holders, it's almost as if we are all guardians, ambassadors, or representatives of MotoGP, but some voices are much, much louder than others.