Finally... we can get on with the rest of grand prix motorcycling history now we know officially that Valentino Rossi is riding a red, loud, fire-breathing Ducati MotoGP bike for 2011 and 2012.
One's head can finally conjure up imagery that we've always wanted and one that Italy will go into melt down for. For motorcycle racing, it just doesn't get any better. For bike people it is up there with The Pope winning at Monza in a Ferrari.
Valentino Rossi announcing his Ducati deal © LAT
Seriously though, British designer Alan Jenkins - who does much of the aerodynamic work for Ducati - did make me realise what it's going to be like when I spoke to him about it the other day: "We've been going to the same wind tunnel in Italy for some time now, and it involves us staying in this hotel nearby. So we all meet for breakfast and although I'm in a white shirt, some of the Ducati guys have got their red MotoGP shirts on, but in recent weeks people have been coming up to us while we're eating breakfast, badgering us to know if Valentino is going to ride a Ducati.
"One day we got in the car to the tunnel and stopped at some lights only for someone walking down the street to see the guys' red Ducati shirts in the car. He came over and knocked on the window saying, 'Rossi. Ducati, Si?' with his thumbs up. This is stuff just happening in the street. It's massive."
So now we know it's really going to happen, why the move? Is the major reason because current Rossi's current Yamaha team-mate Lorenzo is quick - too quick - and a threat to making the #46 fade into the middle field? Or is it that Yamaha couldn't offer Rossi any more money, with rumours even of a pay cut to try and top up the larger amount that Lorenzo would need for winning the 2010 world championship?
Or is it that he always wanted to try out a Ducati just as everyone wants to drive a Ferrari in F1. It's in the script then that a very native Italian should ride a red Ducati. As President of Ducati, Gabriele Del Torchio said: "Near Bologna (Ducati) we have Ferrari, Maserati and Pagani. We are very passionate."
It's like a Yamaha France-run Gauloises Yamaha being ridden by Christian Sarron or JPS Nortons ridden by Trevor Nation, Ron Haslam and Terry Rymer, let alone an Italian in a Ferrari F1 car. Hell, the last near-Italian winner in one of those was Jean Alesi in 1995, while the last full-blooded Italian winner was Michele Alboreto in 1985.
Was the Rossi Ducati all put into place a while ago after talk of Ferrari running Valentino in an F1 car, when he was riding for Yamaha, six years ago? Only this spring Luca di Montezemolo mentioned his name during an interview with Martin Brundle on the BBC. It was a very precise name drop.
From a marketing point of view, Yamaha is of course disappointed, but it cannot bank roll something it cannot afford. Speaking to a high-up Yamaha MotoGP person about Rossi leaving, we discussed the loss of the rider that not only turned the company's MotoGP results around but also its image with stock bikes and the R1.
He said that he was disappointed that Rossi was leaving after seven years, but aware that just like Agostini had a relationship with Yamaha, he is still perceived as an MV Augusta rider. "The same is true of Eddie Lawson as he was a Yamaha rider at his height, and although he rode for Honda and Cagiva, he is a Yamaha man today. Maybe..." He stopped himself.
The exact same thing is true in the mind's eye of four-wheeled fans with Ayrton Senna being a McLaren driver, Michael Schumacher being a Ferrari driver, and Tommi Makinen being a Mitsubishi rally driver. People remember them in those cars.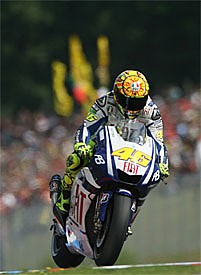 Rossi is ending a seven-year relationship with Yamaha © LAT
One thing that will be the lynchpin to all of this from a technical side will be Jerry Burgess and the crew that have tended to Rossi's every need since the start of 2000. That's eleven seasons of everyone knowing who does what, when and how with a nod a wink and a look when under pressure. It works.
Seven-times a world championship it works, so whatever Ducati should do is to get the whole shooting match over from Yamaha. Burgess is the man who can translate what goes on to the factory guys. However, Rossi has already said, "I always speak with [Ducati general manager] Filippo Preziosi, and I see in him the similar behavior that I saw in Furusawa in 2004."
And by all accounts I hear that there are sponsors kicking down the door wanting to be associated with one of the most charismatic sportsman of this era. Besides, "We will put all the money that is necessary for it to be successful," said del Torchio an hour after the announcement on Sunday.
With the money that Yamaha save in not paying Rossi, it could chuck that at Burgess and the crew to engineer Spies. Now that would throw up a curve ball that would keep a smile on the faces of the Yamaha guys wouldn't it?
But the amount of merchandising that Ducati is about to sell is going to be stratospheric. They'd better start making the caps now for Christmas because there is going to be an awful lot that need to be embroidered!
For Rossi, is this a move too far?
He announced to the world in November 2003 that he was leaving Honda in a packed press conference in Valencia. He sat down and told everyone face-to-face rather than through an email and a hand written photocopy - he even posed on his Honda V5 one last time with a rucksack on.
The move from Honda to Yamaha when the 990cc bikes were able to be turned into winners even if one of the major set-up parameters wasn't quite 'bob on' when the lights went out. Nowadays you can't get away with that and it takes a very skilled rider to thread through all the scenarios in limited practice to get a race set-up.
Arguably, Rossi only won the opening race of the year because the dead cert for the race, Casey Stoner, fell off, and Jorge Lorenzo had such a badly injured hand that he couldn't shake hands, let alone think about using it to hold onto a 240bhp motorcycle.
The #46 bike then didn't get close to Lorenzo's electrifying pace at Jerez, nor Le Mans. Admittedly, Valentino was riding with a right shoulder injury that he'd picked up moto-crossing, but the points table waits for no-one.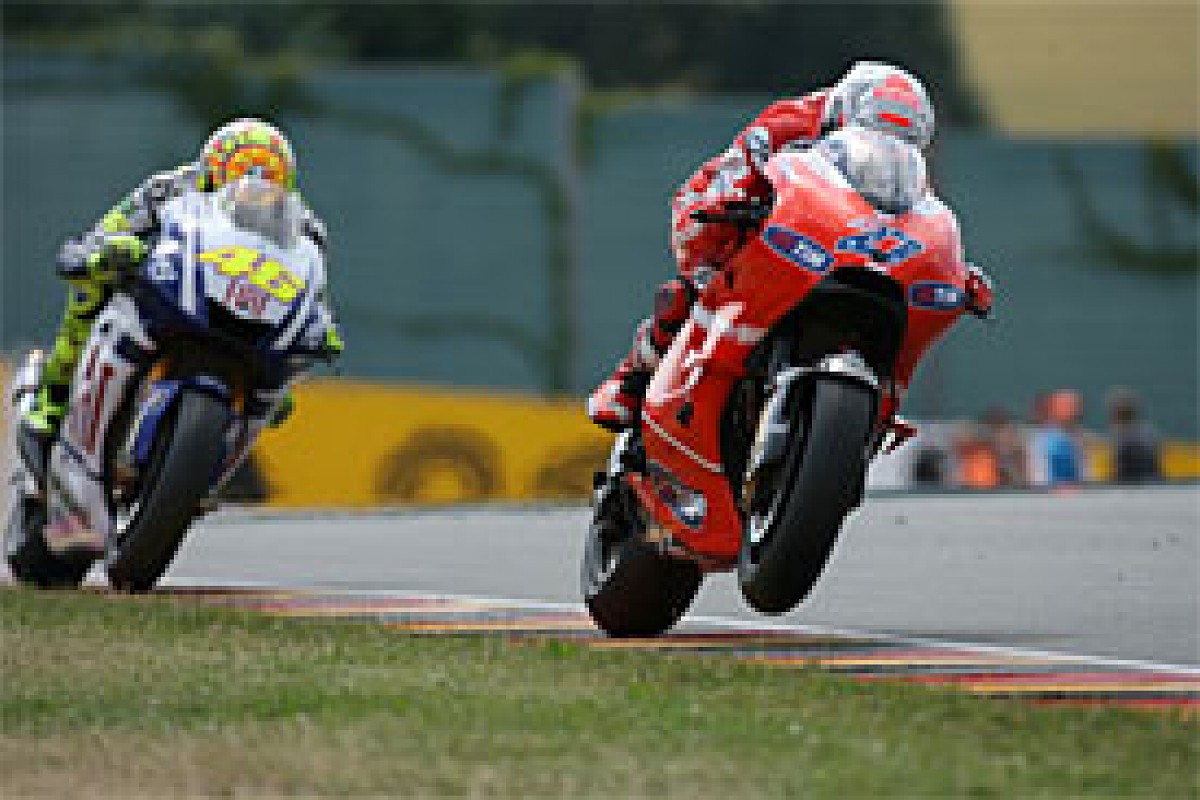 Rossi will be in red in 2011 © LAT
What may be difficult for Rossi to get used to is a much smaller factory with very different working practices from a Japanese factory with whom he has been working for. Indeed, by the time he sorts the Ducati to his liking, might Lorenzo be faster because the Spaniard has been on the same bike for three solid years, getting three or four wins on the board before mid-June 2011?
Will Honda finally get their act together with Pedrosa and the incoming Stoner? Will the ultra-clean cut corporate way of Marlboro cramp Valentino's to-the-core bohemian way? These are all questions that people are asking.
But actually all of the above will matter little because it's Valentino Rossi we're talking about here.
This is massive.