Moto2 at Jerez was another cracker of a race even though it got red-flagged at the first attempt when Shoya Tomizawa tagged the back of Simone Corsi - sending the pair of them down.
Tomizawa's clutch cover hit the deck and immediately ground a hole, sending oil, under pressure, all over the track and into the line of the remaining 38 riders. A total of seven others crashed and the race was stopped.
But here is where the story of luck and great team work starts.
Tomizawa's damaged crank cover © autosport.com
Tomizawa-san picked up his bike, and knowing that the metal had worn through and oil had been lost from the crackcase (no more oil pressure) he limped the Suter chassis back to the Technomag garage.
The team's first thought was that they couldn't change the cover because it was sealed to stop people tampering with the controlled Honda 600cc engine, and even if they could change it, would there be time... and where was another cover anyway?
As luck would have it, the GEO Technology crew who look after the Honda engines were in the same garage so they literally handed the Tomizawa crew another cover as the damage was discovered.
With the clock ticking before the restart, the cover was replaced under the watchful eye of the GEO Technology guys as they have the power to break the lead seals on the engines just as the chief scrutineer Mike Webb does.
They replaced the foot peg, gear shifter and topped up the oil - about a litre. The fairing was taped up and clutch lever left a little short as the pitlane was about to close.
"I have no idea how long we were working on the bike for but we were so very lucky that GEO were just four metres away. If they'd been at the other end of the paddock then we wouldn't have done it," said Gilles Bigot, crew chief for the #48 Japanese.
Quizzed as to why the bike didn't have protective covers over each side of the crankcases, Bigot said they weren't happy with any on offer. Whatever he thought, they certainly would have been better than nothing.
Luck was on the team's side in Jerez, but at other times there is no luck involved at all for it.
For those of you who don't remember, Gilles worked with Alex Criville at Repsol Honda, guiding him to the 1999 500cc world championship, so he knows one end of a bike to the other, but is he enjoying it?
"It's different because we all knew that Alex was fast." Insinuating that they took a risk with Shoya.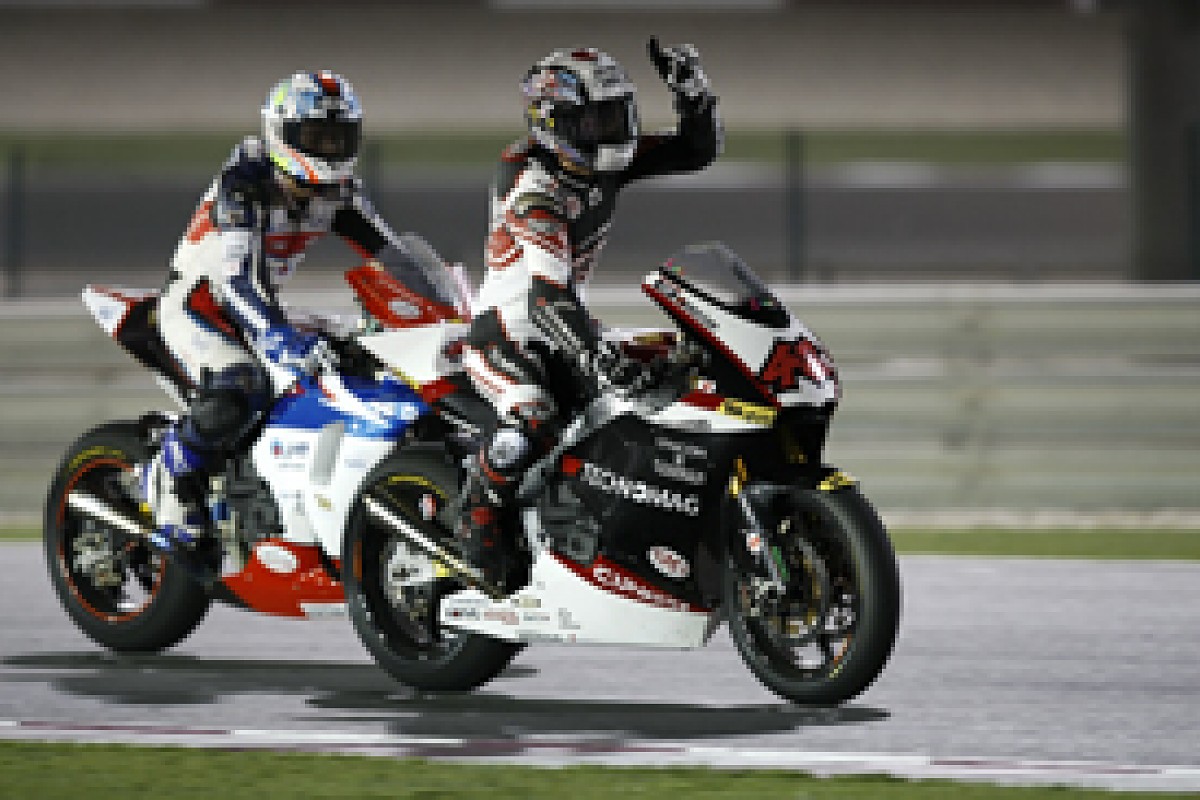 Shoya Tomizawa won in Qatar as Moto2 made its debut © Sutton
"We're bottom of the list with money and resources so no one expected our team to be competitive. We chose Shoya at Motegi in 2008 for the 2009 season on a 250 at world level.
"In January that year I went to pick him up from Marseille airport and all I remember was him taking pictures of everything like we do when we go to Japan. It was more than different for him; he'd never been out of Japan.
"No one noticed him last year but it's that same old story of some people coming up to you and saying well done, because they know what kind of bike a rider actually has.
"We had a €30,000 [bike] against bikes worth €1m and he was only 0.3 seconds off them!"
The Moto2 rules changed and were pushed through for the 2010 season.
"In January this year we put him on a four stroke bike for the first time. It was a standard Honda CBR 600 but only for a day," explains Bigot. "After a life on strokers, he came in and said, 'this is very interesting...' You know, he's very curious about things and thinks so much in his head about everything, but not in a boring way. He takes everything in.
"The next day we put him on a Suter chassis [the one now used for racing] with still a standard CBR 600 engine in it. We then went to the Barcelona test with that package and just 112bhp, but he was fast there."
Tomizawa-san won the first race of the new era, putting his name into the record books, but a spill at Jerez during practice nearly spoiled his race weekend, let alone the good fortune he favoured that got him back out for the restarted Moto2 race.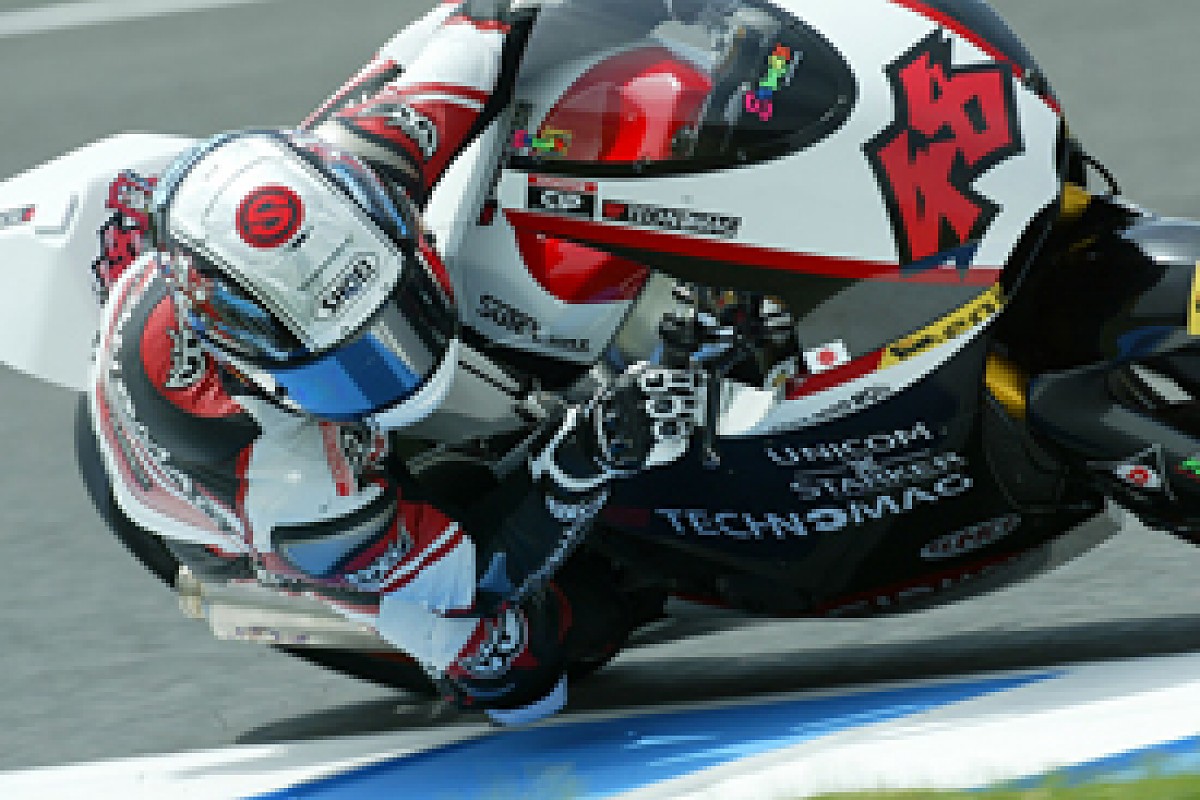 Shoya Tomizawa
"When he came in after the practice crash he was very careful as it could have been full of stones and rubbish. He took six minutes to get back to the pits, that's all the time it took.
"I told him not to go mad in the early stages of the race as there would be some crazy guys out there. He's better on worn tyres than others so the end of the race is better for him. Then when I saw him hit Corsi I thought that was it. But... we got him out in I-don't-know-what-time for the second race. He crashed and got away with it - he learnt a lesson today - but that didn't stop him coming back after the race and apologising for second place!"
Tomizawa leads the Moto2 championship with a win and a second place, but by all accounts from Gilles Bigot, it may well be the others who are taking lessons from the new Japanese star in grand prix racing.