Jerez was a truly brilliant day's sport, but it's a crime that the record books will never fully explain the whole story of a brilliant last few laps.
One can only hope that people recorded it and will archive the footage onto a hard drive somewhere in order to show the next generation of fans.
For Jorge Lorenzo to fight through the field - just as he did last year - is the ultimate marker that he's back in business for 2010. And all of this after he missed two days of pre-season testing when he broke his thumb, before struggling to do anything like long runs in the final test in Qatar.
Of the six available days testing this year, the Majorcan did just two of them at full strength.
And now he has a near perfect score after two races, but you can be sure that's hardly something he's thinking about right now. As Stoner says: "You gotta score at this time of year."
Jorge Lorenzo celebrates Jerez victory © LAT
It's a big thing to win at Jerez. I worked alongside Spanish speaking and living Dennis Noyes for four years so I learnt a lot about why the place is important to Spaniards. Now Jorge has done it in the big class after his two 250cc wins, he should fly.
However, I've said this before after he won his first MotoGP race in Portugal 2008 only for him to nearly cripple himself at the next race in China with a mighty high-side. He learnt from that just as he learnt to keep the door shut if Valentino Rossi is behind you into the last corner at Barcelona...
As for the rivals he beat on Sunday, they were almost humiliated. Pedrosa led for 26.5 of 27 laps, while Rossi may have been happy to have been third, under a second off the win, but he was then out-manouvred by Jorge's celebrations - that Lorenzo suddenly decided to stop the bike on the inside of the Ferrari corner and run, like Usain Bolt, and leap into the lake was utter brilliance.
That is what Lorenzo is good at, just as Rossi is; making the best things up on the hoof. Lorenzo's attitude and answers in a press conference are on a par with Rossi's most of the time; clever, not wishy-washy, not PR-filtered, but instead well directed and to the point.
Sure, Rossi was on the back foot all weekend, recovering still with his injured shoulder from a fall off a Moto X bike, but he was 'out-celebrated' for the first time ever by Lorenzo. Mind you Lorenzo did later admit that was a little worried: "The water was coming over my mouth for a moment."
'Racer wins but drowns in pond' would not have been a great headline!
So what does this mean in the complex, ever moving theatre that is a MotoGP paddock? It means we have a race on our hands that will be thrilling as we go into the summer, but be warned, we have been here before in 2008 only for Lorenzo to injure himself.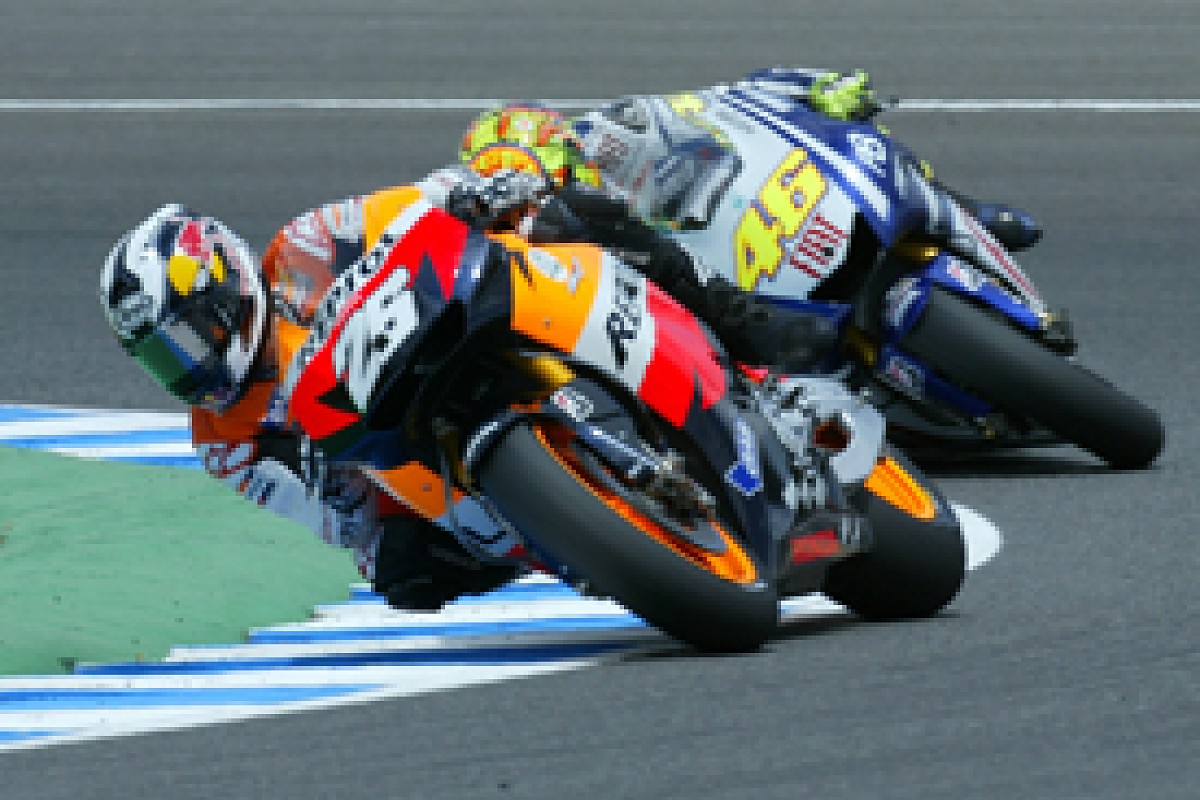 Dani Pedrosa leads at Jerez © LAT
Pedrosa's problems are nowhere near cured either. The Spanish Jerez factor meant he may well have been 0.3s per lap quicker - he always goes well there. Can he replicate that pace again and again?
Rossi will be there as always, so that leaves Stoner on the bubble of the Fab Four riders in MotoGP. Already he's 34 points back from the championship leader; a worrying position at this point of the year, but if ever someone won't be spooked by front-end crashes or whatever is going on at Ducati, then it's him.
Also, Stoner's Dad, Colin, was in Jerez. He doesn't come to many races so maybe it was a sign that there were already contracts being discussed for 2011 and beyond as all of the Fab Four's contracts are up for grabs plus those of Andrea Dovizioso, Nicky Hayden and Ben Spies. Would this be playing on his mind? Maybe, but unlikely.
All in all, Jerez was an historic day in the sport. We knew Lorenzo had arrived, but he out-rode all of them after a poor start that let Pedrosa and Rossi bolt.
But for a 22-year-old young man to ride with that level of mental maturity and sheer speed under relentless pressure is the stuff of champions.