It has been said over the past couple of years that there are only 'The Aliens' at the top of MotoGP; Valentino Rossi, Casey Stoner, Jorge Lorenzo and Dani Pedrosa.
Indeed this assumption is undeniably correct as they have won 50 of the 53 races that have taken place in the 800cc era that started in 2007. That's a knockout statistic, especially when the three other wins came in wet races that, by their very nature, inevitably end up throwing a curve ball.
But are the aliens going to continue as a band or are they to be split up? 2010 may well be the year where some abductions are going to take place, leaving a void ready to be filled by some new names.
Valentino Rossi enters his 15th season of grand prix racing with a ream of statistics backing him up as one of the great greats of the sport. When he surpasses the 122 wins (across all the GP classes) of Giacomo Agostini, then there will be no doubt about it, but that may well take another couple of years.
As the reigning world champion, Rossi, who has 103 wins to his name, is the target for the others, but he's not been resting on his laurels spending the winter partying away. Indeed, his 2010 season will have started way back last autumn with specification changes made to the Yamaha M1's electronics and powerplant, all designed to cope with the new regulation limiting riders to just six engines per season.
Rossi knows what he's up against this season too. One keeps thinking that this might be his last season on top; the end, the finale, the conclusion of a heroic racing career that has transcended the sport... But no! Instead he just keeps on bouncing back with more speed and more steel. Winter testing has shown that with Rossi fastest on five days out of six at Sepang and Losail.
"I expect this season to be a big battle with many riders very strong," is what he said at the start of the week. This was Rossi-speak. He knows that it is Casey Stoner who is going to be the hardest man to beat. The Ducati rider looks as strong, if not stronger, than he was in 2007, a year in which he surprised everyone by winning 10 times and taking the title by five victories' worth of points.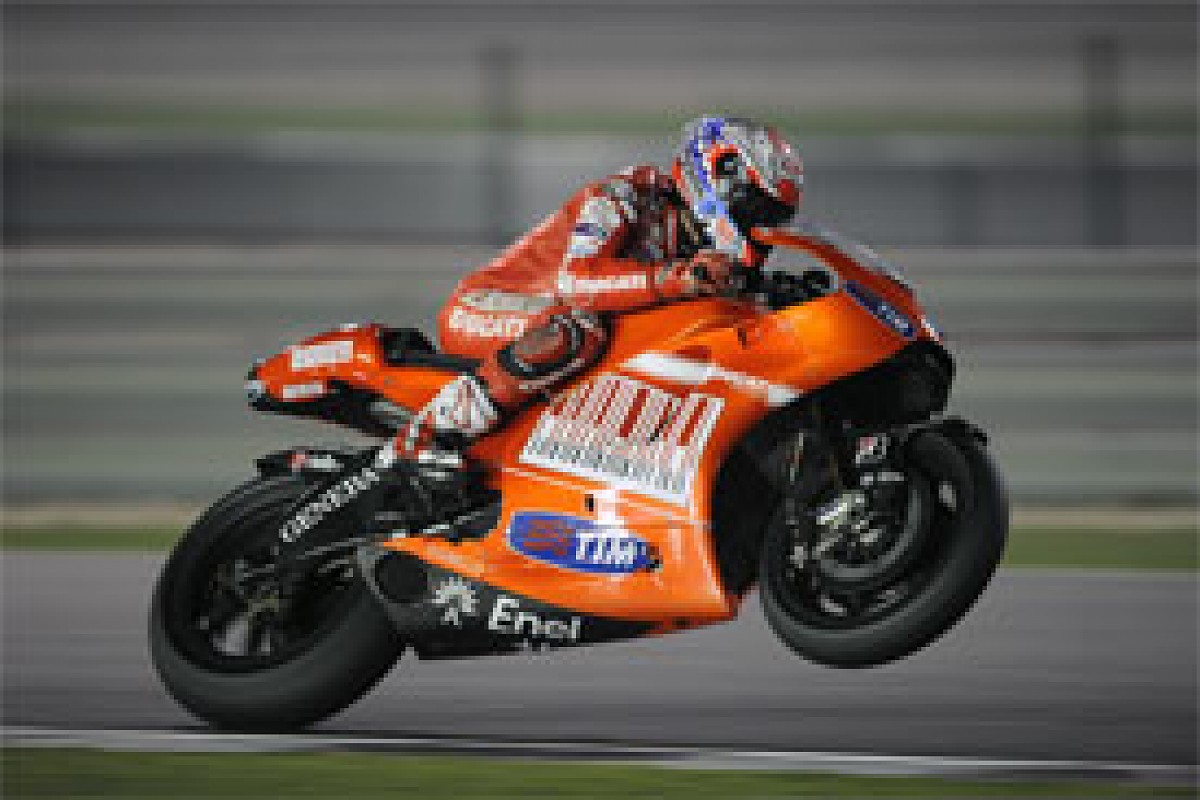 Casey Stoner
Stoner had a terrible season last year, the Australian recovering from a hand injury that had affected him since August 2008 and then standing down for three races mid-season due to illness. His comeback second place in Portugal showed everyone that he was refreshed; his subsequent victories in Australia and Malaysia were just stunning.
Many say that Stoner has had the Ducati in the palm of his hand, but I see him as one of those racers who can just ride anything. The bike doesn't have to be moulded around him like a tailored glove; he just rides the hell out of it. It's worked so far.
All teams have had to make significant changes to the designs and philosophies behind their engines compared to last year as new rules mean that rather than having one unit per weekend, the use of only six will be allowed across this 18-race season.
That has left the Bologna-based squad to redesign the basics with a new crank, piston and 'rods. Interestingly, the team has gone back to its 990cc engine from 2006 and transposed the 'big bang' firing order over to the new powerplant, thus relegating the trademark 'screamer' engine to the status of museum piece.
Claudio Domenicali of Ducati has a fundamental goal to get Ducati up to the sharp end without the reliance on Stoner's genius. "We think we have a bike for 2010 with better traction, and that therefore makes it easier for us to find a good set-up," he says.
If only for rider Nicky Hayden's sake, this has already shown signs of happening with the 2006 world champion going fourth quickest in the final Qatar test.
However, for the first race, they all need to remember that no one but Stoner has won an 800cc race in Qatar. He even took pole position there for what was only his second MotoGP race on a 990 in '06. Losail is his circuit.
Jorge Lorenzo has had a torrid time during the off season after falling off a mini Supermoto bike in February, crucially breaking a bone in his right thumb and being ruled out of the second Sepang test that accounted for a third of all the running this winter under the new testing restrictions.
The Yamaha rider then struggled at the final Losail test - able to do only short runs and even then struggling in the braking areas.
Were it not for this injury, Lorenzo would be bang on the pace of Rossi and Stoner. His swagger and complex character is a fascinating point of study for all in the paddock, but fans watching on TV have been robbed of someone who can battle like hell against Rossi for these first few races. He's not 100 per cent fit, so we'll have to wait and see how he gets up to race-winning speed later in the summer.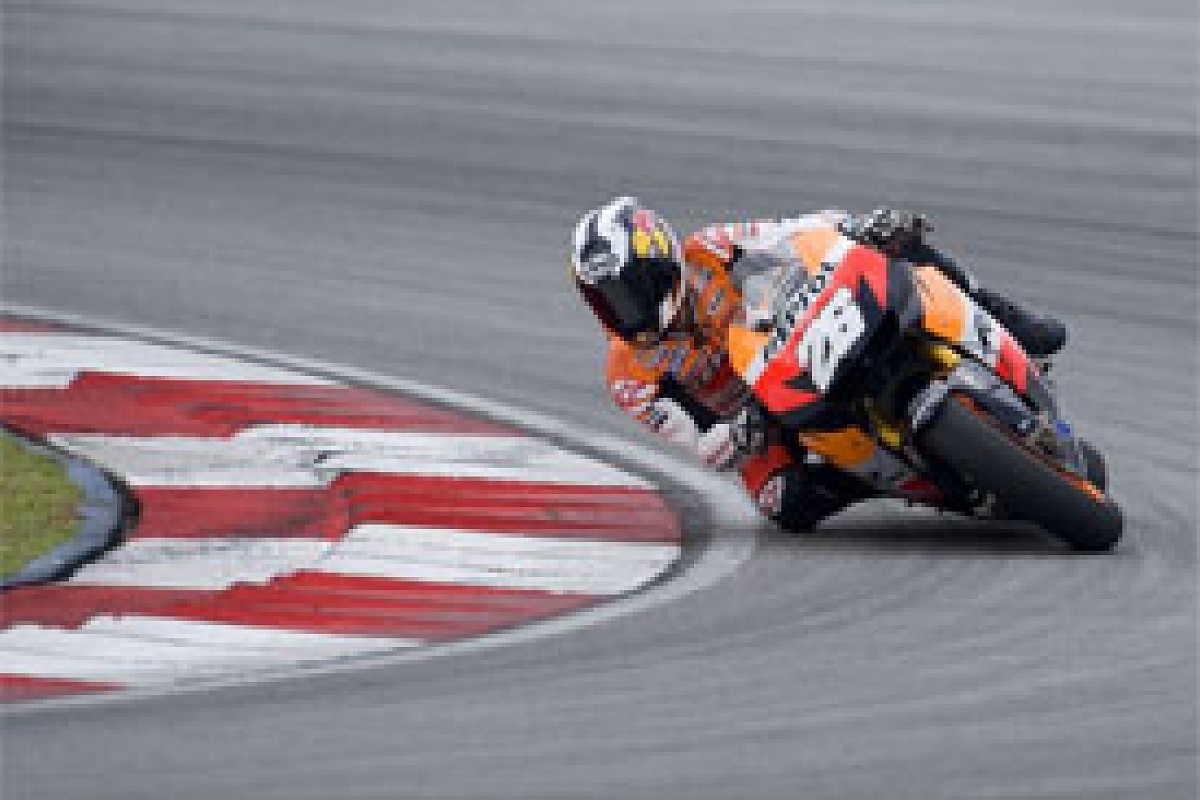 Dani Pedrosa
Dani Pedrosa is the fourth 'alien' but he may well have missed the mother ship leaving planet earth. Having had the option of switching from long-time Honda suspension supplier Showa to rival Ohlins last August, he opted to stay with what he knew while he negotiated a new one-year deal for 2010.
That meant that, unlike his factory Honda team-mate Andrea Dovizioso, who did switch, he lost all the set-up time from August onwards to prepare himself for the feel of the Swedish forks. Alas he's been in the mire with getting to grips with it and was only 13th quickest at the last Qatar test. Every Honda is on Ohlins this year.
Ironically for Pedrosa, it's the first time in two years when he's going into a campaign without carrying an injury, but now he can't get the bike to work. And while he looked down the timing screens to find out where he was, Dovizioso, his Ohlins acclimatisation complete, was flying (admittedly with a bit of a one-lap wonder) to go third fastest.
Honda's Shuhei Nakamoto knows that the team has got to be turned around quickly to return to its glory days, but an initial move towards 2011 was already announced last November with Livio Suppo, the man who masterminded Ducati's move into MotoGP, moving over as a marketing director, but surely having some say with the direction of the team in the future.
With Pedrosa and Dovizioso both on retainers that come to a close at the end of this season, Suppo-led rider changes at HRC may well be already in motion this spring. At Ducati, Suppo brought the manufacturer in to MotoGP, personally recruited every sponsor that was seen on the side of the red bike, and won a title as team manager. He takes no flack from riders and may be the whip hand that HRC needs in Europe.
So with the top riders covered, the bike to have if you're not an 'alien' is a Yamaha M1. It works, as its victories in 24 of the 53 800cc MotoGP races so far proves. So if you want to be a satellite team rider, you'd want to be Colin Edwards or Ben Spies at Tech 3. Evidence of how well they get on is already widely available (http://www.youtube.com/watch?v=4MIAy66veDs).
But can a non-works rider win a race? Edwards last week was very adamant that the answer to that question is yes.
"Anyone betting against Valentino needs their head looking at," says the Texas Tornado. "But if ever there was a year a satellite bike could win a race, it's this year. Me or Ben? I'm happy if either of us do. Whatever, we'll be having a beer together that night."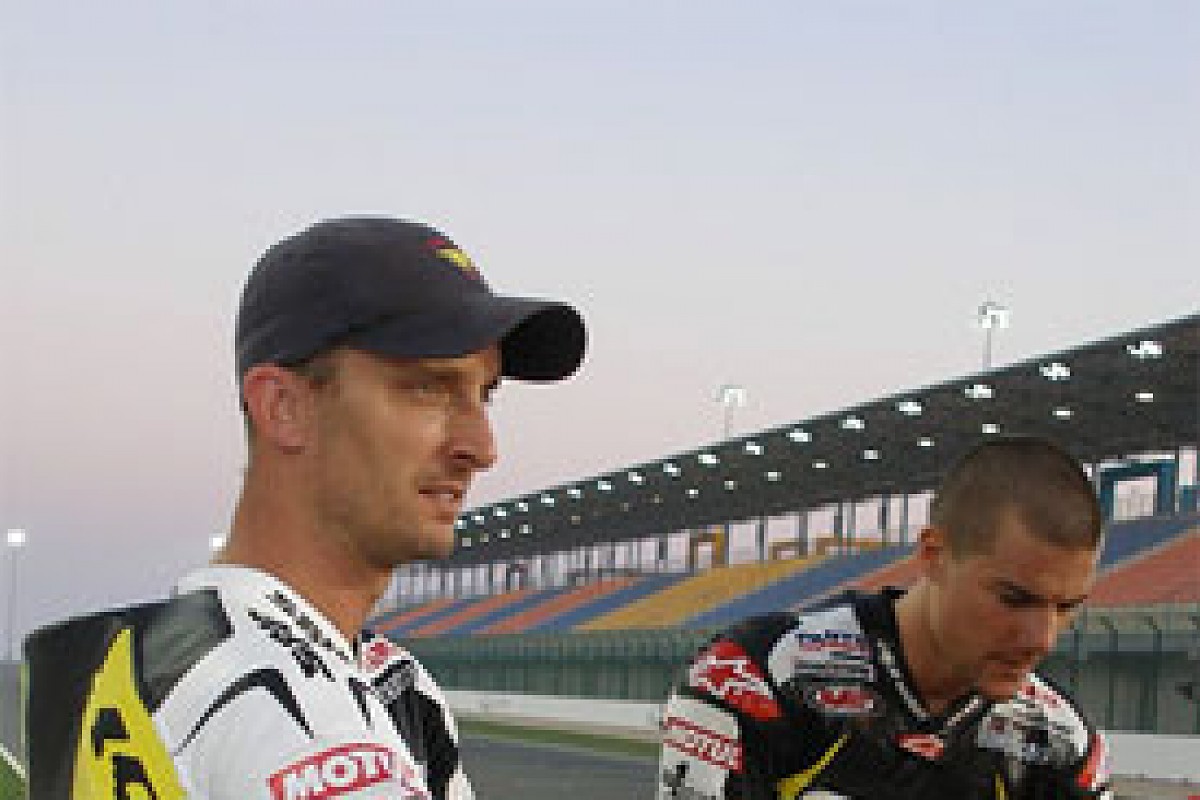 Colin Edwards and Ben Spies
For Spies, coming over as the World Superbike champion to MotoGP again begs the question that has been an ongoing thing since Troy Corser arrived in 500cc Grand Prix racing in 1997; Can a Superbike man properly make the jump?
Troy Bayliss nearly made it stick with Ducati and Honda, but Spies is certainly the real deal, and has a bike that could win the title for him in the post-Rossi era, whenever that begins.
Having beaten Dovizioso's Honda at the final MotoGP race last year (on a bike and tyres he'd never ridden before first practice), Spies is another man who can just ride anything he's given; not in an animalistic way, but in that he just has the feel.
Let's not forget either, that if the new 1000cc rules are railroaded through a year earlier than scheduled by Dorna, just as Moto2 was, then he may well be back on a one-litre bike in a year's time.
For Spies, he's on his third different type of tyre in three seasons after AMA and World Superbike campaigns, but he reckons he's not far off the Bridgestones: "I'm definitely getting closer to the limit of the tyres," he says. "I'm not quite there when they are at the top of their limit - I'm just not quite there. Once they tail off I'm alright to push them though."
Edwards meanwhile is much happier with the new torque the Yamaha has compared to last year: "We've got a lot more bottom end," he says. "Before, your line was so critical and we had to play a lot with gearing to get the power right, whereas now for the first time on the 800, if you make a mistake [in a corner] the bottom end [torque] can help you out."
I'm all for other members of the 'alien' club, but here and now, I can't see them appearing through the clouds like a scene out of Close Encounters of the Third Kind. Still, if they are up there, we'll know about them by the end of the season.
It all gets underway with the now traditional floodlight race in Qatar this weekend. Let's just hope that there, or in any other of the 17 races of wheel-to-wheel action between now and November, they make themselves known.