When shooting a gun, you have two options. Choose a rifle and a direct hit can be perfectly placed to go straight through the bullseye, or pick a shotgun, scatter the shot and risk the prey returning to take revenge on you at a later date.
At the moment, Valentino Rossi can use one bullet every fortnight, but there are numerous targets to aim for. The question for Rossi is which rider to target between the two giving him a hard time now we are well and truly into the stride of 2009.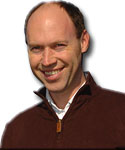 Valentino Rossi at Mugello © Back Page Images
Rossi has never had numerous nor moving targets in his top class career, after never really having anyone to worry about in the 125 and 250 classes either. Upon arrival in the big class, the day-glo yellow-leathered kid from Tavullia fell off a bit, but got quicker and quicker without anyone really noticing. Indeed, you rather fancy that Jerry Burgess and all the ex-Mick Doohan crew quite enjoyed being out of the limelight for half a season until VR's first win at Donington in 2000.
And it hasn't stopped since.
Rossi has been picking off people with sniper-like efficiency for nearly a decade in the top class, never wasting a single bullet. Indeed, he regularly saved them up to properly disable an opponent for the year, or for ever. He did just this on Casey Stoner last year at Laguna. Prior to that he had unleashed his barrage upon Sete Gibernau in 2004, casting 'the curse of Qatar' upon the Spaniard saying he would never win another grand prix. He hasn't, and looks increasingly unlikely to change that.
Rossi's first major opposition in his first championship year (2001) was Max Biaggi. The arch-rival that was poles apart from Rossi's chicken carrying, toilet-visiting antics was far more suited to Monaco, and being seen in the right places - even if it was strutting through Nice airport with Naomi Campbell. Rossi was into having a few beers with his mates back home in Tavullia, while Biaggi lusted after the James Bond slick lifestyle on the Cote D'Azur.
In 2001, Rossi was getting into his stride with confidence growing right from the first race, giving Biaggi the bird after being elbowed off the track by him at Suzuka. It culminated in them fighting en-route to the podium at Barcelona, but for the rest of the year no-one else, save for Gibernau's 'tyre win' at Valencia, won a race.
Into the four-stroke era and Rossi was uncatchable because he had an RC 211 V Honda, one of the most amazing motorcycles ever born from human mind. If it were a car, it might have been an pre-war Auto Union or a Group B Audi Quattro S2; nothing will ever get near it.
But then Gibernau got hold of one with a fistful of dollars from Movistar. He was mightily quick and soon took the race to Rossi, beating him in some close, tense fights and then again in the thrilling German race of 2003 when Rossi's smile vanished as he was beaten by inches at the flag.
It went on and on, but that stopped at the aforementioned Qatar.
Sete Gibernau and Valentino Rossi © Back Page Images
So he trundled along without any real rival he actively disliked. Sure, he continued to race Biaggi when the Roman got onto a Repsol Honda, but beat him at every race bar two out of the 17; and he fell off at one of those.
Sure, he raced Loris Capirossi's Ducati, Marco Melandri's and Nicky Hayden's Hondas but they were never a threat. Hell, he won the title by 147 points - nearly six victories worth. Amazing.
He knew that Hayden's dogged persistence and his own bad luck meant the title was just on loan. Besides, you can't take a dislike to Nicky Hayden as he's the perfect human being if ever there was one!
But then arrived Casey Stoner on the new 800cc Ducati, blowing the championship right open and catching a few engineers on the back foot -Japanese ones, who knew they could go as quick as the Ducati under the fuel restricted regulations, but weren't quite ready to so soon after a regulation change...
A tyre change for Rossi last year meant that on an equal runner he would beat everyone again, but along the way he used several perfectly-aimed shots at Stoner, when the latter ran on at Laguna then crashed out of the lead twice at Brno and Misano.
The party began with the colossal cheer that went up over Misano when #46 came around without #1, and it went on until dawn on the Monday after Motegi, where Rossi won the title. Even the hardened Aussie mechanics at breakfast said it was an utterly out of control celebration.
Along the way, Dani Pedrosa has shown he can win, but only at certain tracks. Pedrosa's last win was 51 weeks ago; he's gone a complete season without a win for crying out loud. I know, you have to read that twice.
But it's the trojan horse that is Jorge Lorenzo that is the biggest threat, along with a resurgent Stoner, who is flying now his confidence is back and allied with a wrist that actually works in holding onto a 210mph motorcycle.
Lorenzo is on top of his game and spurred by the wall between himself and Rossi within the Yamaha garage. He is nearly nine years younger and possibly more perceptive in moves on track. However good you are in life, there is no substitute for age and enthusiasm when trying to come up with new ideas to outwit and dodge the opposition - something that Lorenzo has in buckets.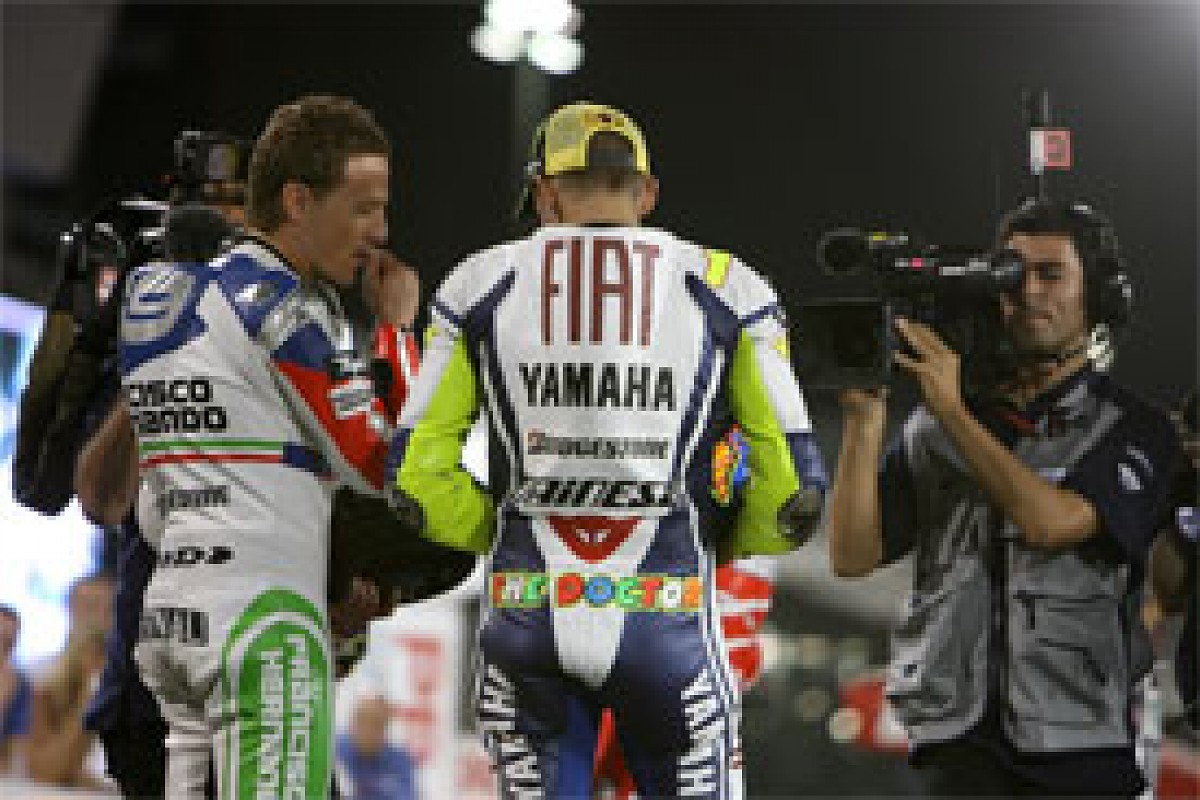 Valentino Rossi contemplates his next move © Back Page Images
So Rossi cannot target any particular rider. They are moving targets one week to the next and he knows that they will be there week after week. Besides, there have been a couple of miscalls on tyres in the last couple of races, something that is rare inside that Burgess-led garage. But it's something that's cost him points nonetheless, while others have made hay. Had he taken the softer front for the last 11 laps at Mugello, things may well have been different.
Or is this just a bit of bad luck that has happened while rain has fallen in two successive races - something that had never happened under the current bike changing rules, and particularly when a Ducati can be ragged by Stoner at Mugello while unrestricted on fuel for the remaining dry laps.
Rossi will be at home making as many bullets as he can until Barcelona, but can he make them as fast as those aiming at him? Whatever the result, it'll be the man who can draw fastest in the gun-slinging showdown that is the rest of the season.
After nearly a third of the season there are just nine points between the top three, with Rossi in third. Pedrosa is out of the championship chase already, so can Rossi see off Stoner and Lorenzo? It's time for him to take aim once again.