It's 7pm in the Jerez press office on Sunday evening and I'm listening to Pink Floyd's Shine On You Crazy Diamond. I've specifically picked out this tune because my day is ending as it started; full of excitement.
So why the tune? Well, the circuit PA has played the tune every year I've ever been here (since 1996), just as the sun peeps over the hill a Turn 2, drenching the pit building in piercing bright light through the chilly darkness of what should really be the last night of spring and the first morning of summer. This is Jerez and it marks the beginning of the proper MotoGP world championship every year.
The series organisers may well be biased towards being overly Spanish, but one must never forget that Jerez kicks off what Wayne Rainey descibed as 'the ground war' of the championship proper, following the flyaway races that kick off the season.
It is utterly incredible, almost a spiritual motorsport experience to come here and witness the fever and the fervour of a crowd that, even by Spanish standards, is over the top. Air horns, loud hailers, those simple little plastic trumpets, chainsaws minus the bar and chain, firecrackers, bangers are all used in the perfect way to cheer riders on.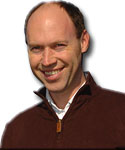 Spectators at Jerez © Back Page Images
I've never been to a Milan football derby, but it's how I imagine that must be in the San Siro stadium. The difference is that the crowd is not split, they just want to see good racing.
Jerez town centre used to be an unofficial race track just over a decade ago. Knackered-out original Fireblades ridden by helmetless 32-year-olds with hot pant-wearing, bikini-topped trophy girlfriends perched up high on the back would drag race other big bikes all night long. They'd run through bars on the limiter until the manifold glowed lava orange. Proper madness that even Mr Firestarter himself, Kieth Flint, said was off the scale.
That evening hooliganism couldn't go on as the accidents were huge. The police closed down the town centre to the hairyness of it all, but still made the main street into a drag strip with ambulances and even local Andalucian TV broadcasting 'trackside'. Why put people off? Encourage them!
You'll read of my colleague Simon Strang's experience elsewhere on autosport.com, but he's tapping away on his laptop next to me at a hell of a rate as he tries to download his brain from a Ducati two-seater ride earlier today in front of 123,000 fans, who'd packed themselves into what is actually quite a small amount of land for the quota of track action it gives.
But there was method to the madness as Jerez has now given us a major turning point in this year's championship, in that it gave us a race no one could have predicted. On Saturday we saw Jorge Lorenzo dominate qualifying to get pole ahead of Dani Pedrosa. Two Spaniards in the first two places for the Spanish MotoGP. It doesn't get more like a bullfight anywhere in motorsport. Not even close.
For Pedrosa to even get on the front row was amazing, let alone just 0.05 seconds behind the flying Lorenzo, after the 49kg Honda rider missed the test here following crash after crash last year and throughout the pre-season. No data, no training and a limp that looks wincingly painful.
Rossi was left on the second row, having lost his 0.6-second advantage from Friday that looked Stoneresque, such was his dominance right from the word go. His world had literally turned upsidedown overnight, leaving him saying to the press on Saturday evening that "it's not possible" to win.

I've seen every single one of Valentino Rossi's races and been present at all but seven over his 14-year, 198-race career, but he was properly in the mire on Saturday night. Usually he'd be able to get them come the flag on Sunday, but we're talking about Spaniards in Spain, and they really do find something extra at home.
The Yamaha squad had a big meeting on Saturday evening and came up with what they needed to do on Sunday morning for the 20-minute warm up. It wasn't a massive panic meeting, but one where all heads locked together with one purpose, realising they had to get themselves out of a hole.
Jorge Lorenzo, Yamaha © Back Page Images
But it wasn't just the Jerry Burgess-led team that needed to win at Jerez; Rossi had to beat team-mate Jorge Lorenzo, not just to stop him getting more points to extend his championship lead, no. It was far more important for Rossi to get into Lornezo's head to remind him who was the number one in the Yamaha set up.
However, Lorenzo cleverly answered questions on Saturday about next year: "When you are fast everyone wants you," he said, "when you are not fast then no one wants you." He was trying to up his price and up his offers for 2010 and beyond. He is no fool.
Yamaha will surely want to keep the dream team of Rossi and Lorenzo together, but it's Rossi who is the one already in for 2010 after he signed his two-year deal last June. Lorenzo may be rehired, or will he take the coin and go to a Honda that doesn't have the speed? Whatever Yamaha want to do, it's going to be Valentino who is going to make up Jorge's mind if he is to stay or not, and there's only one way to do that as far as the reigning champion is concerned.
Beat him with a knockout punch.
That was the remit of Rossi after Japan, just seven days before Jerez, after Lorenzo sped ahead to a win that surprised even himself.
Personally, it's a shame to see a loser out of all of this as they are both fighters of gargantuan proportions, and genuinely nice guys off the bike and away from the race track. But someone's going to have to come second. So far as Rossi was concerned, he had to beat Lorenzo above all else at Jerez; he was the largest and closest crocodile. Casey Stoner and Dani Pedrosa were not today's problem.
However, I actually ought not to be surprised that Rossi won with such dominace as he's produced miracles in the past such as Laguna 2008, Phillip Island 2003 (winning by 15 seconds after a 10-second penalty was imposed for overtaking under yellows). But I am once more staggered that someone can do it time and time again, as he enters his 14th year at the top level of a sport.
Paddock wise owl Barry Coleman said that after watching the Japanese race, he thought the fight had gone out of Rossi somewhat after being beaten in Qatar and Motegi. There just seemed to be something missing. The same thought had occurred to me but I'd it to the back of my mind, hoping that it wasn't true. But I was interested that a former editor of the Motocourse annual and Fleet Street journalist had had the same thought.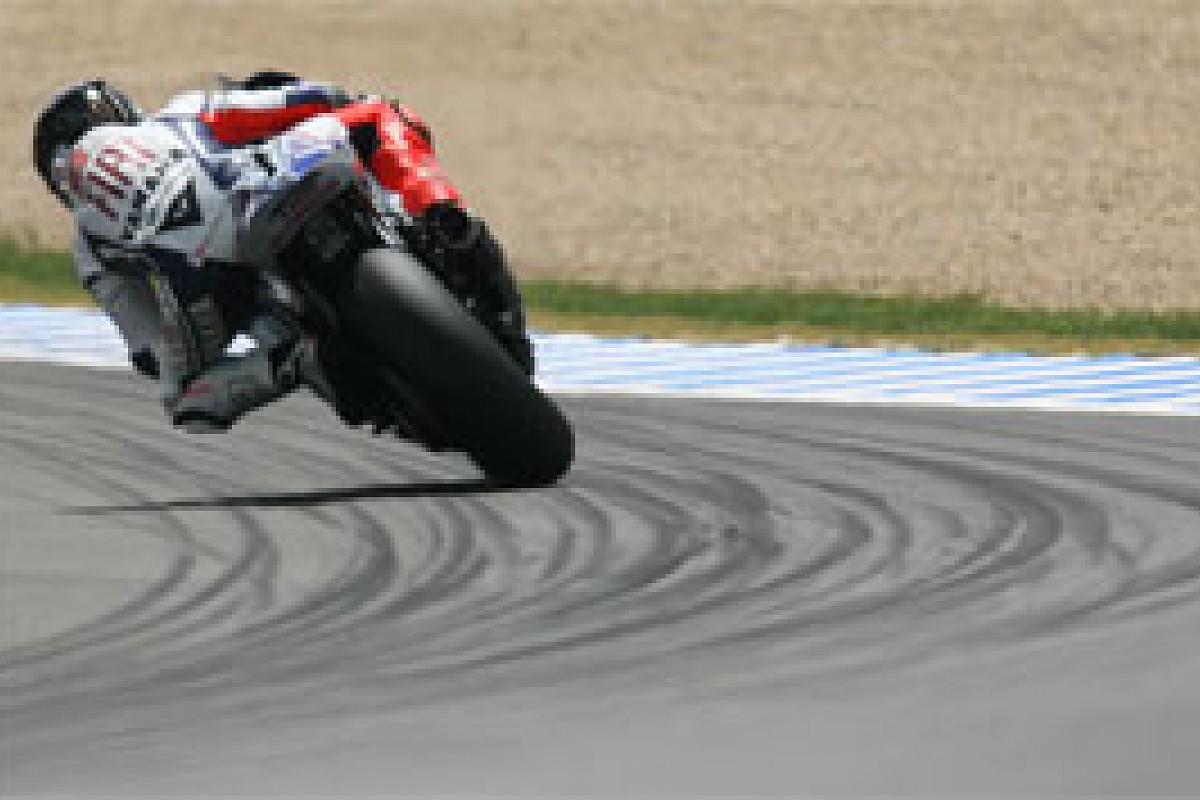 Valentino Rossi, Yamaha © Back Page Images
"Kenny [Roberts] told me that there are 10 years worth of concentration in a sportsman at this kind of level before you just cannot go on. He told me once that it felt like an aphysical thing, just running out of his body one day. He felt that, won his last race at Imola in 1983 and retired from racing there and then. Has anyone else stopped after winning their last race? I think not.
"He said that he could still muster the concentration to win, but it was becoming so much harder to do it."
Results later were borne out to prove that Kenny was correct in his 10-year theory, and that is what makes it yet another milestone in Rossi's career to win this race. He can summon the fight within himself to beat them time and time again, with sniper precision, laugh like hell when back in parc ferme and yet still be full of smiles and the strongest handshake of the weekend when I saw him four hours after the race.
This is one of his big wins in order to quash his main rivals. Max Biaggi at Brno 2001, Sete Gibernau at Jerez in 2005, Stoner at Laguna 2008 and to a certain degree Lorenzo at Jerez 2009. The jury may well be still out on Stoner as there are more championships left in him, while Lorenzo indeed may well have just been swatted aside for the short term.
Fascinating plots and simple, non-mud flinging, non-scraping the barrel stories that get bounded about the tabloids in other sports.
Lorenzo was visably crestfallen on Sunday evening, but held his head high just as he had at the front of the grid, holding his gaze as he answered my questions with his trademark genuine honesty.
His time will come as he'll learn from this and return stronger; he's done it already after the massive crashes he had last year at Shanghai and Catalunya, but if he times it right, that strength may well reappear at a time when Rossi is fighting another close and hungry crocodile in the shape of Stoner's trademark mid-season run or Pedrosa's Honda getting the speed it so desperately needs.
France is the next race and Lorenzo goes well there, last year finishing second from nearly last into the first corner.
Valentino may well nip back to Ibiza and sleep til midday, but in the back of his mind he knows that even if he can swat one rival away for a while, another will nip at his ankles soon enough.
And we've got 14 races to go. Brilliant.