When Black Sabbath released their eponymous debut record in 1970 out of the grime and thick metallic air of industrial Birmingham, it was a sound no one had ever heard before and proved to be the genesis of heavy metal. From that point, rock music changed forever, with that influence inspiring the likes of Iron Maiden and Metallica which continue to sell out arenas and stadiums worldwide to this day.
It's one of many moments in history that defined and expanded on the genre to what we know today (and, while I'm sure there are probably more significant moments in music history, I don't care for those as much as I do Black Sabbath).
Grand Prix motorcycle racing's history is littered with them. Giacomo Agostini's 1975 500cc title marking the first for a two-stroke bike, ushering in a quarter century of two-stroke success; Kenny Roberts revolutionising the way to ride a 500cc bike when he arrived in '78; the August day in 1996 when Valentino Rossi seized the first of 115 grand prix wins in the 125cc race at Brno are to name but a very few.
On this day in 2013, another new chapter commenced when a 20-year-old Spaniard headed to the horsepower rodeo in Texas to begin his annihilation of the MotoGP record books.
Marc Marquez had spent the previous three years in grand prix racing blazing an unstoppable trail to MotoGP, winning the 125cc title in 2010, coming close to the Moto2 crown in his debut season and brushing off a near career-ending eye injury - suffered in a crash in Malaysia - to ease to the 2012 intermediate class title.
By the time he stood atop the world in Australia as Moto2 champion, he'd already signed a two-year deal with the works Honda outfit to replace double MotoGP title winner Casey Stoner - who had announced his shock retirement from racing at Le Mans earlier in the year.
Marquez had amazed and courted controversy with his ruthless approach, which left little doubt as to where he'd end up going once he'd gotten the RC213V between his thighs.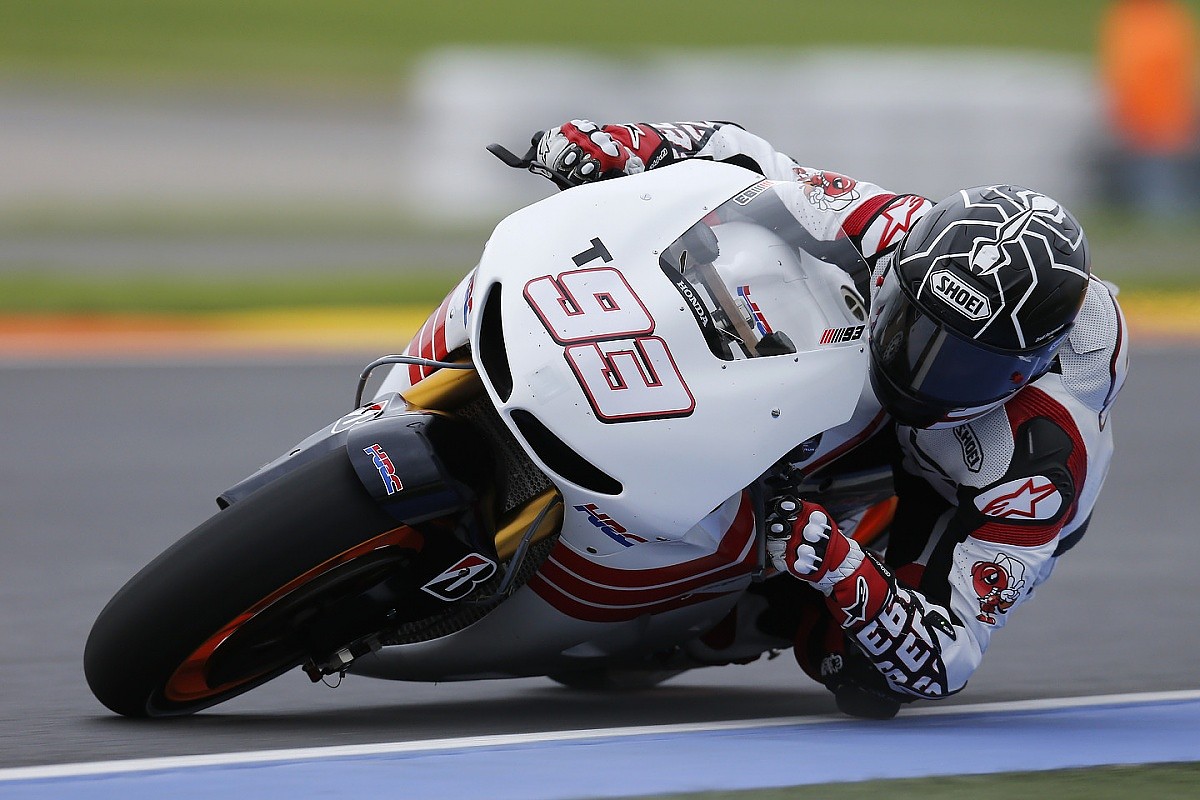 "I don't think anybody doubted that he was going to be fast," the late Nicky Hayden said ahead of the 2013 campaign. "When you are fast, you are fast. I would say to be quite this quick [during testing] and even so consistently quick this early wasn't expected and for some of us riders, we aren't so pumped on it. He is going to be exciting for the sport.
"He rides very hard and he is very hungry. If he can stay healthy, he is really going to shake things up this season. He has been very, very impressive and very fast, in a bit of his own style. And he could be a game-changer to MotoGP and all of road racing."
Sure enough, in the Qatar season-opener Marquez made the best start to a season of any rookie since Jorge Lorenzo scored pole and finished second on the Yamaha at Losail in 2008. Ultimately losing out in a battle for second to Valentino Rossi - a rider Marquez made no secret of his admiration for, and who would ultimately become his bitterest foe - the Honda rider had confirmed all fears the rest had of his talent.
It was in those closing laps where Marquez displayed the talent that would carry him to six MotoGP titles in the following seven years. Any other riders would have ended that afternoon picking gravel from their teeth had they been suffering the same front-end issues
The next stop on MotoGP's 2013 world tour was Texas and the Circuit of the Americas for the first time. A private test conducted by Yamaha and Honda at the circuit the month prior was led by Marquez, and he topped all but two sessions prior to that weekend's race, displaying devastating long run pace in the process.
On Saturday he claimed the first of two records double 500cc world champion Freddie Spencer had held onto for over 30 years. A lap of 2m03.021s put him 0.254 seconds clear of Honda team-mate Dani Pedrosa in qualifying to claim his debut pole and become the youngest polesitter in premier class history.
Marquez and Pedrosa went in different directions with tyre choice for the race. The rookie opted for the harder rear, while Pedrosa went for the medium option.
A lightning start for Pedrosa was juxtaposed with a clunky getaway from Marquez, who showed how fresh he still was with a borderline-reckless attempt to move back ahead of his team-mate with a massive lunge into Turn 1.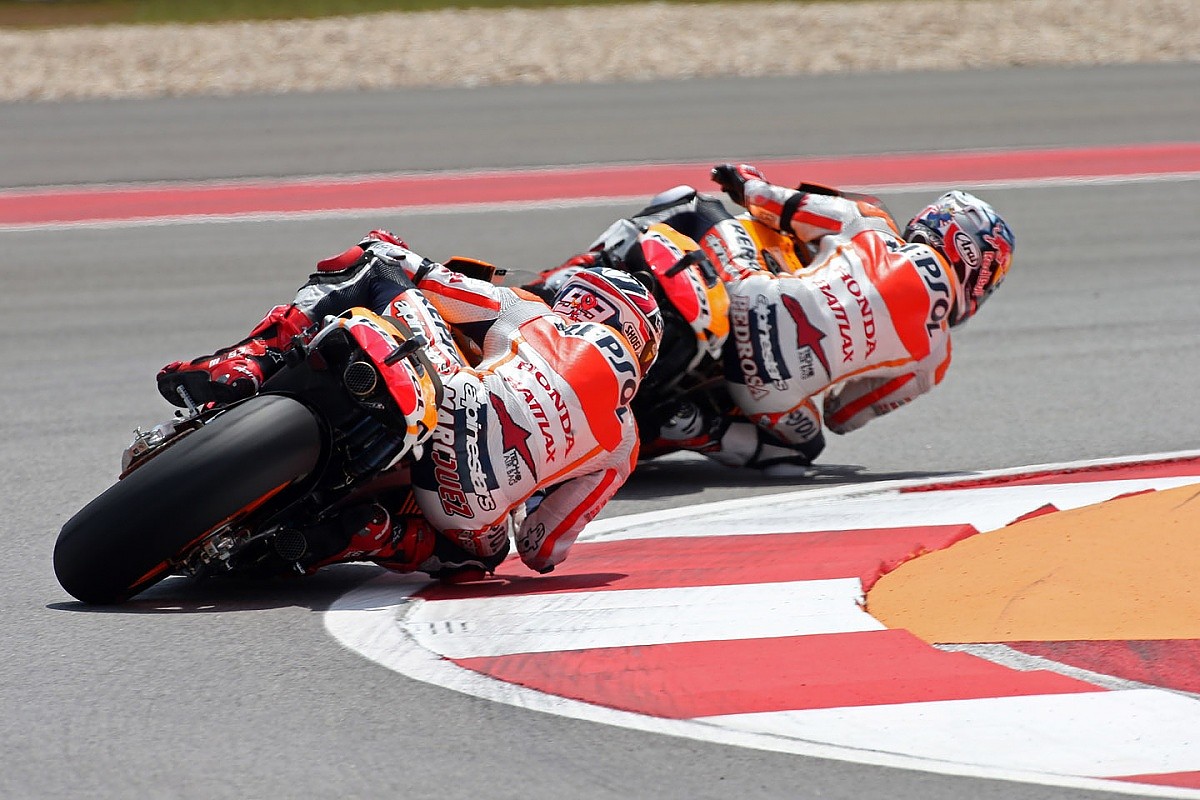 Pedrosa made it through cleanly, while Marquez wound up behind the LCR Honda of Stefan Bradl for the opening 11 corners, before blasting past on the run into Turn 12 at the end of the back straight.
The number 26 did have an early grip advantage with his slightly softer rear tyre, which he used to hold the lead for the first 14 laps. Behind, Marquez was suffering problems with the front tyre which hadn't materialised throughout practice.
For the first 14 laps he boxed clever, not stressing the front while maintaining grip in his hard rear tyre. With nine laps to go, he scythed up the inside of Pedrosa at Turn 7. Marquez tried to break away, but suffered even more with the front-end.
"Maybe in the beginning I could be faster [than Pedrosa], but also I didn't know what the rear tyre life was," he recalled after the race. "But even like that I tried to follow him and when I saw L10 and nine [on the pit board] I tried to pass him, I tried to open some gap.
"But then came those problems with the front, in those [late] laps even more and then many times I was close to crashing - especially on the right side [of the tyre] - and it was a little bit scary."
It was in those closing laps where Marquez displayed the talent that would carry him to six MotoGP titles in the following seven years. Any other rider would have ended that afternoon picking gravel from their teeth had they been suffering the same front-end issues. But Marquez, even then, wasn't like any other rider.
Pedrosa heaped massive pressure on him, but a drop-off in his rear tyre late on led to a mistake that allowed Marquez to open up a 1.5s gap he would carry to the chequered flag and become MotoGP's youngest ever winner. That day also began an unbeaten run in America for Marquez in the premier class which lasted until last year, when he crashed out of the lead of the COTA race.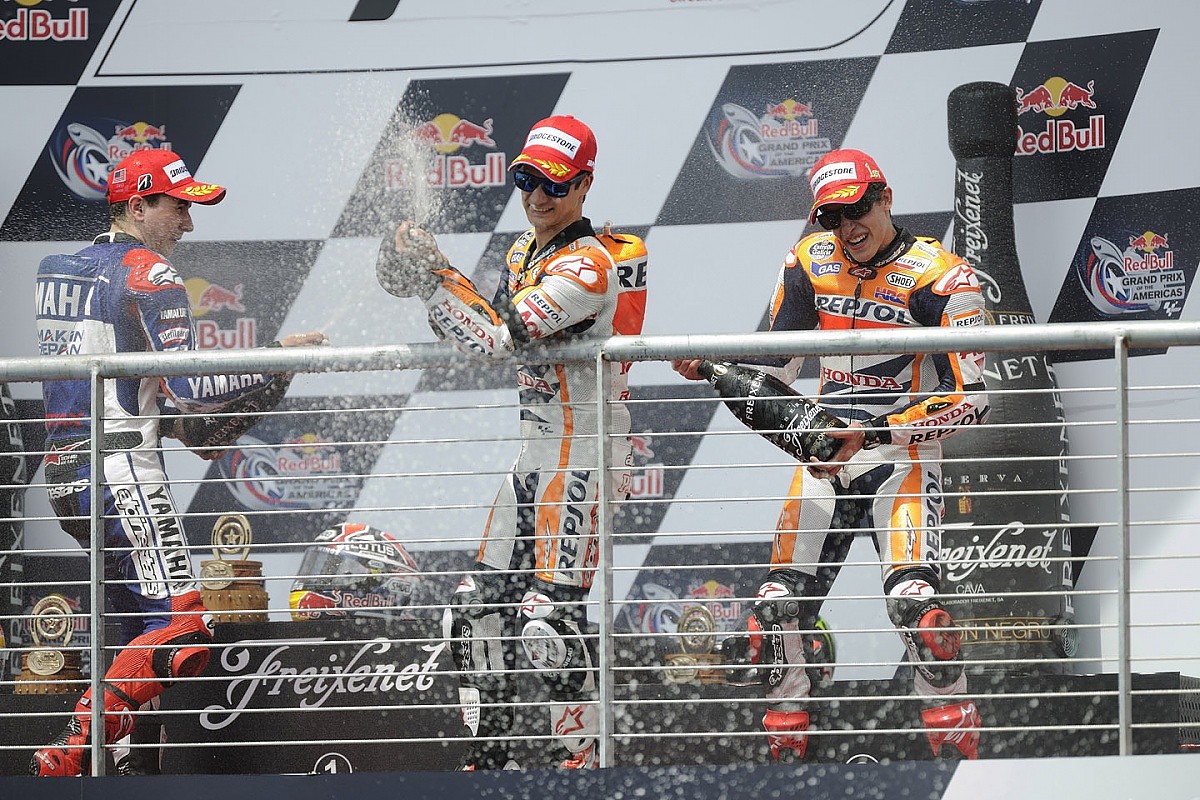 From his next 125 starts, Marquez would tally up a further 55 wins and 93 podiums, which ultimately puts him within range of matching Rossi's tally of seven MotoGP titles at the age of just 26.
"This is my first season, so from now it will be more difficult. The championship we cannot think about that" Marc Marquez after his first MotoGP win in 2013
Marquez also revolutionised the way to ride a MotoGP bike - his wild, body-out style the now-standard approach in grand prix racing, while his unearthly ability to defy physics and save crashes is a KISS-like spectacle one can only marvel at every weekend.
After that 2013 Texas race, Marquez moved up to joint first in the standings with Lorenzo on 41 points. Inevitably, questions turned to just one thing.
"I cannot forget that this is my first season, so from now it will be more difficult," he noted. Coming up are some tracks where Yamaha will be strong, also everybody [has ridden there] with these bikes, so they have a base [set-up to work with].
"It will be new for me, so we will try to do our best and try to enjoy it every race. Our battle is like that, try to go race-by-race, but the championship we cannot think about that because I think they [Pedrosa and Lorenzo] are strong."
Come November, the title was the only thing he was thinking about...