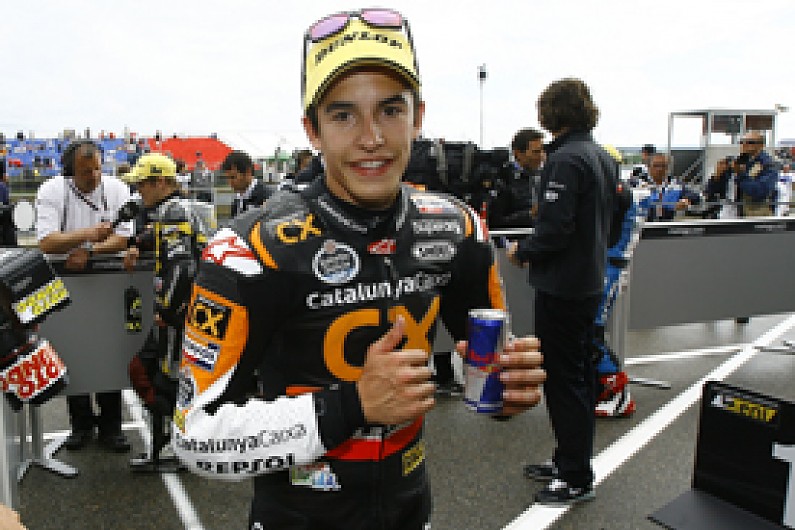 Marc Marquez sealed his sixth Moto2 pole position of the season with a last-gasp effort in mixed conditions at the Sachsenring.
As had been the case in MotoGP qualifying, track conditions started out wet but improved as the session developed, with several riders improving as the chequered flag flew.
Marquez was the prime example, the Monlau Suter rider jumping up to provisional pole with a 1m34.503s, putting him less than five hundredths of a second clear of Julian Simon's Avintia FTR.
Simon had been involved in a two-way fight for pole with Tech 3's Xavier Simeon until that moment. Simeon was in the hunt for pole when he fell on his final lap, ending his bid. As he did so, he was also demoted into fourth by Mika Kallio on the Marc VDS Kalex.
In contrast to Kallio, team-mate Scott Redding - on the podium in the past two races - suffered horribly in the conditions and will start Sunday's race from a season low of 26th.
Redding was not the only frontrunner to suffer. Andrea Iannone (Speed Master Speed Up), second to Marquez in the championship, wound up 10th, while Pol Espargaro (Pons Kalex), who has won twice this year, could only manage 17th.
Espargaro did well to hold onto a huge high-side moment in the final two minutes, one of several incidents during the session.
Gino Rea (Gresini Moriwaki) just beat Thomas Luthi (Paddock Suter) to fifth - 0.037s all there was to choose between the pair - while Anthony West (QMMF Moriwaki) and Alex de Angelis (Forward Suter) rounded out the top eight.
Pos  Rider                  Team/Bike              Time       Gap
 1.  Marc Marquez           Monlau Suter           1m34.503s
 2.  Julian Simon           Avintia FTR            1m34.548s  + 0.045s
 3.  Mika Kallio            Marc VDS Kalex         1m34.639s  + 0.136s
 4.  Xavier Simeon          Tech 3                 1m34.686s  + 0.183s
 5.  Gino Rea               Gresini Moriwaki       1m34.908s  + 0.405s
 6.  Thomas Luthi           Paddock Suter          1m34.945s  + 0.442s
 7.  Anthony West           QMMF Moriwaki          1m35.110s  + 0.607s
 8.  Alex de Angelis        Forward Suter          1m35.234s  + 0.731s
 9.  Bradley Smith          Tech 3                 1m35.238s  + 0.735s
10.  Andrea Iannone         Speed Master Speed Up  1m35.320s  + 0.817s
11.  Yuki Takahashi         Forward Suter          1m35.358s  + 0.855s
12.  Ricard Cardus          Arguinano AJR          1m35.559s  + 1.056s
13.  Simone Corsi           Ioda FTR               1m35.702s  + 1.199s
14.  Johann Zarco           JIR Motobi             1m35.733s  + 1.230s
15.  Dominique Aegerter     Technomag-CIP Suter    1m35.777s  + 1.274s
16.  Ratthapark Wilairot    Gresini Moriwaki       1m35.819s  + 1.316s
17.  Pol Espargaro          Pons Kalex             1m35.976s  + 1.473s
18.  Toni Elias             Aspar Suter            1m36.041s  + 1.538s
19.  Claudio Corti          Italtrans Kalex        1m36.386s  + 1.883s
20.  Randy Krummenacher     Switzerland Kalex      1m36.407s  + 1.904s
21.  Takaaki Nakagami       Italtrans Kalex        1m36.461s  + 1.958s
22.  Max Neukirchner        Kiefer Kalex           1m36.471s  + 1.968s
23.  Damian Cudlin          SAG Bimota             1m36.532s  + 2.029s
24.  Nicolas Terol          Aspar Suter            1m36.707s  + 2.204s
25.  Alessandro Andreozzi   Speed Master Speed Up  1m37.072s  + 2.569s
26.  Scott Redding          Marc VDS Kalex         1m37.588s  + 3.085s
27.  Esteve Rabat           Pons Kalex             1m37.723s  + 3.220s
28.  Eric Granado           JIR Motobi             1m37.921s  + 3.418s
29.  Kevin Wahr             Kiefer IAMT            1m38.493s  + 3.990s
30.  Markus Reiterberger    MZ Racing FTR          1m38.697s  + 4.194s
31.  Roberto Rolfo          Technomag-CIP Suter    1m38.703s  + 4.200s
32.  Marco Colandrea        SAG FTR                1m39.273s  + 4.770s
33.  Axel Pons              Pons Kalex             1m39.301s  + 4.798s
34.  Elena Rosell           QMMF Moriwaki          1m39.716s  + 5.213s