AUTOSPORT's traditional Christmas double issue features an in-depth review of the 2011 Formula 1 season, a year in which new standards were set and long-standing records were broken. Not to mention the hundreds of overtaking moves race fans crave. In our 60-page grand prix pull-out, you'll find:
• A season overview in which Mark Hughes analyses the year's key themes.
• Our top 10 drivers of the year. And, yes, all three Brits make the cut.
• The F1 team principals' top 10.
• David Coulthard's take on the all the good - and bad - bits of the 19-race season.
• Adrian Newey's appraisal of his latest baby, the Red Bull RB7, as revealed to Edd Straw.
• A one-to-one with Pat Fry, the Briton charged with returning Scuderia Ferrari to its glory days.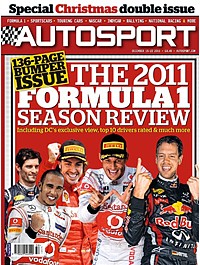 • A post-season catch-up with Felipe Massa, who tells Adam Cooper that he believes he can win again.
• A full resume of Lewis Hamilton's turbulent season, featuring the good (three wins), the bad (private life distractions) and the ugly (all those collisions).
• Reflections and revelations from Michael Schumacher on his motivation and desire to win again after the second season of his comeback tour.
• The (technical) truth behind Renault's fall from grace after such a strong start. And it's not all hot air.
• Team-by-team analysis from Mark Hughes and Gary Anderson.
• All the relevant statistics involving the 28 drivers, 12 teams and 19 grands prix.
Mark Hughes column - Our grand prix editor wonders what will become of the Formula One Teams' Association in the wake of the recent pull-out by Red Bull, Ferrari and Sauber.
Christmas quiz - Win a pair of three-day tickets to the 2012 British Grand Prix at Silverstone in resident anorak Henry Hope-Frost's fiendish annual brain-teaser.
National news - The Aston Martin Owners' Club has restructured in a bid to rescue its struggling race series.
National focus - We choose the top 10 national and/or club racing rivalries of 2011 and select our favourite club machines of the year.
From the archive - When 22-year-old Bruce McLaren won the 1959 US GP at Sebring, he became the youngest winner of a world championship grand prix. It was a record that wasn't broken for 44 years.
Race of my life - As a tribute to Peter Gethin, who died recently, we re-run the story, as told by the man himself, of his dramatic win in the 1971 Italian GP - the closest finish in F1 history.
Read this week's AUTOSPORT digital magazine.