AUTOSPORT magazine this week pays full tribute to Dan Wheldon, in the wake of his fatal crash at last weekend's IndyCar Series finale at Las Vegas Motor Speedway.
As well as analysis of the accident and an obituary from editor Charles Bradley, we carry tributes from leading figures within motorsport, including Jenson Button, Bryan Herta, Michael Andretti, Andy Priaulx and many others.
There is a pictorial record of Wheldon's career, while this week's 'From the archive' harks back to his first win in cars, when he held off a throng of young talent to claim Formula Vauxhall Junior victory at Brands Hatch in 1996.
Korean GP report - Last Sunday kicked off in a happier manner with the Korean Grand Prix. As usual, Mark Hughes delves beyond what you saw on TV to give you the full story of how Sebastian Vettel and Red Bull proved impossible to beat in a race that McLaren's Lewis Hamilton had looked a good bet to win.
Mark Hughes column - In his weekly column, our grand prix editor looks into a claim from Vettel that this year's Red Bull RB7 has not been as dominant as last year's RB6. He finds there is merit in the argument, but that success in motorsport is not just down to the superiority - or otherwise - of your car.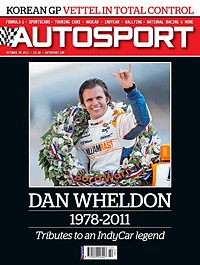 Mercedes front wing - News this week features a modification to the Mercedes front wing that could give the team a serious head-start for the 2012 season. Ross Brawn's men seem to have found a way of legally replicating the f-duct, and the other teams are going to have to follow.
BTCC Silverstone - In the world of roofed racers, five drivers went to Silverstone in with varying chances of becoming the 2011 British Touring Car champion. Kevin Turner reports on the action, which finally boiled down to a title battle between the men who had always been favourites.
Gold Coast preview - On the other side of the world, and with considerably more power, the V8 Supercar circus rolls into town on the streets of Surfers Paradise for the Gold Coast 600. Our office Australian Mark Glendenning looks ahead to an epic event that pairs local heroes with international stars.
Race of my Life - It's a corker this week, with Texan Indycar legend AJ Foyt remembering the 1958 Indianapolis 500.
Read this week's AUTOSPORT digital magazine.