Le Mans is on every driver's bucket list, meaning it was a devastating blow for Shaun Arnold when he missed out due to his passport failing to arrive on time.
However, the Le Mans Esports Series offered Arnold a second chance at standing on the podium of the historic race, and he seized it by taking pole position for Sunday's Le Mans Super Final qualifying race.
His first Le Mans opportunity came when he qualified to race in the finals of the prestigious Forza Racing Championship in 2017, which would not only run alongside the real-life Le Mans 24 Hours but share a podium with the Le Mans winners as well.
Arnold's run of bad luck in Forza RC continued with technical issues that prompted him to take a break from the championship earlier this year.
"Unfortunately, I missed going to Le Mans because my passport didn't arrive in time," Arnold told Autosport.
"Then I competed in the team invitational in Seattle, which didn't go to plan either because there was a technical difficulty with the Xbox, the controller kept cutting out, they fixed the issue but it was the last race so a bit late.
"However I went from last to third, so it was a bittersweet race to finish it off. Then coming into this season, it started off OK, I won the first Wednesday Showdown, that all went pretty smooth.
"Then the second week, I disconnected from both races on the Saturday, which meant I couldn't do the Sunday heats and that lost me points again.
"Every week after that went the same, I got disconnections, I got crashed off the track in one race, and it put me at the back for the next.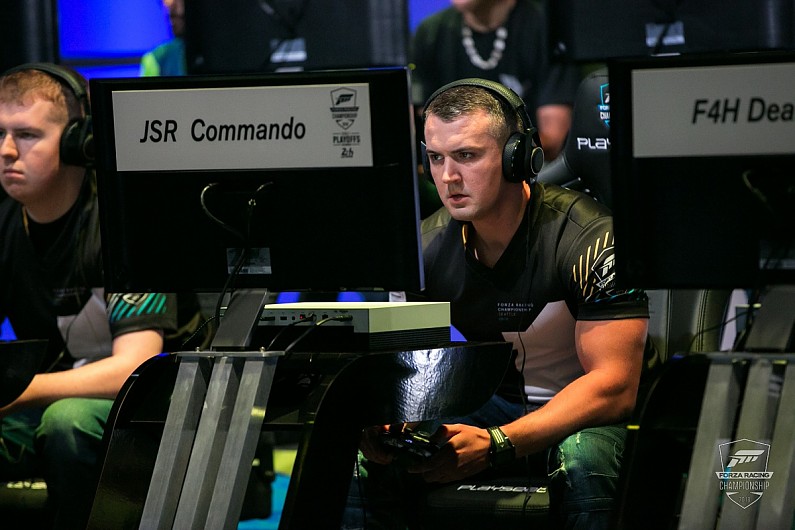 "Been a pretty bad run, so I decided to not go to Mexico [next Forza RC event] and take a break from the series and put my time into LMES."
For the opening LMES qualification round, gamers were invited to set the fastest hot lap possible around Silverstone, with the fastest drivers progressing to an online race to decide who would be the first three drivers to qualify for the Le Mans Super Final.
Arnold topped the European region and earned pole position for Sunday's two-hour endurance race.
The race winner from each region will qualify automatically for the Super Final, which will be held at the 2019 Le Mans 24 Hours.
"Qualifying is always something I've been good at, so I thought I'd have a good chance at qualifying for the race," Arnold added.
"I have done a few endurance races, Daytona 24 Hours, Sebring etc, so for me endurance is fine, I prefer the races to be longer than for example a six-lap race.
"It's an opportunity to go to Le Mans again, that last time I missed, I never thought I'd never get another chance to go to Le Mans.
"I'm lucky in the sense that it has come, and as it happens, I'm able to take my chance and I'll hopefully be able to win on Sunday and make it to Le Mans."
Arnold was one of four Japspeed Racing drivers to qualify, with team owner Chris Farkas leading a Japspeed one-two in the Asia-Pacific region.
They beat drivers from professional Esports teams such as Renault-backed Vitality, Williams and Veloce Sauber.
"[At Japspeed,] we're quite a relaxed bunch of lads, we did try and encourage a couple of the other lads to try to compete but there's no pressure to," Arnold explained.
"[Williams, Veloce, Vitality] they are going down the more serious route, but we're just a bunch of friends basically - though of course, we do still take it seriously.
"It's great that we've got these bigger teams like Williams, Sauber and Veloce coming into the Forza scene, bringing more attention, it's great but at the same time, I like to see the older, community-based teams, because they were the ones that started it all off."
One of the main ethoses behind LMES is the team element and the possibility of a group of friends that are able to compete against the more heavily-backed Esports teams and drivers.
Japspeed and Arnold may not be a household Esports name, but they are currently on pole position in the race to Le Mans.