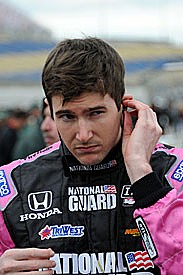 JR Hildebrand will remain with Panther Racing until at least the end of the 2013 IndyCar Series season after the team confirmed it had taken its option up on the 23-year-old Californian.
Hildebrand finished runner-up in the Rookie of the Year standings behind Newman/Haas driver James Hinchcliffe and would have won his maiden Indianapolis 500 had he not crashed on the final turn, handing victory to the late Dan Wheldon.
He also led at Iowa, where he finished fourth - after previously tearing an arterial cruciate ligament during a press event at Texas - and took five top ten finishes in total during the year.
"We're happy that we're able to keep JR in the #4 car for the next two years," said Panther CEO John Barnes. "We signed him last year with every intention that he would be in the #4 car for the foreseeable future and he proved both inside and outside the racecar that he was a perfect fit for this team and what we represent.
"The true test of any athlete is how they handle adversity, and I couldn't be more impressed with how he handled himself during the course of this season."
Hildebrand, who will test the new Dallara DW12 chassis for the first time early next month, underwent successful surgery for that knee injury immediately after the season.
He also suffered a bruised sternum and a concussion in the crash that took Wheldon's life at the Las Vegas finale last month.
"I'm super stoked that I'm going to be back at Panther for the next two years," said Hildebrand. "It was a crazy year for us, but we had some really strong runs and I enjoyed being a part of this team.
"I worked really well with my engineer David Cripps this season and I know everybody is already working really hard on improving for 2012."
Ganassi also confirmed this week that it will extend its deal with Hildebrand's fellow rookie Charlie Kimball into next year having retained sponsorship from pharmaceutical company Novo Nordisk.