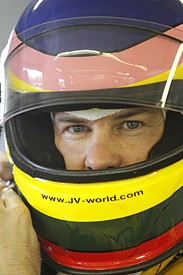 Jacques Villeneuve and Petter Solberg are among the contenders for the guest slots in the IndyCar finale at Las Vegas, this week's AUTOSPORT magazine reveals.
A $5 million bonus is on offer for any 'wild-card' driver who can win the Las Vegas IndyCar Series event this year.
AUTOSPORT understands that discussions between 1995 Indianapolis 500 winner and CART Indycar champion Villeneuve and series bosses regarding Vegas are underway.
Villeneuve has not raced in Indy-style racing since September 1995, when he bowed out as champion and headed to Formula 1 with Williams.
He has always ruled out returning to American single-seater racing, and declined to comment on the Las Vegas race earlier this week. But a spokesperson for the 1997 world champion confirmed that discussions were ongoing.
2003 World Rally champion Solberg has also expressed an interest in entering the IndyCar finale.
Series chief Randy Bernard is thought to be interested in getting a rally driver to compete, and Solberg told AUTOSPORT that he would love to have a go.
"I always wanted to try something like this," said the Norwegian. "Competing at an event like this would be good fun.
"I have tested a Le Mans car and a Formula 1 car, so I don't think the driving challenge would be a problem for me."
This week's AUTOSPORT magazine contains more details of the prospects for the Vegas IndyCar event, including Bernard's latest thoughts on the potential guest line-up. There's also news on former champions Tony Kanaan and Dan Wheldon's hunts for 2011 seats.
AUTOSPORT is available in shops or in digital form.
Autosport has produced a standalone special magazine to celebrate our 70th birthday. All current print subscribers will receive a copy for free. To order your copy of the 196-page Autosport 70th Anniversary issue, please go to: autosport.com/autosport70th