Helio Castroneves, acquitted earlier in the day of tax evasion charges, will race in this weekend's Long Beach IndyCar Series event, Team Penske has announced.
Will Power, who replaced Castroneves in the #3 car for winter testing and the first race of the season, will compete with the team this weekend in a third car - a #12 entry sponsored by Verizon Wireless - and will also drive that car in the Indianapolis 500, team officials said.
Castroneves was acquitted on six charges of tax evasion by a federal jury in Miami today. The jury remained deadlocked on a more serious charge of conspiracy, and that portion of the case against Castroneves was declared a mistrial. The Brazilian left Miami after the verdict and was expected to arrive in Long Beach this evening.
Penske Racing president Tim Cindric welcomed the verdict and said the team was looking forward to Castroneves' return.
"We're ecstatic with the outcome," said Cindric. "It was a very, very difficult time for all of us, in particular he and his family. We're very excited to know that he can go on with his life, business as usual. We're looking forward to having him back."
Power, who was hired before the season with the knowledge that Castroneves would get back in the car if acquitted, said he was pleased with the opportunity to compete in the Indy 500.

"This is a great opportunity for me," Power said. "This team has made me feel very welcome. It's a first-class team. I really love working with these guys, and you never know what could happen in the future."
Cindric said he had not guaranteed an Indianapolis ride for Power until Thursday night.
"It wasn't until last night that he knew he was going to be in the Indy 500," Cindric said.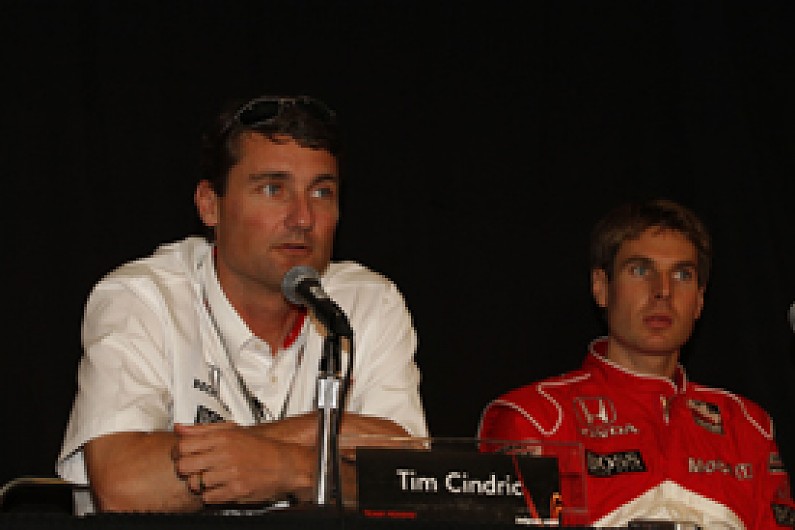 "We talked about it in the beginning of this process, but that wasn't something he knew going into it. It's a big credit to him to take the approach he's taken."
In a joint press conference featuring Penske and IndyCar principles, Brian Barnhart, the president of racing operations for the Indy Racing League, echoed the team's sentiments.
"We couldn't be happier for Penske Racing, Helio and his family," Brian Barnhart said. "We look forward to having him back on the grid in Long Beach. Helio has played an integral part in the growth of the IndyCar Series, both on and off the racetrack in the past few years. He has an incredible legion of fans and is a true star in every sense of the word."
Barnhart has made a number of concessions to Penske to allow the quick transfer. Castroneves will retain the same pit stall that Power was using, and the car's tyre allocation for the weekend will be reset when Castroneves gets in the car for Saturday's practice session.
Meanwhile, Power's use of tyres on the #3 car during Friday's practice sessions will count against him when he moves to the #12 car from Saturday morning.
Barnhart also said he would allow both drivers extra practice time on Saturday to prepare. Barnhart and Cindric indicated the team had been working with the series since before the season opener to prepare for a possible sudden decision in Castroneves' case during or before a race weekend. The series even drew a qualifying position for Castroneves in the event that he was acquitted in time to qualify.
"It was good communication with Tim and Team Penske that allowed this to happen without knowing the timing of it," Barnhart said. "We're certainly happy to have Helio back in the car."
Ryan Briscoe, who joined Penske's IndyCar line-up last year, will team with Castroneves and Power for Sunday's race.
"It's very exciting news for all of us here - Helio especially," Briscoe said. "I really look forward to working with him again. We really built a strong relationship last year, so I'm looking forward to continuing that."
Cindric did not elaborate on the team's plans for Power beyond the 500 in May. He will be under contract to Team Penske, but it wasn't clear if Power would drive in select events later in the season or if he would join Penske's sportscar operation.
"He's dealt with all of the maybes and what-abouts," Cindric said. "Our position is going to be to take it a race at a time."