IndyCar and NASCAR will once again combine for a double-header race weekend at Indianapolis Motor Speedway next season, but with an added twist.
The IndyCar and Cup Series will compete at IMS on 14-15 August in 2021, but this time the Cup Series will also compete on the IMS Road Course.
This year, when the series' combined for their first joint event on the 4 July weekend, IndyCar and the NASCAR Xfinity Series ran on the road course while the Cup race remained on the 2.5-mile oval track.
The Cup Series has run on the iconic oval for 27 consecutive seasons.
"Our first NASCAR-IndyCar weekend was a big success last July, with positive feedback from our loyal fans who watched the races on NBC and from the drivers, teams and participants involved," IMS President J. Douglas Boles said.
"The Xfinity Series' debut on the IMS road course provided exactly the kind of thrilling action from the green to checkered flags that we anticipated, so we know the teams and drivers of the Cup Series will put on a great show as they turn left and right for the first time at IMS.
"We can't wait to welcome back fans to see NASCAR and IndyCar together during this exciting weekend as we add another memorable chapter in the long, storied history of the Indianapolis Motor Speedway."
The Cup series' venture on the 14-turn, 2.439-mile IMS road course will be one of a record six road course events on the 2021 Cup schedule.
The doubleheader event will also provide the unique situation of seven-time Cup series champion Jimmie Johnson, who is leaving full-time NASCAR competition at the end of this year, still competing on the same weekend but in the IndyCar event.
Johnson recently announced plans to run street and road course events in IndyCar in 2021 with Chip Ganassi Racing.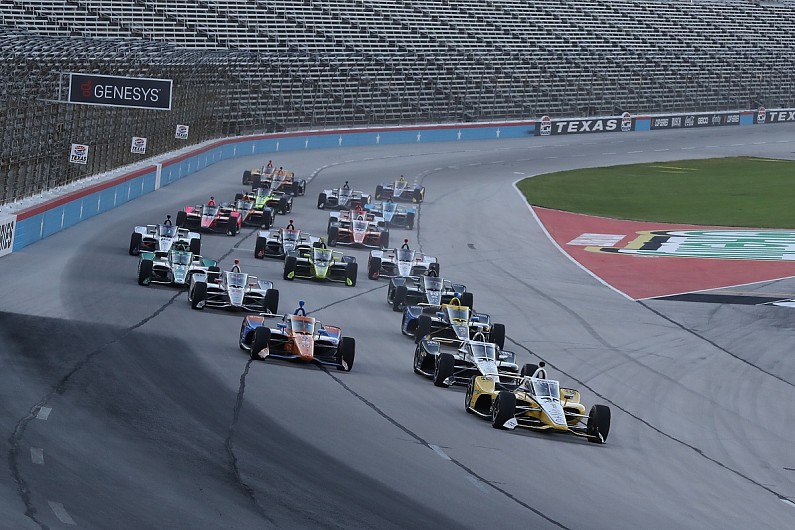 Texas to host IndyCar double-header in May 2021
Texas Motor Speedway will hold two IndyCar races next year, and the event has been brought forward to the first weekend of May.
The 1.5-mile oval in Fort Worth will run the Texas 300 on Saturday 1 May and the Genesys 300 on 2 May.
Texas Motor Speedway held the coronavirus-delayed IndyCar season-opener this year in June, and its IndyCar race has traditionally been held in the first or second weekend of June.
However, the shift to the start of the May means TMS will likely hold the first oval races of the IndyCar season, and the event is being billed as "Racing's Fastest Double-header".
Texas Motor Speedway held an IndyCar double-header in 2011 with shortened races on the same day - one was won by Dario Franchitti of Chip Ganassi Racing, the other by Will Power of Team Penske.