In the first of a series of articles focusing on Brits who went in search of the American Dream, Martin Plowman recalls how help from an IndyCar legend and friend paved the way for an enlightening but short-lived career in the States
Martin Plowman is no stranger to success in the world of GT racing having most recently taken British GT4 Pro-Am honours alongside Kelvin Fletcher aboard an Aston Martin Vantage last season.
But had fate and a little bit of luck swung his way in America nearly a decade ago, his career could have followed a much different path. After a successful karting career, Plowman made the switch to car racing as part of the Toyota young driver programme in Italian Renault Championship in 2006, but his hopes of rising to Formula 1 were hit when he was dropped at the end of 2007.
A move to the Formula 3 Euro Series beckoned for 2008 as an official Volkswagen junior driver, but after struggling for half a season with RC Motorsport the money ran out and with seemingly no options left in Europe his fledgling career was in danger of stalling.
But family friend Dan Wheldon (below), the 2005 IndyCar Series champion and that year's Indianapolis 500 winner, turned out to be a handy ally to have.
"The lifeline came when Dan Wheldon called us and he said 'stop messing around in Europe, get on the plane to America'," says Plowman.
"He managed to open some doors for us and managed to organise a test for me in Indy Lights with the Panther Racing team."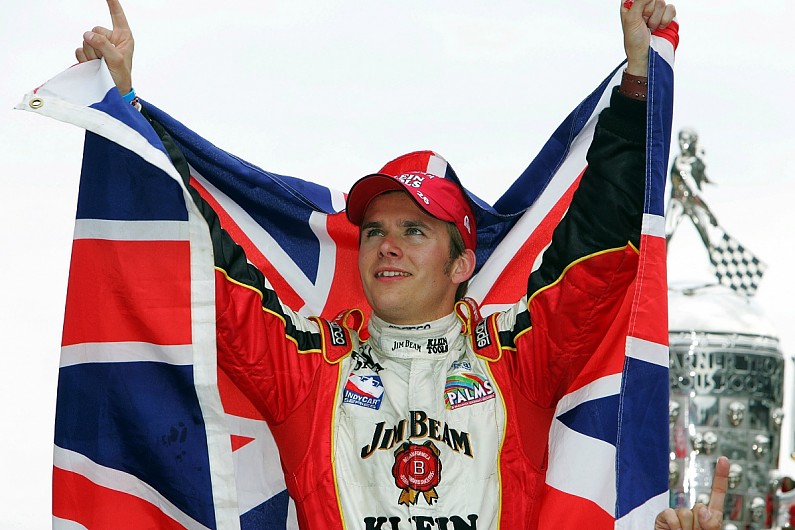 A full campaign with the Panther squad - with which Wheldon had in 2002 made his debut in the series then known as the IRL - in the second-tier of American single-seater racing followed in 2009 and culminated in a best finish of two fifth places and 11th in the standings. But it was a move to AFS Racing/Andretti Autosport for 2010 when things began to click.
A win at Mid-Ohio and eight further top-six finishes meant Plowman finished the season third overall, behind only experienced F3 hand Jean-Karl Vernay and James Hinchcliffe - another second year driver with three years of Champ Car Atlantic experience - but four points clear of team-mate Charlie Kimball.
"Dan Wheldon went out of his way to make sure that I was looked after. Even at the races, he would always pop in unannounced and drop some nuggets of information about the track" Martin Plowman
It put him in the shop window for a move into IndyCar and after impressing Dale Coyne Racing during a test session was given a verbal agreement that he would contest the 2011 IndyCar Series with the team alongside a four-time Champ Car title-winner in Sebastien Bourdais.
But for Plowman, the American Dream soon turned into a nightmare as less than a week before the opening round of the season he was told he'd been "replaced by a driver bringing a cheque".
"That was the first realisation that the American Dream is not as straightforward as it sounds," recalls Plowman. "It was just another reminder that racing is hard and you've got to constantly work your tail off and always keep your guard up.
"It was hard to take at the time but I quickly understood that it was just business and it's nothing I could have done as a driver, it was just purely down to money. There's lots of drivers that have been in that position before so it was pointless being upset about it."
After signing a part-time deal with Sam Schmidt, the Brit was eventually able to make it onto the grid at three late-season rounds that season at Mid-Ohio, Sonoma and Baltimore.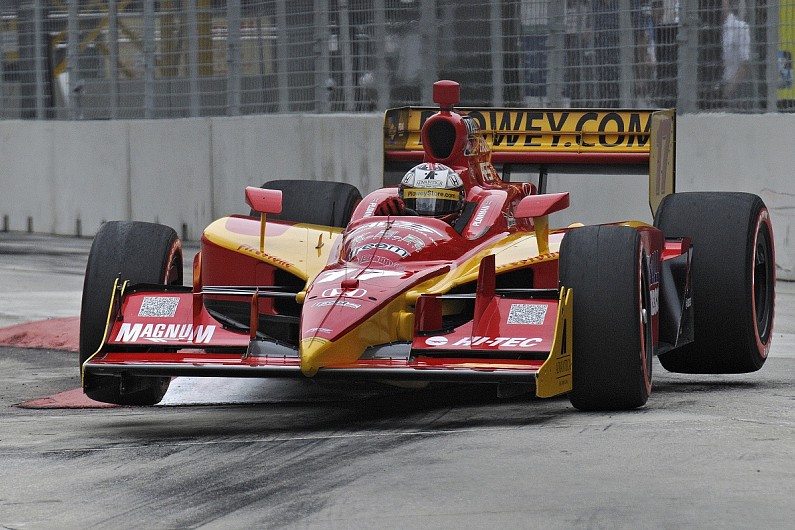 Despite being thrown in at the deep end, Plowman's results were respectable. He finished 18th at Mid-Ohio and 12th at Sonoma - the latter of which he believed was his best performance as he held the likes of Simon Pagenaud, Mike Conway and Takuma Sato at bay.
A shock podium was potentially on the cards at Baltimore, but pulling into the wrong pitbox during a late-race safety car dropped him down to 11th by the finish.
But the season which had started on a low-point after losing his full-time drive would drop to the lowest of depths following the death of friend and mentor Wheldon at the showpiece Las Vegas finale.
"He was very instrumental for my whole time there and not just on the track, off track as well," says Plowman.
"He helped make sure I was looked after with the social side of things, settling into the apartment and way of life because I was literally by myself when I moved over. I was 19 at the time and had no friends, no connections in America. He went out of his way to make sure that I was looked after.
"Even at the races, he would always pop in unannounced and drop two or three nuggets of information about the track, or what to expect or what to look for. It was always unprompted as well, he'd always just make time. It was little things like that which I'll always remember."
The following year Plowman focused his efforts elsewhere and competed in the American Le Mans Series for Conquest Racing in 2012 - finishing runner-up in the LMP2 class - before joining OAK Racing to win the class title in the 2013 World Endurance Championship, which included a class win and seventh overall at that year's Le Mans 24 Hours.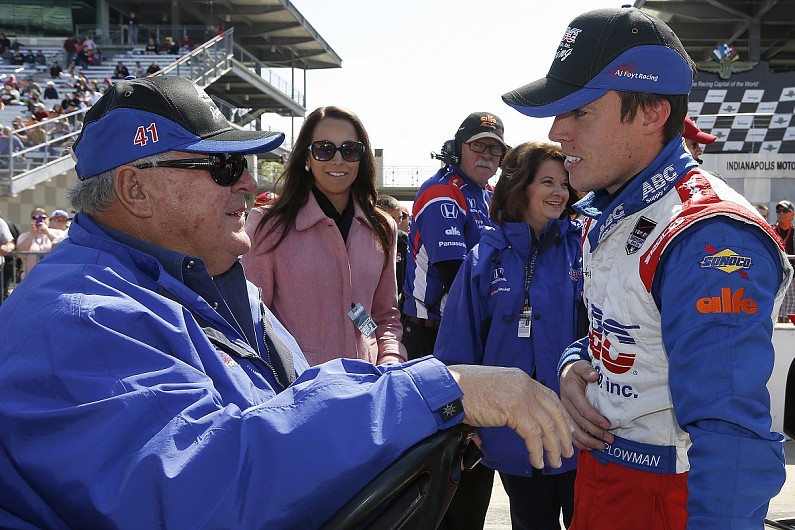 Despite this success away from single-seaters, there was to be one final American adventure. Having become good friends with Larry Foyt, a former NASCAR and IndyCar driver as well as the adopted son of four-time Indy 500 winner AJ Foyt (above left), Plowman was given the chance to compete for the fabled team at the 2014 Indy 500.
Not only would he be taking part in one of the greatest races in the world, he would have one if it's most successful drivers as his team boss.
"What America taught me and especially what Dan taught me was just to appreciate the fans more and to give back more of yourself" Martin Plowman
"He [AJ Foyt] was really hard but fair, it was an experience," remembers Plowman fondly.
"He's got a very old-school way of working whereas the new age it's about computers and telemetry. They put a young engineer on my car, Raul Prados whose now working with Penske, and it was his first or second race in IndyCar as lead engineer.
"So you've got a young kid and an old-school legend going head-to-head and he [Foyt] was pretty scary at times. There's Raul tapping away at the computer trying to calculate whether we need to take out half a percent of wing and then I come on the radio and say 'the car's got a bit of understeer mid-corner'.
"AJ jumps off his perch, comes down to the car in the pits, bends over and cranks in half a turn of front wing and the engineer looks up at the mechanics and shrugs his shoulders as if to say 'what the f*** is he doing?'.
"The only advice that AJ did say was to be extra careful when you come into the pits your first time because you're circulating at 220mph and you come into the pitlane down to 80mph and when you try and brake and turn into your pitbox it's so easy to overshoot your marks because your sense of speed is all warped.
"What did I do on my first time? I blew past it! The first thing I thought was 'oh shit, he was right'."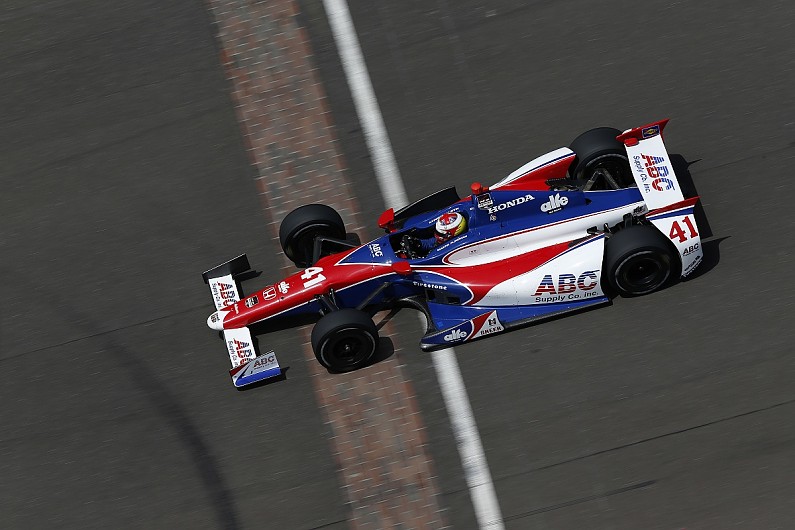 The race itself proved to difficult for Plowman as twice he was hit with a drive-through penalty for driving over an airhose when exiting the pits, putting him towards the rear of the field.
Eventually he came home 23rd, four laps in arrears but only four spots behind team-mate and eventual 2017 Indy 500 winner Sato.
Despite renewed interest and hopes of competing in American single-seaters again, nothing more came from his Indy 500 outing and instead Plowman focused his attentions on GT racing. He's been a regular in British GT since 2015 and had a spell in the Blancpain GT Series Sprint Cup with McLaren.
Despite his limited success in America and not being able to forge a long-lasting career on the other side of the globe, Plowman believes he learnt some of his most valuable lessons during his time Stateside.
"I don't have too many regrets, but I would say that's [missing out on a full-time drive] the only one," concludes Plowman.
"Never being able to express what I could over a full year. I really loved the races that I did and felt that I did the best that I could with the opportunity that I was given.
"What America taught me and especially what Dan taught me was just to appreciate the fans more and to give back more of yourself. Spending time with them and giving back is way more important than being in engineering meetings to go a tenth quicker."