Chip Ganassi Racing driver Scott Dixon says he wishes IndyCar hadn't been so radical with the regulation of tyre usage ahead of this weekend's delayed season opener at Texas.
The 1.44-mile oval will stage the first IndyCar race of the year after the coronavirus pandemic forced the postponement of the first round at St. Petersburg until October and multiple further revisions to the calendar, resulting in Richmond and Toronto being dropped last week.
IndyCar officials have introduced a 35-lap limit on tyres to mitigate the fact that Firestone will be bringing the same compound and construction tyres as last year, despite the changes to the cars' centre of gravity and weight resulting from the aeroscreen which is also expected to increase front-right tyre wear.
IndyCar's decision, forced by the COVID-19 pandemic halting production of its new tyres, is a cautious move at a track where the field laps at 215mph, while there has been a lack of data due to no testing over the past three months.
February's rookie test is also thought to be unrepresentative due to cooler conditions than are expected this weekend.
However five-time champion Dixon, however, believes IndyCar has erred too far on the side of caution when previous stint lengths were typically 60-65 laps.
"Shortening the stint by half, I think kind of eliminates the whole tire degradation thing," said Dixon, a winner at Texas in 2008, 2015 and 2018.
"I wish there was more of a range they'd come up with as opposed to chopping it right in the middle. It's definitely going to be interesting to see how that plays out.
"It'll put a lot of emphasis on pit stops, in-laps [and] could create other issues. Re-fuelling is going to be short, so a lot of pressure on the pit crew guys."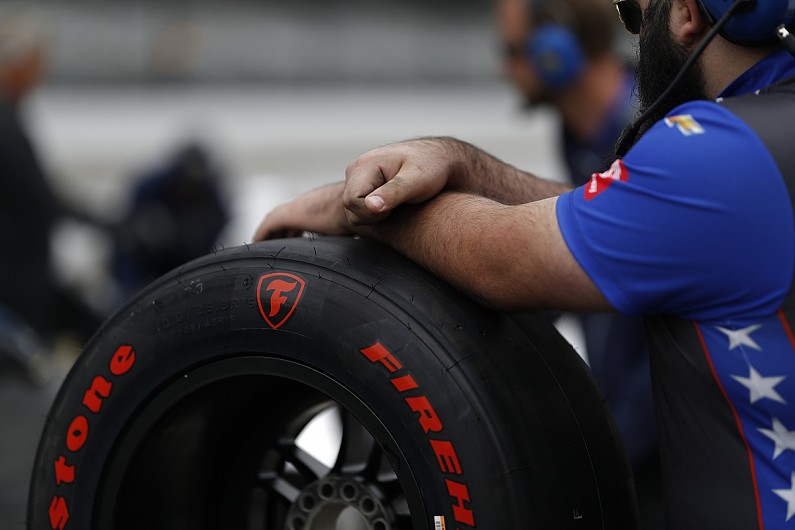 Dixon added that the increase in tyre grip resulting from shortened stint lengths could increase the possibility of pack racing and increase opportunities for accidents entering the pits.
"But you hope that it's not going to be something that occurs," he said.
"I think the professionalism of all these teams and drivers now is very good."
With the event squeezed into one day - 80 minutes of practice, then qualifying, followed by a shortened 200-lap race, down from 248 last year - Dixon is hopeful Ganassi's expansion to three cars will help, as the team welcomes ex-Formula 1 driver Marcus Ericsson in to the fold.
"Once you go into qualifying, then you go into impound, you can't change anything for the race, so you've got to cover a lot of bases in such a short amount of time," he said.
"You've just got to go in with a positive mindset. Yes, I think a team like ours that has a lot of resources, running in different configurations, might have a slight advantage.
"But honestly, the competition now in the series is through the roof. It's going to be tough in any format."
Dixon added that he liked the idea of one-day events and more double-header events, which so far have been confirmed for Road America, Iowa Speedway and Laguna Seca this year.
"I'm in favour of these short events," he said.
"I love the fact that we're throwing in a ton of doubleheaders as well."