Third-generation IndyCar racer Marco Andretti hopes that returning for a second spell at Rob Wilson's renowned driving school will help him rediscover his best form.
Andretti, who races for the Andretti Herta Autosport team run by his father, Michael, scored a best finish of sixth as he finished 16th in the standings last season, which he labelled the "worst year in my career".
It was accentuated by finishing five laps down in the Indianapolis 500, an event he came close to winning as a rookie in 2006, on the 50th anniversary of grandfather Mario's victory in 1969.
Andretti admits that his qualifying form has undermined his bid to end a winless drought stretching back to Iowa 2011 (pictured below).
He is hoping that another visit to Bruntingthorpe to work with 1990 Barber Pro Series champion Wilson, combined with the return of engineer Garrett Mothersead - who engineered him to place fifth in the 2013 standings - after a spell working with Mark Bryant will trigger a turnaround in fortunes.
"Being critical of myself, qualifying has killed me," Andretti admitted.
"Because it's a big track-position dependent sport so you can't start at the back and have a magnificent race unless there's rain and a lot of yellows.
"My racecraft is pretty good and we go forward more often than not, but we have to start ahead of the eight-ball.
"Garrett was there in 2013 and we did a lot of things that year which we're going to try to do this year.
"We're trying to wring everything out and I'm going back to Europe [to Wilson's driving school] before the season starts."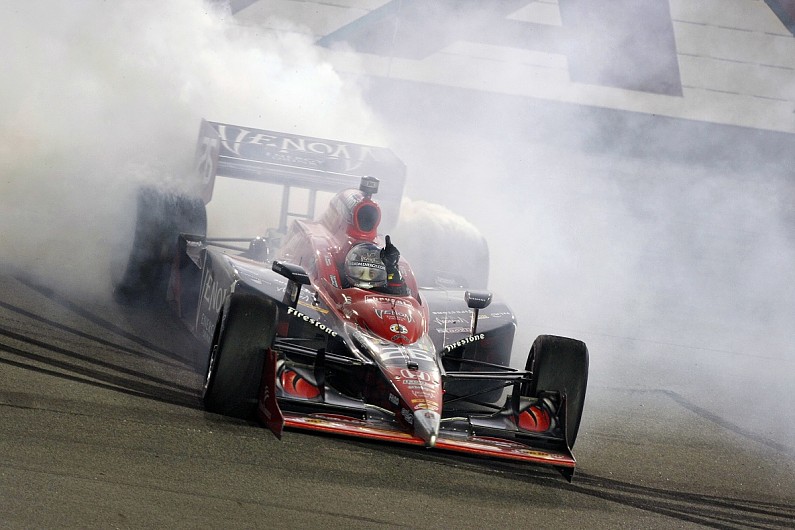 Andretti said that he'd enjoyed working with Wilson because a road car "exaggerates your inputs so much".
"It really makes it obvious what you're doing with your footwork and with how quick your hands are," Andretti explained.
"For me, it's a lot about slowing down to go fast, which for a driver is a little bit counter[-intuitive].
"It exaggerates your inputs and it's very easy to overdrive those types of car, so if you can bring yourself into that realm, there are ways you can find grip from a car, rather than go right over the tyre which I have been doing in IndyCar a lot.
"You can look and say I just need to drive harder, but a lot of the time it's just the opposite!"
Andretti, who hasn't scored a podium since Fontana in 2015, added that he had "requested it from the team" as an opportunity to maximise his chances of silverware.
More IndyCar from Autosport
"Mindset-wise, I'm not hiding from the fact that I'm up against it and we need to perform right now, and need some trophies.
"I want to exhaust everything I can do as a driver not just physically. It's such a long off-season, longer than usual because of parts availability [aeroscreen] meaning testing got delayed.
"And I can't just run on the treadmill - I'd go crazy - so I'm doing everything in my power to maximise this year.
"It's a very important year for me."