Robert Wickens will drive an Acura NSX equipped with hand controls at this weekend's IndyCar round at Toronto, with modifications made by his Schmidt Peterson Motorsports team's partner Arrow Electronics.
It will be the first time the 30-year-old Canadian has driven in public - he will lead the parade lap before the IndyCar race - since his career-pausing crash at Pocono Raceway last August that has left him recuperating from spinal cord injuries.
I'M GETTING BACK IN A CAR! I'll be doing the parade lap for the @hondaindy! This is just amazing and couldn't happen without the help of @arrowelectronics installing the hand controls and @HondaRacing_HPD trusting me with such an awesome car! #IndyTO #ArrowDriven #SCIrecovery pic.twitter.com/mmaTIlrxCW

— Robert Wickens (@robertwickens) July 8, 2019
Wickens told Autosport: "I had this idea in January and spoke with Arrow and they were very interested because this is a demonstration of what they do - using technology to improve people's lives.
"And so in March at St. Petersburg [when Wickens returned to the NTT IndyCar Series paddock for the first time since his crash] I had a meeting with Arrow, Honda Performance Development [HPD] and the Arrow SPM team and we came up with this 'masterplan'!
"Obviously I was hoping to get it done for Toronto, given that it's a Honda-sponsored race and it's my home race, but I'm honestly surprised it has happened so quickly.
"The system is not quite as complex as what Alex Zanardi uses, given the time frame we had once it had been cleared for Honda to deliver the car to Arrow.
"But that's also what is impressive - we're basically using a customer product by Arrow - and this is just Phase 1.
"The throttle is a ring around the steering wheel with a hand operated brake.
"But we have big visions for the future and I want to use this NSX for practice.
"I want to get more and more familiar with hand controls and figuring out what works and what doesn't work."
Getting creative with @pitfittraining today. First day back at it after the surgery! Trying to work on some lower back strength by effectively doing a simulated dead lift. I am limited to light training until I am finished my IV! pic.twitter.com/OLP27cY2Dy

— Robert Wickens (@robertwickens) June 28, 2019
Wickens, who has been documenting his rehabilitation process on Twitter and Instagram, was keen to stress that using a car with hand controls is not a substitute for as close to full recuperation as he can achieve, and to walk unassisted as soon as possible.
"As far as I'm concerned, the two processes are interconnected," he said.
"Obviously I can sit and drive a racecar with hand controls. But the dream is to get both legs to where I don't need hand controls, and if I'm able to get both legs back to that extent, it means I'm walking. That's the end goal.
"But realistically, if I can get one leg operational so I don't need both throttle and brake on the steering wheel, that would be a huge deal.
"So I think we just have to see where it goes.
"Nerve regeneration takes two years before it plateaus - but there are so many people out there who are defying odds and redefining what's possible, so you have to keep pushing yourself.
"At the same time, I don't want to rush anything because life is more important than work and so getting a better longterm future is smarter than getting back into a racecar too soon."
Wickens, who will get to practice on the 1.786-mile Toronto course at Exhibition Place before leading the parade lap ahead of the Sunday race, said: "It's really exciting and also slightly surreal.
"I've driven since the accident to get my hand control certifications to drive on the road.
"I did that back in December, so I'm planning to get a modified car in Indianapolis so I can be independent again.
"But this will be fun and I'm a little bit worried that once I get a feel for it again, I might be in too much of a hurry to make an earlier comeback!
"But seriously, I'm staying pretty level-headed about it and I'm fortunate to be progressing pretty quickly.
"This is validation and encouragement that the hard work is paying off."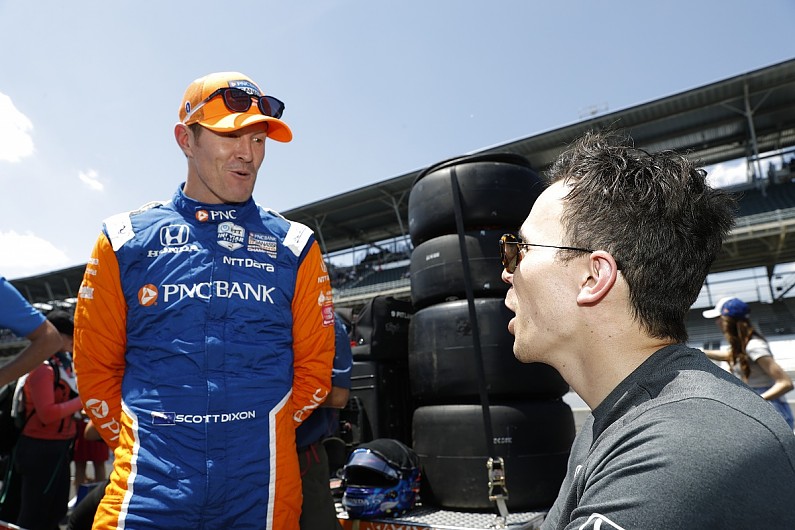 Autosport has produced a standalone special magazine to celebrate our 70th birthday. All current print subscribers will receive a copy for free. To order your copy of the 196-page Autosport 70th Anniversary issue, please go to: autosport.com/autosport70th