Chip Ganassi Racing's Scott Dixon bounced back from an opening race error to win a crash-strewn Detroit finale, as ex-Formula 1 driver Marcus Ericsson took a first IndyCar podium.
Dixon, who crashed out of Saturday's wet/dry encounter, cycled to the front in an attrition-filled 70-lap race on Sunday to propel himself back into title contention.
Ex-Formula 1 racer Marcus Ericsson claimed his maiden IndyCar podium in the second spot while Will Power rebounded from a first-lap pile-up to secure an unlikely third spot.
The race had been a battle between polesitter and Saturday race winner Josef Newgarden, Alexander Rossi and James Hinchcliffe, though the various strategies through the field meant they often found themselves in traffic.
The pivotal moment came through the second round of stops mid-distance when Hinchcliffe stayed out longer and emerged narrowly ahead of Newgarden, aggressively cutting in front of his rival through Turn 2.
Newgarden tried a move into Turn 3 but spun, leaving Hinchcliffe with nowhere to go, while close pursuant Rossi had a half-spin and tagged Hinchcliffe's rear wing, narrowly avoiding a race-ending crash.
The timing of the caution worked perfectly for Dixon, who was off-sequence after extending his first stint on reds compared to the bulk of the front-runners, and he returned to the lead ahead of Ericsson.
The pair made their final stops on successive laps, maintaining their net positions and with Dixon maintaining a healthy lead.
Dixon's run to the flag was interrupted twice, firstly when Hinchcliffe stopped his repaired car at Turn 6 and secondly when his Ganassi team-mate Felix Rosenqvist crashed heavily at the flowing Turn 1 following contact at Turn 11 that bent his left-rear suspension.
As the incident took place inside the final 10 laps, IndyCar race control called a red flag ahead of a three-lap shootout.
Dixon then mastered the final restart to clinch victory, with Ericsson a comfortable second.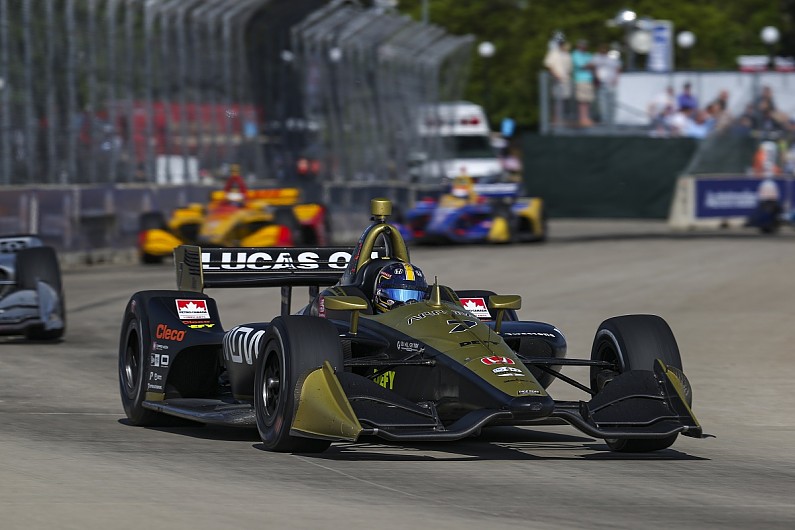 Power had instigated a first-lap caution period when he clashed with Rosenqvist at Turn 3 and sent the Ganassi driver briefly onto two wheels.
The coming-together also led to Patricio O'Ward spinning and in the resulting chaos, Tony Kanaan turned Simon Pagenaud before nosing into the stricken O'Ward.
Power narrowly avoided going a lap down after stopping on track with suspected gear selection problems but strategically worked his way forward to take a shock third.
Ryan Hunter-Reay managed a deflating tyre for the three-lap shootout to grab fourth while Rossi recovered from his clash with Newgarden and Hinchcliffe to salvage fifth.
Marco Andretti was sixth, in front of Graham Rahal and Zach Veach, while Sebastien Bourdais survived a wild moment with Spencer Pigot that caused the second caution period.
Pigot, struggling on reds, tried to enter the pits but was rear-ended by Bourdais, with the contact briefly launching the Dale Coyne Racing car as Pigot suffered a double impact with the wall and pit entry divider.
Bourdais returned to the pits for repairs, having lost the front-end of the car, and profited from the later incidents to pick up ninth.
His Dale Coyne team-mate Santino Ferrucci enjoyed a lengthy spell in the lead early on after starting on alternate tyres, but the mid-race caution period skewered his strategy and he dropped to 10th.
Takuma Sato had contended for a third-straight podium but in trying to pass Power late on he picked up a flat tyre and dropped to 13th.
Pagenaud and Newgarden both re-joined the action after their respective incidents in order to pick up championship points.
Pagenaud classified 17th and Newgarden was 19th, meaning the 2017 champion leaves Detroit with a 15-point buffer over Rossi in the standings.
Race two result

| Pos | Driver | Team | Car | Laps | Gap |
| --- | --- | --- | --- | --- | --- |
| 1 | Scott Dixon | Chip Ganassi Racing | Dallara/Honda | 70 | 1h52m18.9365s |
| 2 | Marcus Ericsson | Schmidt Peterson Motorsports | Dallara/Honda | 70 | 1.9419s |
| 3 | Will Power | Team Penske | Dallara/Chevrolet | 70 | 3.6570s |
| 4 | Ryan Hunter-Reay | Andretti Autosport | Dallara/Honda | 70 | 4.5238s |
| 5 | Alexander Rossi | Andretti Autosport | Dallara/Honda | 70 | 5.1877s |
| 6 | Marco Andretti | Andretti Herta | Dallara/Honda | 70 | 6.6330s |
| 7 | Graham Rahal | Rahal Letterman Lanigan | Dallara/Honda | 70 | 7.1404s |
| 8 | Zach Veach | Andretti Autosport | Dallara/Honda | 70 | 8.0411s |
| 9 | Sebastien Bourdais | Dale Coyne Racing | Dallara/Honda | 70 | 8.7886s |
| 10 | Santino Ferrucci | Dale Coyne Racing | Dallara/Honda | 70 | 9.4809s |
| 11 | Patricio O'Ward | Carlin | Dallara/Chevrolet | 70 | 9.8997s |
| 12 | Colton Herta | Harding Racing | Dallara/Honda | 70 | 11.8528s |
| 13 | Takuma Sato | Rahal Letterman Lanigan | Dallara/Honda | 70 | 13.5500s |
| 14 | Ed Jones | Ed Carpenter Racing | Dallara/Chevrolet | 70 | 14.6489s |
| 15 | Max Chilton | Carlin | Dallara/Chevrolet | 70 | 14.7810s |
| 16 | Felix Rosenqvist | Chip Ganassi Racing | Dallara/Honda | 64 | Contact |
| 17 | Simon Pagenaud | Team Penske | Dallara/Chevrolet | 58 | 12 Laps |
| 18 | James Hinchcliffe | Schmidt Peterson Motorsports | Dallara/Honda | 52 | Spun off |
| 19 | Josef Newgarden | Team Penske | Dallara/Chevrolet | 49 | 21 Laps |
| 20 | Matheus Leist | AJ Foyt Enterprises | Dallara/Chevrolet | 23 | Mechanical |
| 21 | Spencer Pigot | Ed Carpenter Racing | Dallara/Chevrolet | 13 | Contact |
| 22 | Tony Kanaan | AJ Foyt Enterprises | Dallara/Chevrolet | 0 | Contact |
Drivers' standings
| Pos | Driver | Points |
| --- | --- | --- |
| 1 | Josef Newgarden | 316 |
| 2 | Alexander Rossi | 301 |
| 3 | Simon Pagenaud | 291 |
| 4 | Scott Dixon | 264 |
| 5 | Takuma Sato | 255 |
| 6 | Will Power | 232 |
| 7 | Ryan Hunter-Reay | 219 |
| 8 | James Hinchcliffe | 179 |
| 9 | Graham Rahal | 175 |
| 10 | Sebastien Bourdais | 165 |
| 11 | Felix Rosenqvist | 163 |
| 12 | Spencer Pigot | 162 |
| 13 | Santino Ferrucci | 161 |
| 14 | Marco Andretti | 147 |
| 15 | Colton Herta | 146 |
| 16 | Ed Jones | 144 |
| 17 | Marcus Ericsson | 139 |
| 18 | Tony Kanaan | 133 |
| 19 | Zach Veach | 131 |
| 20 | Matheus Leist | 127 |
| 21 | Jack Harvey | 118 |
| 22 | Patricio O'Ward | 102 |
| 23 | Max Chilton | 87 |
| 24 | Ed Carpenter | 65 |
| 25 | Conor Daly | 40 |
| 26 | James Davison | 36 |
| 27 | Helio Castroneves | 33 |
| 28 | Ben Hanley | 31 |
| 29 | Pippa Mann | 28 |
| 30 | Charlie Kimball | 23 |
| 31 | Kyle Kaiser | 22 |
| 32 | Sage Karam | 22 |
| 33 | J.R. Hildebrand | 20 |
| 34 | Oriol Servia | 16 |
| 35 | Jordan King | 12 |