McLaren's 2019 IndyCar return has gone from a planned full-season with proven champions targeted as Fernando Alonso's team-mates, to failing to qualify for a one-off Indianapolis 500 appearance.
This is the timeline of how the project unravelled.
---
September 2018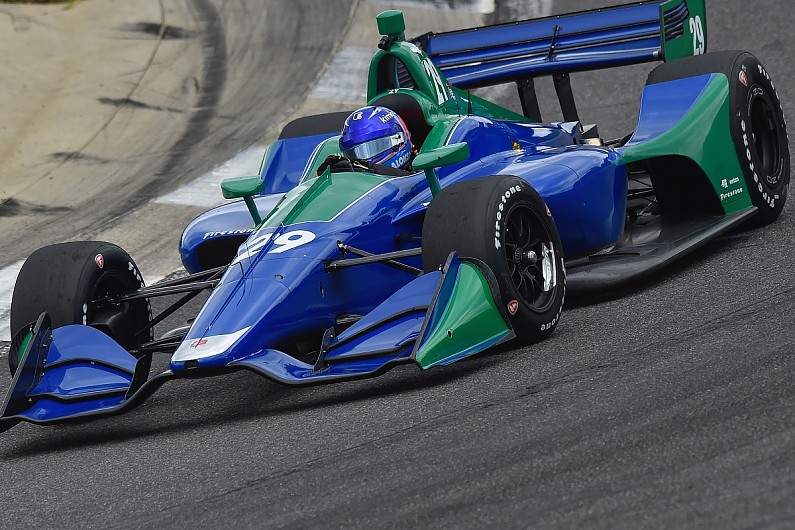 Alonso makes his first IndyCar outing since the 2017 Indy 500 as he tests an unbranded Andretti Autosport Dallara-Honda at Barber Motorsports Park.
At this point McLaren is still considering a full-time IndyCar campaign, and has even approached four-time (soon to be five-time) champion Scott Dixon and 2014 champion Will Power as potential drivers - though they elect to stay at Ganassi and Penske respectively.
But an engine supply impasse develops. Officially the concern for both Honda and Chevrolet is their capacity to service additional entries, though there are also suggestions that Honda - Andretti's engine partner - is reluctant to work with Alonso again following the fractious end to their Formula 1 relationship at McLaren.
A plan for Alonso to drive a McLaren-entered, Andretti-affiliated car with a Chevrolet engine from Harding Racing premises (to prevent data crossover with Andretti's Honda entries) is considered but then put on ice.
The month after Alonso's test, McLaren CEO Zak Brown announces that the full-time IndyCar plan is off the agenda for 2019 at least.
"We have taken a decision to not compete on a full-time basis in 2019," he says ahead of F1's United States Grand Prix.
"We are simply not ready yet and we are very focused on F1. So we won't be doing that in 2019.
"We do have a desire to do it in the near future. And as far as the Indy 500 is concerned it remains of interest to us and is something we will take a decision on in the off-season."
---
Winter 2018/19
The Indy 500 decision is later rubber-stamped and a partnership with Chevrolet for a single-car entry with Alonso agreed.
McLaren recruits Bob Fernley, formerly the deputy team principal at Force India before its rescue by Lawrence Stroll's consortium and transformation into Racing Point, to lead its Indy 500 project and evaluate "longer-term McLaren involvement in IndyCar". Fernley has previous US racing experience from the '80s.
Double Champ Car champion and 2003 Indy 500 winner Gil de Ferran, recently recruited as McLaren's sporting director, will also have a key role. He had advised Alonso during his 2017 entry.
Though McLaren will use its own staff for the programme, it also agrees to collaborate with second-year IndyCar team Carlin for what boss Trevor Carlin calls a "logistical and operational" partnership.
---
April 9 2019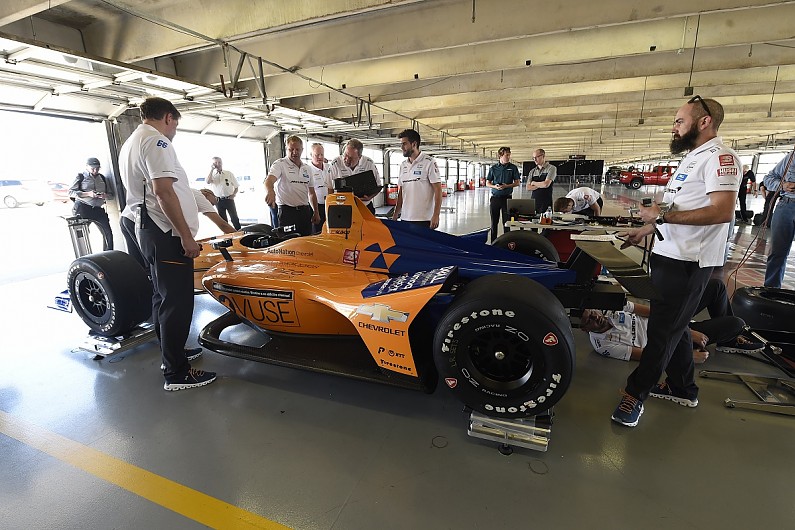 With his previous Indy 500 attempt having come during the era of manufacturer aerokits, Alonso tries the new, simplified, universal aero package on an oval for the first time in a test at Texas Motor Speedway.
Afterwards he admits that "it's going to be challenging" because the new cars "can be trickier to drive, especially following" and as "this year I am not with the Andretti environment. It's all by ourselves this year".
---
April 25 2019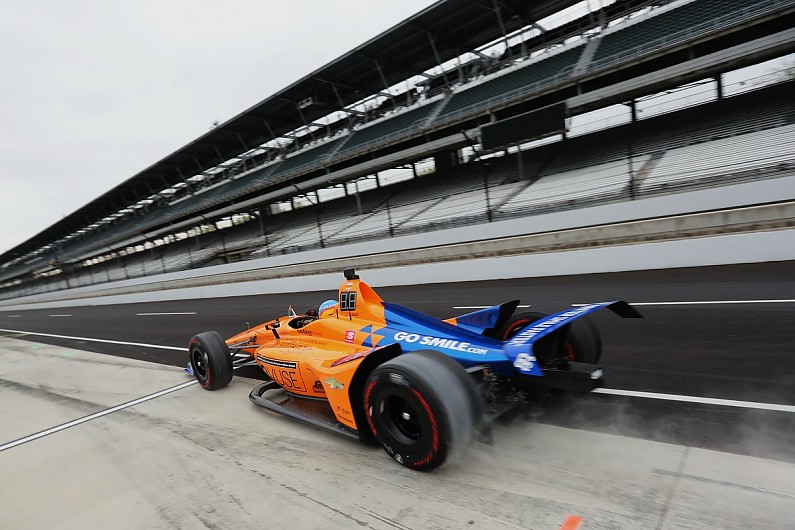 Alonso returns to the Indianapolis Motor Speedway for the traditional 'rookies and refreshers' test ahead of the 'Month of May' beginning.
But the day is disrupted by bad weather, and an electrical problem means Alonso misses 45 minutes of the running that does take place.
He completes only 29 laps and will need to finish the mandatory refresher programme ahead of Indy 500 practice.
In the weeks between the test and practice beginning, senior McLaren personnel insist they are under no illusions about how tough the 2019 'solo' project will be.
"I think we have gone about it the hard way," admits Brown.
"The teams competing in Indy are as good as they get. We have seen very big teams from Rahal to Andretti, to Penske, not even make the race.
"The race is a bit of a lottery, so I don't think it is a foregone conclusion that it is going to be easy for us at all.
"Could we win? We could. I think it is going to be damned difficult, and first I am just thinking about getting through qualifying weekend."
---
May 14
As practice week begins, Alonso easily completes his refresher course on the opening morning.
He covers 49 laps and is 20th fastest with a 224.162mph lap compared to pacesetter Ed Carpenter's 228.653mph in the initial session.
But a further electrical problem then strikes, and McLaren elects to stop running after just one afternoon lap and replace the car's wiring loom.
May 15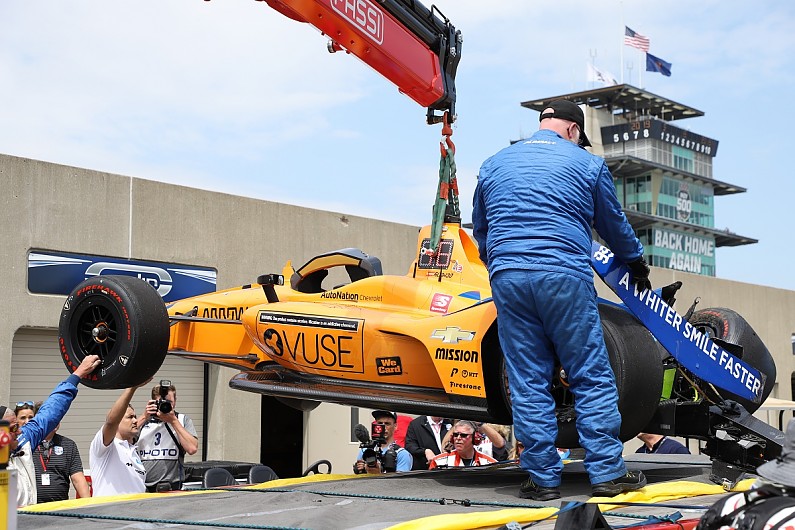 Alonso covers 46 laps in the opening hour and a half of Wednesday practice but then crashes heavily.
He understeers into the Turn 3 wall while running in Graham Rahal's wake and then goes across the track for a rearward impact on the infield barrier.
"Even if I lifted the throttle on the entry to the corner it was not enough," he says. "I completely lost the front aero there. The wall came too close and too quickly."
---
May 16
McLaren misses all of Thursday's running while building up its back-up car, which is a Carlin/John Cummiskey-built chassis rather than the original it had prepared itself.
It also carries out an engine change as Alonso's original Chevrolet had sustained damage in the impact.
Practice being curtailed by rain does not help, with McLaren suggesting that it would have been ready to take to the track by the end of the day.
But Brown also admits that the nature of McLaren's one-off Indy effort slowed the rebuild process.
"Being a new team is certainly a disadvantage as it takes time," said Brown.
"The guys are all very experienced but they've not worked together as a team before.
"So this is the first time they've had to rebuild a car overnight and you're always going to do it a second time or third time or fourth time.
"The only way to get through that is to be a new team once, learn from it. But they're cool, calm and collected."
---
May 17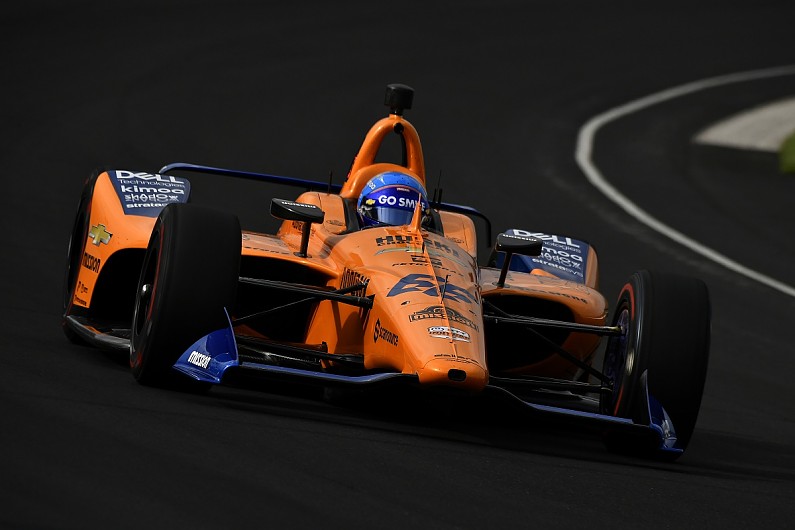 Alonso and McLaren are back on track for the 'Fast Friday' practice when turbos are turned up to qualifying specification.
He completes 77 laps - the most of anyone - but is only 24th fastest and down to 31st in the rankings for speeds achieved without a tow. Almost two hours of running are also lost due to a rain interruption and a yellow for a big crash for Kyle Kaiser.
Asked if he is worried going into qualifying, Alonso replies: "I am, yes" - but adds: "I think it's the same for everyone."
---
May 18
Alonso is quickest in the short morning practice session ahead of qualifying, although only five other cars take part. He manages a 228.065mph average.
He then sustains a right rear puncture during his first qualifying attempt and has to back off on his last lap of a run that was already only in the 225/226mph region. That leaves him 33rd fastest of the 36 drivers once everyone has done one qualifying run.
With only the top 30 from Saturday's session guaranteed a place on the grid, Alonso makes four further attempts during the day.
Only the last of them - a 227.244mph average - gets him into the top 30 and even then improvements from rivals bump him down to 31st, 0.02mph away from Pippa Mann in 30th place.
That means Alonso will go up against Carlin stablemates Max Chilton and Patricio O'Ward, Saturday crasher James Hinchcliffe, Sage Karam and Kaiser in the last row session on Sunday from which only three cars will make the cut.
---
May 19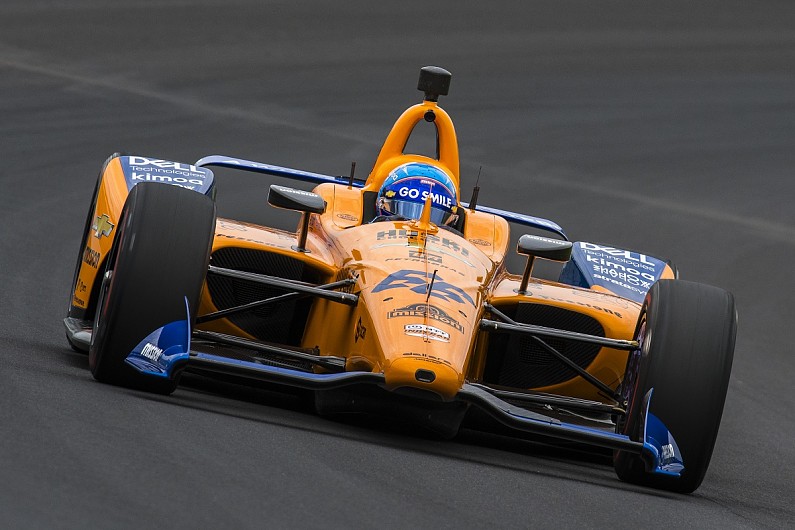 Rain disrupts the timetable again, delaying qualifying but also truncating what should have been an hour-long practice session for the last row group to 20 minutes.
Alonso and McLaren cannot even make full use of that time as a set-up issue means the car is bottoming heavily when it first goes out. An initial adjustment does not fully cure it, and the rain arrives while the team is making further changes.
Amid reports that McLaren has done a deal to use Andretti set-ups and parts as it makes wholesale changes to the car, Alonso will now go into his last ditch qualifying effort 'blind' with unfamiliar settings.
After a spell when it looks like rain will postpone the whole session to Monday, the weather clears and last row qualifying gets under way at 4.30pm local time.
Alonso cannot match Arrow Schmidt Peterson driver Hinchcliffe's 227.543mph but his 227.353mph run comfortably outpaces Chilton by a full 1.4mph to provisionally put himself 32nd with three cars to come.
Immediately following his qualifying run, Alonso reports that the car is definitely "better" than Saturday and pundits moot that he is probably safe given that O'Ward is likely to have a similar pace to team-mate Chilton, and Kaiser and the underfunded Juncos team have struggled all month.
Dreyer & Reinbold Racing's Karam is more of a wildcard, and he pushes Alonso onto 'the bubble' with a 227.740mph qualifying effort that puts the DRR car straight into the race.
O'Ward causes more concern for McLaren as his early laps are close to Alonso's pace, but he ends up slower and out of the race.
That leaves Alonso 33rd with just Kaiser left to run. Juncos has spent much of the month with a plain white car following the late withdrawal of its two main sponsors, and Kaiser's heavy Friday practice crash put its participation in further jeopardy due to a spares shortage.
The team made it into qualifying, but that fraught build-up has left it seen as a long-shot for making the cut.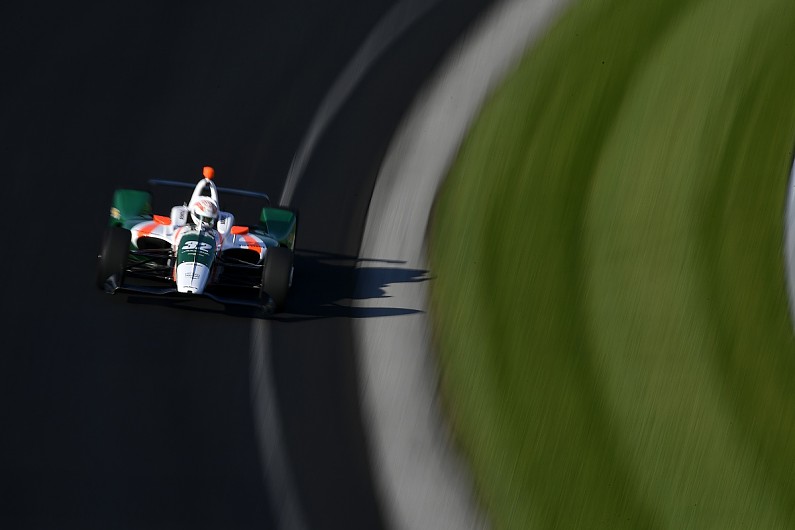 Yet Kaiser defies all expectations and immediately starts outpacing Alonso from his first qualifying lap.
He begins to lose speed later in the run and the gap narrows agonisingly.
But Kaiser's pace holds up just enough, and his 227.372mph average beats Alonso by 0.019mph.
The 23-year-old part-timer driving for the cash-strapped minnow makes the field, and the two-time Formula 1 world champion driving for the legendary motorsport powerhouse does not.
McLaren quickly makes clear it has no interest in taking advantage of the rule that allows a non-qualifier to 'buy-out' the entry of a driver already in the field.
Alonso's 2019 Indy 500 is over.