Ed Carpenter Racing Scuderia Corsa driver Ed Jones topped a third day of practice for the Indianapolis 500 cut short by rain and thunderstorms.
The final hour and a half of the planned seven hours of running was scrubbed off, ensuring Chevrolet-powered Jones's eighth lap of 37, a 227.843mph effort set in the morning, remained fastest.
That lap was 1.5mph faster than the best set by 2017 Indy 500 winner Takuma Sato in the #30 Rahal Letterman Lanigan Racing-Honda, who beat Zach Veach's Andretti Autosport-Honda by 0.6mph.
Sebastien Bourdais' Dale Coyne Racing-run car was fourth ahead of the fastest rookie, Harding Steinbrenner Racing driver Colton Herta.
Sage Karam was the busiest driver of the day in his Dreyer & Reinbold Racing-Chevrolet, turning 86 laps, and finished up just ahead of the continually impressive Juncos Racing-Chevy of Kyle Kaiser, whose car is still without sponsor logos (pictured below).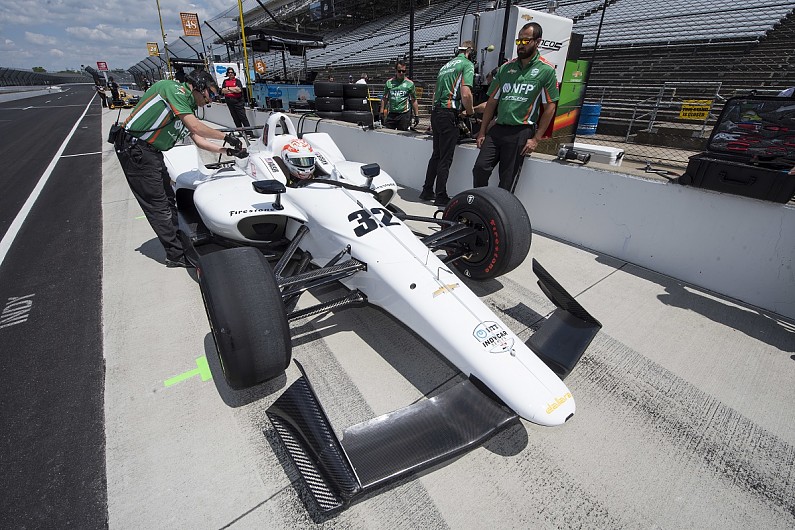 Spencer Pigot ensured two Carpenter cars finished in the top 10, ahead of Scott Dixon's Chip Ganassi Racing-Honda and Penske's fastest runner, Simon Pagenaud.
Ahead of the Fast Friday final practice day, when cars' turbos are tweaked up to 1.4-bar boost in preparation for qualifying runs on Saturday and Sunday, several drivers carried out low-drag qualifying simulations without the assist of a draft from other cars. IndyCar officially judges a car has a tow if it is within seven seconds of the car in front.
Jones was also fastest in those speed charts, clocking a 224.957mph lap, ahead of Pigot's 224.887mph, Pagenaud's 224.868mph, and Will Power's 224.858mph.
Carlin's Charlie Kimball, Marco Andretti (Andretti-Herta), Sato, Ed Carpenter, the Penske of Josef Newgarden and Arrow Schmidt Peterson Motorsport's rookie Marcus Ericsson were next up.
Carlin driver Patricio O'Ward crashed in the second hour of running and ended up with the 23rd-fastest lap, setting a best speed of 224.170mph.
After crashing on the second day of practice, two-time Formula 1 world champion Fernando Alonso did not complete a lap on Thursday as McLaren opted to repair his damaged car rather than build up a back-up.
Thursday practice times
| Pos | Driver | Team | Car | Speed | Time | Laps |
| --- | --- | --- | --- | --- | --- | --- |
| 1 | Ed Jones | Ed Carpenter Racing | Dallara/Chevrolet | 227.843 | 39.5008s | 37 |
| 2 | Takuma Sato | Rahal Letterman Lanigan | Dallara/Honda | 226.699 | 39.7002s | 47 |
| 3 | Zach Veach | Andretti Autosport | Dallara/Honda | 226.070 | 39.8107s | 58 |
| 4 | Sebastien Bourdais | Dale Coyne Racing | Dallara/Honda | 225.996 | 39.8238s | 53 |
| 5 | Colton Herta | Harding Racing | Dallara/Honda | 225.458 | 39.9188s | 73 |
| 6 | Sage Karam | Dreyer & Reinbold Racing | Dallara/Chevrolet | 225.401 | 39.9289s | 86 |
| 7 | Kyle Kaiser | Juncos Racing | Dallara/Chevrolet | 225.396 | 39.9298s | 39 |
| 8 | Spencer Pigot | Ed Carpenter Racing | Dallara/Chevrolet | 225.335 | 39.9406s | 66 |
| 9 | Scott Dixon | Chip Ganassi Racing | Dallara/Honda | 225.300 | 39.9467s | 53 |
| 10 | Simon Pagenaud | Team Penske | Dallara/Chevrolet | 225.256 | 39.9545s | 40 |
| 11 | Helio Castroneves | Team Penske | Dallara/Chevrolet | 225.142 | 39.9747s | 65 |
| 12 | James Davison | Dale Coyne Racing | Dallara/Honda | 225.064 | 39.9886s | 60 |
| 13 | Ed Carpenter | Ed Carpenter Racing | Dallara/Chevrolet | 225.038 | 39.9933s | 50 |
| 14 | Will Power | Team Penske | Dallara/Chevrolet | 224.858 | 40.0252s | 49 |
| 15 | Max Chilton | Carlin | Dallara/Chevrolet | 224.802 | 40.0353s | 42 |
| 16 | Charlie Kimball | Carlin | Dallara/Chevrolet | 224.797 | 40.0361s | 67 |
| 17 | Marco Andretti | Andretti Herta | Dallara/Honda | 224.771 | 40.0408s | 41 |
| 18 | J.R. Hildebrand | Dreyer & Reinbold Racing | Dallara/Chevrolet | 224.481 | 40.0924s | 47 |
| 19 | Conor Daly | Andretti Autosport | Dallara/Honda | 224.480 | 40.0927s | 76 |
| 20 | Marcus Ericsson | Schmidt Peterson Motorsports | Dallara/Honda | 224.405 | 40.1060s | 34 |
| 21 | Josef Newgarden | Team Penske | Dallara/Chevrolet | 224.343 | 40.1171s | 39 |
| 22 | Alexander Rossi | Andretti Autosport | Dallara/Honda | 224.220 | 40.1391s | 50 |
| 23 | Patricio O'Ward | Carlin | Dallara/Chevrolet | 224.170 | 40.1481s | 24 |
| 24 | Graham Rahal | Rahal Letterman Lanigan | Dallara/Honda | 224.133 | 40.1547s | 57 |
| 25 | James Hinchcliffe | Schmidt Peterson Motorsports | Dallara/Honda | 223.984 | 40.1814s | 31 |
| 26 | Jack Harvey | Meyer Shank Racing | Dallara/Honda | 223.983 | 40.1817s | 26 |
| 27 | Pippa Mann | Clauson-Marshall Racing | Dallara/Chevrolet | 223.819 | 40.2111s | 41 |
| 28 | Oriol Servia | Schmidt Peterson Motorsports | Dallara/Honda | 223.284 | 40.3075s | 49 |
| 29 | Jordan King | Rahal Letterman Lanigan | Dallara/Honda | 223.173 | 40.3274s | 43 |
| 30 | Ryan Hunter-Reay | Andretti Autosport | Dallara/Honda | 223.074 | 40.3454s | 38 |
| 31 | Matheus Leist | AJ Foyt Enterprises | Dallara/Chevrolet | 222.969 | 40.3644s | 34 |
| 32 | Tony Kanaan | AJ Foyt Enterprises | Dallara/Chevrolet | 222.831 | 40.3893s | 34 |
| 33 | Ben Hanley | DragonSpeed | Dallara/Chevrolet | 222.364 | 40.4742s | 67 |
| 34 | Felix Rosenqvist | Chip Ganassi Racing | Dallara/Honda | 221.697 | 40.5960s | 41 |
| 35 | Santino Ferrucci | Dale Coyne Racing | Dallara/Honda | 220.457 | 40.8242s | 60 |