James Hinchcliffe hopes his 2019 Schmidt Peterson Motorsports team-mate has a similar driving style to Robert Wickens, as he feels the DTM convert raised the level of his IndyCar performances.
Wickens joined the series in 2018 and made an immediate impression by taking pole in his debut race at St Petersburg and almost winnning his first oval race at Phoenix.
The former Mercedes DTM driver largely outperformed Hinchcliffe in the first half of the season, before a post-Indianapolis 500 shake-up on his team-mate's side of the SPM garage helped him address the balance.
The duo finished joint-10th in the standings after Wickens missed several races following his severe Pocono crash that left him with serious injuries, and Hinchcliffe failed to qualify for the Indy 500 and therefore missed out on double-points at that event.
Hinchcliffe was paired with Carlos Munoz for the final races of the season and with no return date set for Wickens he is set for another team-mate in 2019.
"I think that Robbie helped me step up my game behind the wheel, but also it was the first time in three years that I had a team-mate with a similar driving style, who wanted the same thing from the car and gave the same sort of feedback," Hinchcliffe told Autosport.
"We could just develop so much more efficiently over a race weekend.
"There were a lot of times when our cars rolled off the trailer not awesome, but by Saturday afternoon we had it decently figured out and by Sunday we'd have a couple of good results.
"A lot of that was down to how Robbie works - the type of car that he likes and how we worked well together to maximise what is in fact a very short amount of track time.
"It used to be that if we rolled off with a 15th-place car on Friday, we'd be plus or minus three places by the end of the weekend, but this year there was a big improvement in that area.
"We could have 15th-place cars in first practice on Friday but turn them into top-five runners by the time we got to the race."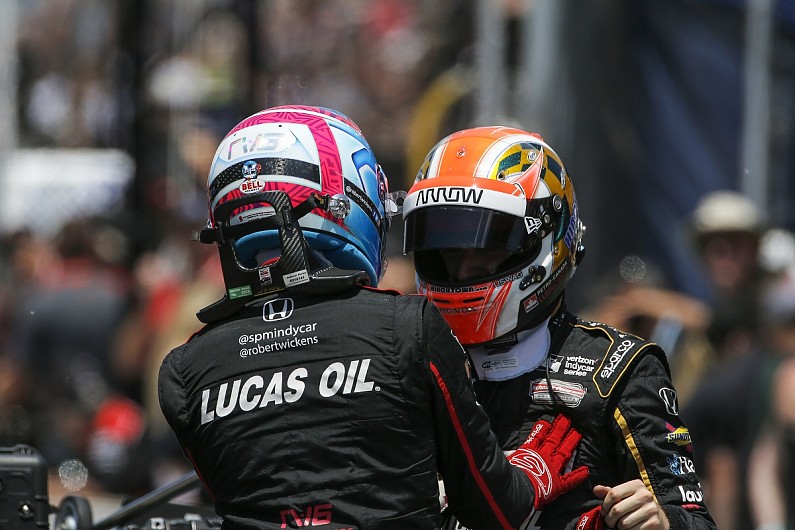 Hinchcliffe added that he was not surprised by how quickly Wickens starred in IndyCar.
"I definitely expected Robbie to be strong out of the box on road and street courses," he said.
"I was probably the least surprised of anyone that he took pole on his debut at St. Pete, and he drove like an absolute veteran in the race.
"So while I was hugely impressed, I wasn't amazed, I've always known what he can do in a racecar.
"But he amazed me at Phoenix. His first oval race, he qualified very well, raced well at what is a very tricky little track and never got caught up in anything.
"He never let the situation get the better of him, and bar a late restart and a gamble on tyre strategy, he was going to win his very first oval race."