Chip Ganassi Racing's Scott Dixon survived a wild race at Portland to extend his points lead into the final IndyCar weekend of the season, as Takuma Sato took victory.
The race lasted just three corners before a huge crash triggered by Zach Veach squeezing James Hinchcliffe at the exit of the Festival Chicane, unsettling the Schmidt Peterson Motorsports-run machine.
Hinchcliffe collected the cars of Dixon and his Ganassi team-mate Ed Jones, as well as Graham Rahal, and Marco Andretti was vaulted over Hinchcliffe before his car landed upside down. All the drivers were uninjured.
Dixon somehow emerged virtually unscathed and continued, using the subsequent full-course caution to top-up on fuel and put on fresh tyres in a strategy mirrored by the likes of Sebastien Bourdais, as they gambled on running longer in the first stint but still matching the conventional three-stop strategy.
The early stops and removal of several cars helped Sato climb from his starting position of 20th up into the midfield and he ran longer than anyone else in the opening stints.
That placed him perfectly when Dale Coyne Racing's Santino Ferrucci, returning to IndyCar after his controversial exit from Formula 2, ran out of fuel with 30 laps to go.
That triggered a full-course yellow and encouraged all but Carlin's Max Chilton to pit for a final stop and sprint to the finish.
Sato's quick stop meant he rejoined behind only Chilton at the restart, assuming the lead when the Carlin driver subsequently pitted.
Rahal Letterman Lanigan Racing driver Sato held enough push-to-pass and fuel in reserve to hold off the rapidly advancing Ryan Hunter-Reay and score his first IndyCar victory since the 2017 Indianapolis 500.
Hunter-Reay regularly ran inside the top three despite starting the race on the slower black-walled tyre compound and was also able to run longer stints than his rivals.
Bourdais, who won the previous Portland race in 2007, finished third, despite taking damage in the lap one pile-up.
Fourth went to Spencer Pigot, who impressively dispatched Dixon with an expert pass late on.
But Dixon's fifth place means he extends his championship lead to 29 points with just the double-points finale at Sonoma to go.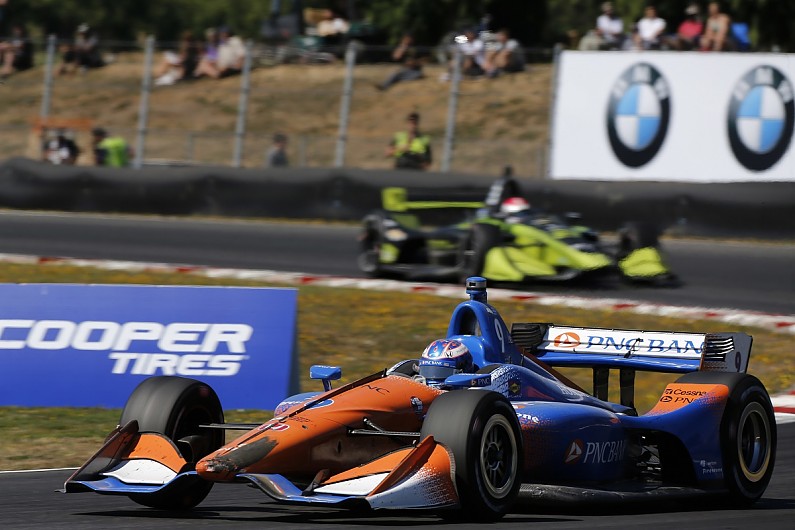 Having survived the lap one excursion, Dixon was hit with a pitlane speeding violation during his recovery drive, which could have hampered his title bid.
But the Ganassi man was helped by poor strategies from Alexander Rossi and reigning IndyCar champion Josef Newgarden, with both drivers stopping at the three-quarters distance and getting dragged into the midfield.
Rossi had led at the start, having used Hunter-Reay as his buffer, but could only finish eighth, three places down on Dixon.
Outside title contender Newgarden finished down in 10th, failing to make up ground once Rossi dispatched him late on.
Will Power, who was also on the fringes of the title race, had a nightmare day. While leading after running longer than Rossi in the first stint, he suffered a gearbox problem that prevented him using first gear.
He dropped down the field before later clouting the tyre wall at Turn 12 after running wide and becoming unsettled in the previous corner.
He fell to 21st after a stop to examine his gearbox and repair the damage to his car.
Race result
| Pos | Driver | Team | Car | Laps | | Gap | |
| --- | --- | --- | --- | --- | --- | --- | --- |
| 1 | Takuma Sato | Rahal Letterman Lanigan | Dallara/Honda | 105 | 2h00m09.7537s | - | CLA |
| 2 | Ryan Hunter-Reay | Andretti Autosport | Dallara/Honda | 105 | 2h00m10.3621s | 0.6084s | CLA |
| 3 | Sebastien Bourdais | Dale Coyne Racing | Dallara/Honda | 105 | 2h00m11.5803s | 1.8266s | CLA |
| 4 | Spencer Pigot | Ed Carpenter Racing | Dallara/Chevrolet | 105 | 2h00m14.3094s | 4.5557s | CLA |
| 5 | Scott Dixon | Chip Ganassi Racing | Dallara/Honda | 105 | 2h00m15.0752s | 5.3215s | CLA |
| 6 | Simon Pagenaud | Team Penske | Dallara/Chevrolet | 105 | 2h00m21.2142s | 11.4605s | CLA |
| 7 | Charlie Kimball | Carlin | Dallara/Chevrolet | 105 | 2h00m21.7594s | 12.0057s | CLA |
| 8 | Alexander Rossi | Andretti Autosport | Dallara/Honda | 105 | 2h00m23.1306s | 13.3769s | CLA |
| 9 | Pietro Fittipaldi | Dale Coyne Racing | Dallara/Honda | 105 | 2h00m28.1290s | 18.3753s | CLA |
| 10 | Josef Newgarden | Team Penske | Dallara/Chevrolet | 105 | 2h00m29.5581s | 19.8044s | CLA |
| 11 | Tony Kanaan | AJ Foyt Enterprises | Dallara/Chevrolet | 105 | 2h00m31.8899s | 22.1362s | CLA |
| 12 | Carlos Munoz | Schmidt Peterson Motorsports | Dallara/Honda | 105 | 2h00m32.4606s | 22.7069s | CLA |
| 13 | Gabby Chaves | Harding Racing | Dallara/Chevrolet | 105 | 2h00m33.4675s | 23.7138s | CLA |
| 14 | Matheus Leist | AJ Foyt Enterprises | Dallara/Chevrolet | 105 | 2h00m39.5495s | 29.7958s | CLA |
| 15 | Jordan King | Ed Carpenter Racing | Dallara/Chevrolet | 105 | 2h00m41.8889s | 32.1352s | CLA |
| 16 | Jack Harvey | Meyer Shank Racing | Dallara/Honda | 105 | 2h00m42.1728s | 32.4191s | CLA |
| 17 | Alfonso Celis | Juncos Racing | Dallara/Chevrolet | 105 | 2h00m58.5575s | 48.8038s | CLA |
| 18 | Max Chilton | Carlin | Dallara/Chevrolet | 105 | 2h01m04.9660s | 55.2123s | CLA |
| 19 | Zach Veach | Andretti Autosport | Dallara/Honda | 104 | 2h00m45.9269s | 1 Lap | CLA |
| 20 | Santino Ferrucci | Dale Coyne Racing | Dallara/Honda | 101 | 2h00m42.3067s | 4 Laps | CLA |
| 21 | Will Power | Team Penske | Dallara/Chevrolet | 98 | 2h00m43.9627s | 7 Laps | CLA |
| 22 | James Hinchcliffe | Schmidt Peterson Motorsports | Dallara/Honda | 76 | 1h53m35.4864s | 29 Laps | CLA |
| 23 | Graham Rahal | Rahal Letterman Lanigan | Dallara/Honda | 4 | 1h28m13.1705s | Contact | CLA |
| 24 | Ed Jones | Chip Ganassi Racing | Dallara/Honda | 0 | 0.9205s | Contact | CLA |
| 25 | Marco Andretti | Andretti Herta | Dallara/Honda | 0 | 1.0311s | Contact | CLA |
Drivers' standings

| Pos | Driver | Points |
| --- | --- | --- |
| 1 | Scott Dixon | 598 |
| 2 | Alexander Rossi | 569 |
| 3 | Will Power | 511 |
| 4 | Josef Newgarden | 511 |
| 5 | Ryan Hunter-Reay | 462 |
| 6 | Simon Pagenaud | 428 |
| 7 | Robert Wickens | 391 |
| 8 | Graham Rahal | 378 |
| 9 | Sebastien Bourdais | 369 |
| 10 | James Hinchcliffe | 361 |
| 11 | Takuma Sato | 341 |
| 12 | Marco Andretti | 332 |
| 13 | Spencer Pigot | 313 |
| 14 | Ed Jones | 303 |
| 15 | Zach Veach | 281 |
| 16 | Tony Kanaan | 276 |
| 17 | Charlie Kimball | 271 |
| 18 | Matheus Leist | 231 |
| 19 | Max Chilton | 205 |
| 20 | Ed Carpenter | 187 |
| 21 | Gabby Chaves | 187 |
| 22 | Jordan King | 141 |
| 23 | Zachary Claman | 122 |
| 24 | Jack Harvey | 77 |
| 25 | Carlos Munoz | 71 |
| 26 | Pietro Fittipaldi | 63 |
| 27 | Rene Binder | 61 |
| 28 | Conor Daly | 58 |
| 29 | Kyle Kaiser | 45 |
| 30 | Helio Castroneves | 40 |
| 31 | J.R. Hildebrand | 38 |
| 32 | Stefan Wilson | 31 |
| 33 | Santino Ferrucci | 28 |
| 34 | Oriol Servia | 27 |
| 35 | Alfonso Celis | 23 |
| 36 | Danica Patrick | 13 |
| 37 | Jay Howard | 12 |
| 38 | James Davison | 10 |
| 38 | Sage Karam | 10 |