Andretti Autosport's Alexander Rossi took a dominant win in the crash-delayed IndyCar race at Pocono, leading almost all of the 500-mile distance ahead of Penske's Will Power.
The event was halted for two hours by a violent crash that resulted in Robert Wickens being airlifted to hospital.
It is Rossi's second win a row and he therefore has reduced his points deficit to championship leader Scott Dixon of Ganassi from 46 points to 29. Dixon salvaged a distant third place having started 13th.
Rossi took the lead at the start and built an advantage of more than 10 seconds over Power in the first half of the race.
He then lost a lot of time in traffic, particularly behind AJ Foyt Racing's Matheus Leist, which allowed Power to close to within a second just after half distance. Following other cars was seemingly difficult with the revised superspeedway aerokit.
Power briefly led Rossi just after the two-thirds' distance mark, after pitting a lap later than his rival and then holding Rossi off when he emerged ahead.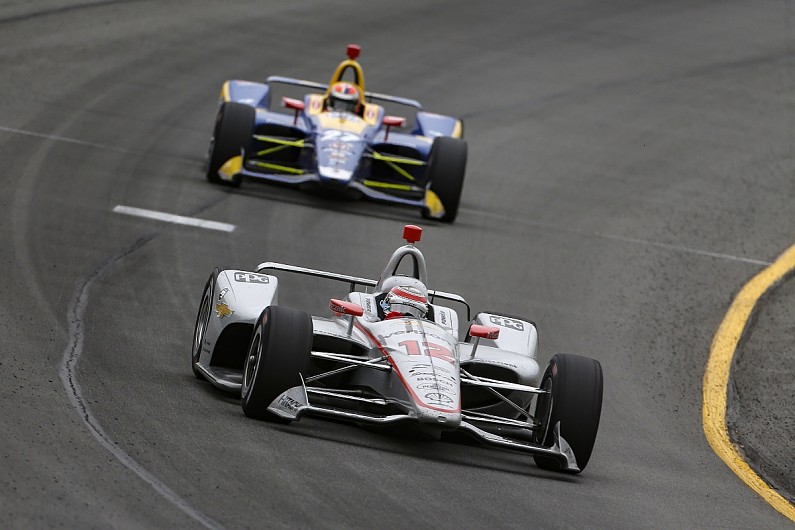 But Rossi reclaimed the lead three laps later, passing Power on the inside of Turn 2. This was the only time aside from pitstop phases that Rossi was headed.
Poleman and winner of the previous two Pocono races, Power therefore had to settle for second. Rossi and Power left the rest behind on the 2.5-mile triangular oval, with everyone up to fifth place lapped.
The violent multi-car accident that interrupted the event took place on the first green flag lap, and left the debris fence requiring repairs.
Ryan Hunter-Reay and Wickens made contact at Turn 2 with both going into the wall and Wickens's machine riding up to punch a hole in the fence.
His Schmidt Peterson Motorsports team-mate James Hinchcliffe as well as Pietro Fittipaldi and Takuma Sato were also eliminated in the incident.
This had followed an immediate caution period at the race start caused by Graham Rahal hitting the back of Spencer Pigot under acceleration, pitching Pigot into a spin while Rahal sustained front wing damage.
Both continued several laps down after repairs, including penalties for making repairs under the red flag, though Pigot parked not long afterwards.
There were no caution periods after the red flag.
Dixon also narrowly avoided hitting Wickens's destroyed car as it came back across the track in the initial crash, and pitted for new tyres shortly after the stoppage having run through debris.
Dale Coyne Racing's Sebastien Bourdais finished close behind Dixon in fourth, despite being reluctant to get back in the car after the stoppage because he was unhappy with the fence repairs.
Power's Penske team-mate Josef Newgarden headed a train of cars to finish fifth, just beating the Andretti Autosport pair of rookie Zach Veach and Marco Andretti in sixth and seventh respectively and his Penske stablemate Simon Pagenaud in eighth.
Pagenaud was another to pit just after running resumed following the red flag stoppage, in his case due to a damaged steering arm. He just kept his place on the lead lap.
Race result
| Pos | Driver | Team | Car | Laps | Gap |
| --- | --- | --- | --- | --- | --- |
| 1 | Alexander Rossi | Andretti Autosport | Dallara/Honda | 200 | 2h36m49.1128s |
| 2 | Will Power | Team Penske | Dallara/Chevrolet | 200 | 4.4982s |
| 3 | Scott Dixon | Chip Ganassi Racing | Dallara/Honda | 200 | 41.3557s |
| 4 | Sebastien Bourdais | Dale Coyne Racing with Vasser-Sullivan | Dallara/Honda | 200 | 42.0120s |
| 5 | Josef Newgarden | Team Penske | Dallara/Chevrolet | 199 | 1 Lap |
| 6 | Zach Veach | Andretti Autosport | Dallara/Honda | 199 | 1 Lap |
| 7 | Marco Andretti | Andretti Herta Autosport with Curb-Agajanian | Dallara/Honda | 199 | 1 Lap |
| 8 | Simon Pagenaud | Team Penske | Dallara/Chevrolet | 199 | 1 Lap |
| 9 | Charlie Kimball | Carlin | Dallara/Chevrolet | 198 | 2 Laps |
| 10 | Ed Carpenter | Ed Carpenter Racing | Dallara/Chevrolet | 197 | 3 Laps |
| 11 | Matheus Leist | A.J. Foyt Enterprises | Dallara/Chevrolet | 197 | 3 Laps |
| 12 | Ed Jones | Chip Ganassi Racing | Dallara/Honda | 197 | 3 Laps |
| 13 | Max Chilton | Carlin | Dallara/Chevrolet | 196 | 4 Laps |
| 14 | Graham Rahal | Rahal Letterman Lanigan Racing | Dallara/Honda | 196 | 4 Laps |
| 15 | Conor Daly | Harding Racing | Dallara/Chevrolet | 162 | Contact |
| 16 | Spencer Pigot | Ed Carpenter Racing | Dallara/Chevrolet | 17 | Contact |
| 17 | Tony Kanaan | A.J. Foyt Enterprises | Dallara/Chevrolet | 16 | Mechanical |
| 18 | Ryan Hunter-Reay | Andretti Autosport | Dallara/Honda | 6 | Contact |
| 19 | Robert Wickens | Schmidt Peterson Motorsports | Dallara/Honda | 6 | Contact |
| 20 | James Hinchcliffe | Schmidt Peterson Motorsports | Dallara/Honda | 6 | Contact |
| 21 | Takuma Sato | Rahal Letterman Lanigan Racing | Dallara/Honda | 6 | Contact |
| 22 | Pietro Fittipaldi | Dale Coyne Racing | Dallara/Honda | 6 | Contact |
Drivers' standings
| Pos | Driver | Points |
| --- | --- | --- |
| 1 | Scott Dixon | 530 |
| 2 | Alexander Rossi | 501 |
| 3 | Josef Newgarden | 464 |
| 4 | Will Power | 449 |
| 5 | Ryan Hunter-Reay | 411 |
| 6 | Robert Wickens | 391 |
| 7 | Simon Pagenaud | 368 |
| 8 | Graham Rahal | 351 |
| 9 | James Hinchcliffe | 338 |
| 10 | Sebastien Bourdais | 325 |
| 11 | Marco Andretti | 311 |
| 12 | Ed Jones | 273 |
| 13 | Takuma Sato | 267 |
| 14 | Spencer Pigot | 253 |
| 15 | Tony Kanaan | 240 |
| 16 | Zach Veach | 239 |
| 17 | Charlie Kimball | 234 |
| 18 | Matheus Leist | 201 |
| 19 | Max Chilton | 179 |
| 20 | Ed Carpenter | 169 |
| 21 | Gabby Chaves | 158 |
| 22 | Jordan King | 126 |
| 23 | Zachary Claman | 122 |
| 24 | Jack Harvey | 63 |
| 25 | Rene Binder | 61 |
| 26 | Conor Daly | 58 |
| 27 | Carlos Munoz | 53 |
| 28 | Kyle Kaiser | 45 |
| 29 | Helio Castroneves | 40 |
| 30 | J.R. Hildebrand | 38 |
| 31 | Stefan Wilson | 31 |
| 32 | Oriol Servia | 27 |
| 33 | Pietro Fittipaldi | 22 |
| 34 | Santino Ferrucci | 18 |
| 35 | Danica Patrick | 13 |
| 36 | Jay Howard | 12 |
| 37 | James Davison | 10 |
| 37 | Sage Karam | 10 |
| 37 | Alfonso Celis | 10 |