Dreyer & Reinbold Racing's Sage Karam topped a shortened eighth practice session for the Indianapolis 500 as Schmidt Peterson Motorsports driver Robert Wickens crashed.
Karam set his 226.461mph benchmark early in the session after a 30-minute delay due to moisture, with another 10 minutes lost due to track inspections leaving a four and a half hour practice.
But the most notable event in the practice session came when Wickens picked up oversteer through Turn 2 and saved his car from contact with the outside wall only for a similar incident at Turn 3 to send him into the wall through the corner exit.
He had done just three laps on the track as a miserable Month of May for SPM continued.
"I caught it, then just ran out of track and brushed the wall," Wickens said.
"It was suspension damage on both sides and I was just trying to slow down and get it under control, and the car just pretty violently went to the right and went head-on into the wall halfway down the backstraight.
"It's a bummer, obviously, no one wants it, especially this close to the race.
"Lesson learned I guess; it just happened out of nowhere.
"I'm fine, these cars are super safe. First crash in an Indycar, so I guess it had to happen eventually."
SPM said there was comprehensive right-side damage to the car, as well as clear crumpling of the Dallara-Honda's nose.
There were few improvements late in the session, but AJ Foyt Racing's Tony Kanaan moved to second with a lap of 225.123mph.
Foyt had impressed with its no-tow speed through last week and managed to qualify 10th and 11th for the Indy 500 through Kanaan and rookie team-mate Matheus Leist.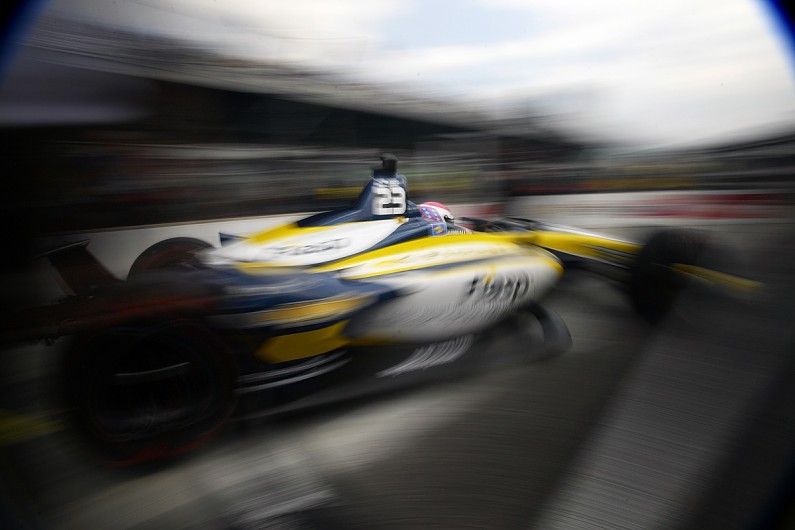 Carlin's Charlie Kimball was a strong fourth, slotting between the Andretti Autosport cars of Ryan Hunter-Reay and Alexander Rossi.
Penske's Will Power, who will start the race third, was sixth ahead of team-mate Helio Castroneves.
The only two Hondas to make the 'Fast Nine', Chip Ganassi Racing's Scott Dixon and Dale Coyne Racing's Sebastien Bourdais, were 10th and 11th on Monday.
Danica Patrick secured a seventh place start on Sunday and finished 19th in a low-key day for Ed Carpenter Racing.
Polesitter Ed Carpenter was 14th and Spencer Pigot was 27th.
Front row starter Simon Pagenaud was 33rd, five places behind Penske team-mate Josef Newgarden.
The session was run in race trim as the IndyCar field continues to learn the universal aerokit's likely behaviour in race conditions, with sights of multiple cars following closely common throughout.
Most drivers ran a significant number of laps on track to assess running on various fuel loads and to get an indication of likely fuel stints.
Monday practice times
| Pos | Driver | Team | Car | Time | Speed | Laps |
| --- | --- | --- | --- | --- | --- | --- |
| 1 | Sage Karam | Dreyer & Reinbold Racing | Dallara/Chevrolet | 39.7419s | 226.461 | 71 |
| 2 | Tony Kanaan | AJ Foyt Enterprises | Dallara/Chevrolet | 39.9781s | 225.123 | 66 |
| 3 | Ryan Hunter-Reay | Andretti Autosport | Dallara/Honda | 40.0320s | 224.820 | 68 |
| 4 | Charlie Kimball | Carlin | Dallara/Chevrolet | 40.0745s | 224.582 | 79 |
| 5 | Alexander Rossi | Andretti Autosport | Dallara/Honda | 40.0878s | 224.507 | 70 |
| 6 | Will Power | Team Penske | Dallara/Chevrolet | 40.0989s | 224.445 | 120 |
| 7 | Helio Castroneves | Team Penske | Dallara/Chevrolet | 40.1126s | 224.368 | 118 |
| 8 | Marco Andretti | Andretti Herta | Dallara/Honda | 40.1520s | 224.148 | 56 |
| 9 | Zachary Claman | Dale Coyne Racing | Dallara/Honda | 40.1623s | 224.091 | 79 |
| 10 | Scott Dixon | Chip Ganassi Racing | Dallara/Honda | 40.1847s | 223.966 | 101 |
| 11 | Sebastien Bourdais | Dale Coyne Racing | Dallara/Honda | 40.2235s | 223.750 | 92 |
| 12 | Stefan Wilson | Andretti Autosport | Dallara/Honda | 40.2299s | 223.714 | 115 |
| 13 | Kyle Kaiser | Juncos Racing | Dallara/Chevrolet | 40.2384s | 223.667 | 72 |
| 14 | Ed Carpenter | Ed Carpenter Racing | Dallara/Chevrolet | 40.2553s | 223.573 | 100 |
| 15 | J.R. Hildebrand | Dreyer & Reinbold Racing | Dallara/Chevrolet | 40.3147s | 223.244 | 93 |
| 16 | Carlos Munoz | Andretti Autosport | Dallara/Honda | 40.3194s | 223.218 | 109 |
| 17 | Graham Rahal | Rahal Letterman Lanigan | Dallara/Honda | 40.3372s | 223.119 | 115 |
| 18 | Matheus Leist | AJ Foyt Enterprises | Dallara/Chevrolet | 40.3652s | 222.964 | 19 |
| 19 | Danica Patrick | Ed Carpenter Racing | Dallara/Chevrolet | 40.3721s | 222.926 | 69 |
| 20 | Gabby Chaves | Harding Racing | Dallara/Chevrolet | 40.3798s | 222.884 | 51 |
| 21 | Jack Harvey | Michael Shank Racing | Dallara/Honda | 40.3840s | 222.861 | 93 |
| 22 | Jay Howard | Schmidt Peterson Motorsports | Dallara/Honda | 40.3959s | 222.795 | 100 |
| 23 | Takuma Sato | Rahal Letterman Lanigan | Dallara/Honda | 40.4354s | 222.577 | 74 |
| 24 | Zach Veach | Andretti Autosport | Dallara/Honda | 40.4676s | 222.400 | 54 |
| 25 | Robert Wickens | Schmidt Peterson Motorsports | Dallara/Honda | 40.4812s | 222.325 | 3 |
| 26 | Ed Jones | Chip Ganassi Racing | Dallara/Honda | 40.4916s | 222.268 | 98 |
| 27 | Spencer Pigot | Ed Carpenter Racing | Dallara/Chevrolet | 40.5267s | 222.076 | 81 |
| 28 | Josef Newgarden | Team Penske | Dallara/Chevrolet | 40.5438s | 221.982 | 87 |
| 29 | Max Chilton | Carlin | Dallara/Chevrolet | 40.5580s | 221.904 | 45 |
| 30 | James Davison | AJ Foyt Enterprises | Dallara/Chevrolet | 40.6131s | 221.603 | 45 |
| 31 | Oriol Servia | Scuderia Corsa | Dallara/Honda | 40.6174s | 221.580 | 65 |
| 32 | Conor Daly | Dale Coyne Racing | Dallara/Honda | 40.6824s | 221.226 | 60 |
| 33 | Simon Pagenaud | Team Penske | Dallara/Chevrolet | 40.7421s | 220.902 | 58 |