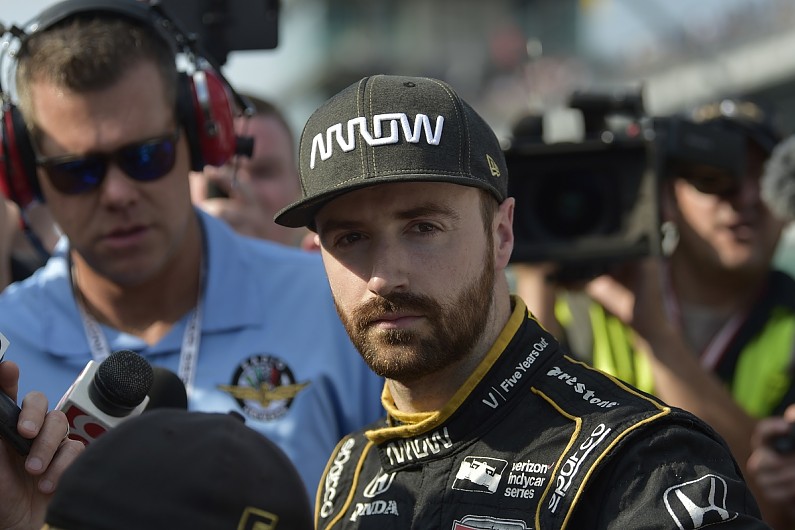 Schmidt Peterson Motorsports driver James Hinchcliffe says it is "devastating in every way possible" to be bumped out of the 2018 Indianapolis 500.
A disrupted first qualifying for the Indy 500 had two rain delays and Hinchcliffe completed his first run on a green track with increased humidity also slowing the cars.
That meant he progressively fell down the order to be at risk of getting bumped from the field, and improvements from Oriol Servia and Conor Daly left him in a battle to make the 33-car race alongside Pippa Mann.
He then suffered tyre vibrations caused by a tyre pressure sensor failure that detached from its place on an attempted second run in the final 12 minutes that forced him to abort his attempt.
Hinchcliffe then became stuck behind Pippa Mann on her final attempt to make the race, and time ran out before he could take another shot at qualifying.
Hinchcliffe explains his qualifying run
"[It's] devastating in every way possible," he said. "We had a tyre vibration, I'm not exactly sure what the problem is.
"Indy is a cruel mistress sometimes, the highs and lows. Everybody at SPM worked their tails off to get the car ready, three cars on show [in the race[ and, unfortunately, [car] four didn't make it."
Hinchcliffe took pole position for the 2016 Indy 500 a year after a life-threatening crash at the circuit, and he added that it made the result a "bitter pill to swallow".
"It's crazy to be here after where we were two years ago," he said.
"But we'll put our heads down, we'll take a look at it, and we'll learn from this experience."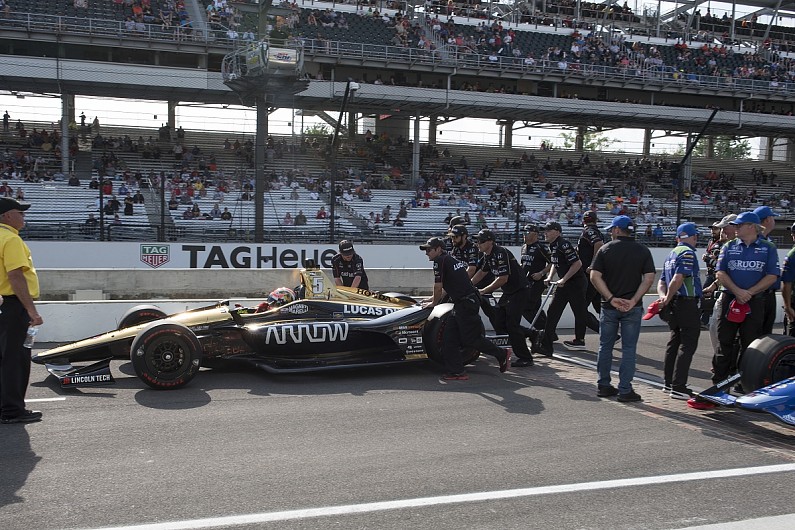 Hinchcliffe added that he had not expected to make the 'Fast Nine' and team-mates Jay Howard, Robert Wickens and Jack Harvey all qualified outside the top 15.
"We had a bit of a problem in our first run," he said. "The second run [it] looks [like] the track was getting a little bit cooler, a little bit quicker, but we had that [vibration] problem.
"I wasn't really worried about it. We just didn't get out in front of Pippa [Mann] there. It's the rules. It's how it goes.
"We're not the first big name, big car to go home in this race. That's Indy. We finally have bumping again, which everybody was super-thrilled about.
"I'm a little less thrilled about it than I was 24 hours ago. You've got to take your lumps here sometimes."
Hinchcliffe is fifth in the 2018 IndyCar driver standings, meaning that his season could be severely damaged by missing out on the double-points Indy 500.
But the driver - not the car - qualifies for the race, which means that SPM is likely to place Hinchcliffe in one of its other part-time entries.
One-off entrant Howard is the most likely contender to be replaced if an agreement can be reached.
The team's fourth driver, Harvey, is running a part-season through a partnership between Michael Shank Racing and SPM.