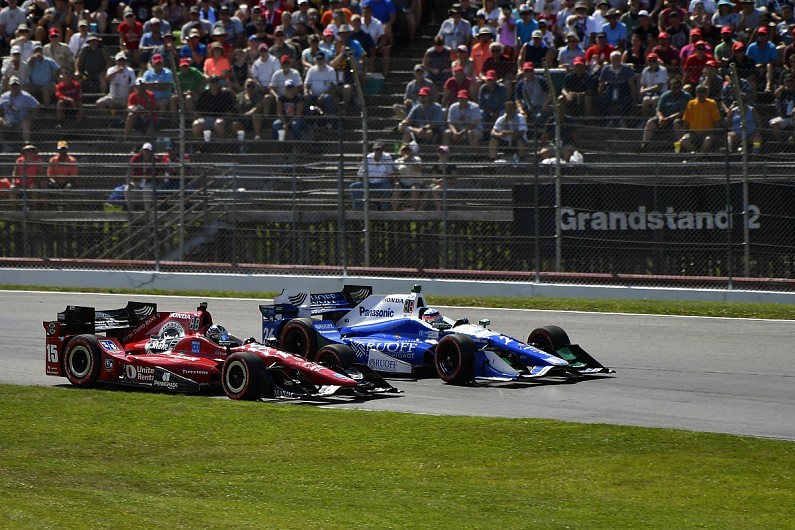 Graham Rahal says his Rahal Letterman Lanigan Racing team had to expand to two cars for the 2018 IndyCar season because of the challenge posed by the new aerokit.
Rahal was the team's sole driver for the last five seasons, winning five races, but will now be joined by 2017 Indianapolis 500 winner Takuma Sato.
The new universal aerokit for 2018 has switched focus to downforce generated from underneath the car and is a radical departure from the manufacturer designs, leading Rahal to believe the team's expansion was necessary.
"We will need it [the second car] with all the new aero and adjustments that will be needed," he said.
"I do think we will have to continue to improve and work together to find a happy balance with two cars, but I fully expect the increased data and information to help us push the team forward.
"It's not necessarily easier, it takes just as much commitment and time, and possibly more.
"Our guys will have to remain focused and every little bit of attention to detail that has allowed us to succeed recently will have to remain."
Rahal expects to be able to pick up where he left off with Sato - with the Japanese driver last driving for the team and with Rahal in 2012.
"I'm sure there will be an adjustment but I am eager to work with Taku," Rahal added. "I think we can complement each other really well, and I fully expect it to be a seamless transition to having two cars."
Sato: Returning to RLLR "strange"
Sato says it is strange to return to RLL after his five-season spell with A.J. Foyt Racing and Andretti because he is a very different driver to the one who left in 2012 (below).
Andretti debating whether to switch from Honda power to Chevrolet was said to be a key reason behind Sato's exit at the end of the 2017 season.
While Andretti eventually elected to stay with Honda, Sato had committed to a return to RLL and says it was an easy decision.
"I feel very comfortable going back to Bobby's [Rahal] team knowing quite a few people who were there in 2012," said Sato.
"It's also a little bit strange because I feel I have gained a lot of experience, grown and have become a more mature driver than I was in 2012."
Sato added that RLL's competitiveness as a single-car team made the move attractive.
"When you look at Rahal it has been very impressive as a single-car team for several years - they've probably been one of the most consistent teams from short ovals, speedways, road and street courses," he said.
"To be able to do that in a single-car team means they have a deep understanding of the car."