Takuma Sato claimed a dramatic victory in the 2017 Indianapolis 500, while Fernando Alonso retired with an apparent engine problem while in contention to win with 21 laps remaining.
IndyCar's premier race boiled down to an 11-lap dash to the flag after an incident-packed event that featured 11 caution periods.
Chip Ganassi Racing driver Max Chilton, who started 15th, had moved into contention among the leaders by staying out when the third caution of the race was thrown on lap 81 of the 200 because of debris shed by Marco Andretti's car.
Chilton then got on level terms with the leaders strategically when he made a green-flag pitstop at the end of lap 166, moments before team-mate Charlie Kimball's Honda engine let go.
At the final restart, which followed a caution for a five-car crash triggered by Oriol Servia spinning into James Davison after being squeezed by the Dale Coyne Racing driver and led to Will Power, James Hinchcliffe and Josef Newgarden getting caught up in a chain reaction, Chilton led from Sato, Ed Jones and Helio Castroneves.
Castroneves was the man on the move, going around the outside of Jones at Turn 3 on lap 190 and then, with nine laps remaining, performing another high pass on Sato to take second.
With seven laps to go, Castroneves went around the outside of Chilton at Turn 3 to take the lead and looked set to claim a record-equalling fourth Indy 500 win.
But Sato followed Castroneves past Chilton on the main straight to run second and closed on the leading Penske driver.
The key move happened with five laps remaining, as Sato drafted past on the main straight to take a lead he would never lose despite Castroneves having a look around the outside of Turn 1 on the penultimate lap.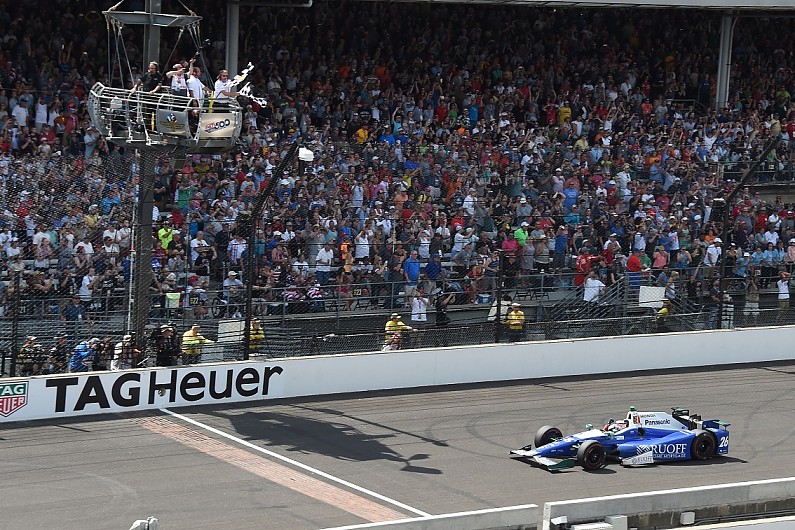 After that, Sato was clear and took victory in his Andretti Autosport Dallara-Honda by 0.2011 seconds from Castroneves.
The result made Sato the first Japanese driver to win the Indy 500.
Dale Coyne Racing rookie Ed Jones was third after passing Chilton late on, with Tony Kanaan, who led the race early on, fifth ahead of Juan Pablo Montoya.
Several of Sato's Andretti Autosport team-mates were also strong victory contenders, with Alonso having just taken seventh place from Kanaan when his Honda engine let him down as he completed his 179th lap.
Alonso had several stints in the lead of the race, and at the time of the failure was working his way through several drivers who had moved ahead thanks to strategy and looked a serious threat to win.
Alexander Rossi had also spent much of the race up front, only to drop to the back of the cars on the lead lap when he had a slow pitstop under the caution shortly before three-quarters distance as a result of a struggle to connect the refuelling hose.
The other leading Andretti car of Ryan Hunter-Reay was also looking a strong victory contender when he suffered an engine failure, which triggered the caution under which Rossi pitted.
Scott Dixon led early on but lost ground towards the end of the first stint, complaining of his car getting loose.
His race came to a spectacular end on lap 53 when Jay Howard crashed his Schmidt Peterson Motorsports machine in Turn 3 just after being lapped by Hunter-Reay.
Dixon went low to avoid him in anticipation of Howard staying on the wall, only for the crashed car to drift down the track in front of him.
This launched Dixon into a dramatic airborne accident, hitting the fence on the inside of the track hard and ripping the rear end from the monocoque - narrowly avoiding landing on Castroneves's car in the process.
Dixon and Howard were uninjured in the accident, but the race was red-flagged to allow barrier repairs after the Ganassi car ripped a hole in the fence.
Ed Carpenter and JR Hildebrand also ran strongly, with Carpenter's race coming unstuck after he half-spun into the side of Mikhail Aleshin at a restart. He ended up 11th. Hildebrand was delayed by a late penalty for passing under caution.
The race was punctuated by several other crashes, including one for 1996 Indy 500 winner Buddy Lazier, who was taken to hospital complaining of chest discomfort.
RESULTS - 200 LAPS:
| Pos | Driver | Team | Car | Gap |
| --- | --- | --- | --- | --- |
| 1 | Takuma Sato | Andretti Autosport | Dallara/Honda | 3h13m03.3584s |
| 2 | Helio Castroneves | Team Penske | Dallara/Chevrolet | 0.2011s |
| 3 | Ed Jones | Dale Coyne Racing | Dallara/Honda | 0.5278s |
| 4 | Max Chilton | Chip Ganassi Racing | Dallara/Honda | 1.1365s |
| 5 | Tony Kanaan | Chip Ganassi Racing | Dallara/Honda | 1.6472s |
| 6 | Juan Pablo Montoya | Team Penske | Dallara/Chevrolet | 1.7154s |
| 7 | Alexander Rossi | Andretti Herta | Dallara/Honda | 2.4222s |
| 8 | Marco Andretti | Andretti Autosport | Dallara/Honda | 2.5410s |
| 9 | Gabby Chaves | Harding Racing | Dallara/Chevrolet | 3.8311s |
| 10 | Carlos Munoz | A.J. Foyt Enterprises | Dallara/Chevrolet | 4.5319s |
| 11 | Ed Carpenter | Ed Carpenter Racing | Dallara/Chevrolet | 4.6228s |
| 12 | Graham Rahal | Rahal Letterman Lanigan | Dallara/Honda | 5.0310s |
| 13 | Mikhail Aleshin | Schmidt Peterson Motorsports | Dallara/Honda | 5.6993s |
| 14 | Simon Pagenaud | Team Penske | Dallara/Chevrolet | 6.0513s |
| 15 | Sebastian Saavedra | Juncos Racing | Dallara/Chevrolet | 12.6668s |
| 16 | J.R. Hildebrand | Ed Carpenter Racing | Dallara/Chevrolet | 33.2191s |
| 17 | Pippa Mann | Dale Coyne Racing | Dallara/Honda | 1 Lap |
| 18 | Spencer Pigot | Juncos Racing | Dallara/Chevrolet | 6 Laps |
| 19 | Josef Newgarden | Team Penske | Dallara/Chevrolet | 14 Laps |
| 20 | James Davison | Dale Coyne Racing | Dallara/Honda | Contact |
| 21 | Oriol Servia | Rahal Letterman Lanigan | Dallara/Honda | Contact |
| 22 | James Hinchcliffe | Schmidt Peterson Motorsports | Dallara/Honda | Contact |
| 23 | Will Power | Team Penske | Dallara/Chevrolet | Contact |
| 24 | Fernando Alonso | McLaren-Honda-Andretti | Dallara/Honda | Mechanical |
| 25 | Charlie Kimball | Chip Ganassi Racing | Dallara/Honda | Mechanical |
| 26 | Zach Veach | A.J. Foyt Enterprises | Dallara/Chevrolet | Mechanical |
| 27 | Ryan Hunter-Reay | Andretti Autosport | Dallara/Honda | Mechanical |
| 28 | Sage Karam | Dreyer & Reinbold Racing | Dallara/Chevrolet | Mechanical |
| 29 | Buddy Lazier | Lazier Racing | Dallara/Chevrolet | Contact |
| 30 | Conor Daly | A.J. Foyt Enterprises | Dallara/Chevrolet | Contact |
| 31 | Jack Harvey | Michael Shank Racing | Dallara/Honda | Contact |
| 32 | Scott Dixon | Chip Ganassi Racing | Dallara/Honda | Contact |
| 33 | Jay Howard | Schmidt Peterson Motorsports | Dallara/Honda | Contact |
| - | Sebastien Bourdais | Dale Coyne Racing | Dallara/Honda | Withdrawn |
CHAMPIONSHIP STANDINGS:

| Pos | Driver | Points |
| --- | --- | --- |
| 1 | Helio Castroneves | 245 |
| 2 | Simon Pagenaud | 234 |
| 3 | Takuma Sato | 234 |
| 4 | Scott Dixon | 234 |
| 5 | Alexander Rossi | 190 |
| 6 | Tony Kanaan | 188 |
| 7 | Will Power | 186 |
| 8 | Josef Newgarden | 186 |
| 9 | Ed Jones | 185 |
| 10 | James Hinchcliffe | 170 |
| 11 | Max Chilton | 170 |
| 12 | Ryan Hunter-Reay | 152 |
| 13 | J.R. Hildebrand | 148 |
| 14 | Marco Andretti | 147 |
| 15 | Graham Rahal | 144 |
| 16 | Sebastien Bourdais | 136 |
| 17 | Mikhail Aleshin | 134 |
| 18 | Carlos Munoz | 133 |
| 19 | Ed Carpenter | 105 |
| 20 | Charlie Kimball | 99 |
| 21 | Spencer Pigot | 95 |
| 22 | Juan Pablo Montoya | 93 |
| 23 | Conor Daly | 88 |
| 24 | Gabby Chaves | 53 |
| 25 | Fernando Alonso | 47 |
| 26 | Oriol Servia | 40 |
| 27 | Sebastian Saavedra | 33 |
| 28 | Pippa Mann | 32 |
| 29 | Jay Howard | 24 |
| 30 | Zach Veach | 23 |
| 31 | Sage Karam | 23 |
| 32 | James Davison | 21 |
| 33 | Jack Harvey | 17 |
| 34 | Buddy Lazier | 14 |
Autosport has produced a standalone special magazine to celebrate our 70th birthday. All current print subscribers will receive a copy for free. To order your copy of the 196-page Autosport 70th Anniversary issue, please go to: autosport.com/autosport70th