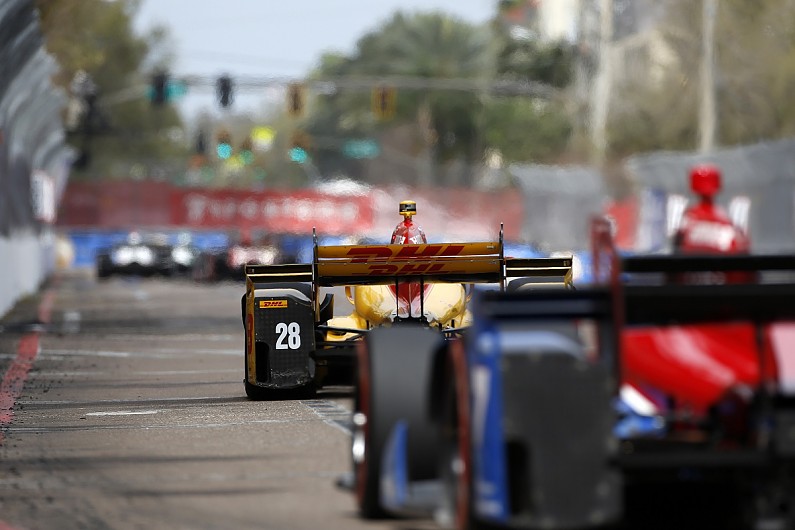 Honda is keen for a third manufacturer to join it and Chevrolet in IndyCar as engine and aero kit suppliers.
While Honda has been a mainstay of American single-seater racing, Chevrolet returned in 2012 when IndyCar introduced its 2.2-litre, V6 turbo engines.
Lotus entered the series at the same time, but that troubled programme lasted just a single season.
Having extended its deal for the next two seasons, plus three option years beyond to 2020, Honda would like to help the series find a third manufacturer.
"We've said that from the start," Honda Performance Development president Art St Cyr said.
"We actually said that before even Chevy came into the series.
"We were always looking for competition, and that we would help new manufacturers come into the series.
"We did the same thing when Chevy wanted to come in; we showed them, 'this is what we're doing'.
"'Here's what the engine rule kit and the rule package looks like', and we would make alterations to that rule package to accommodate other manufacturers.
"Part of the issue with this new contract is that we wanted to make sure that it was flexible enough that it did encourage other manufacturers to come into the series as well."
Having struggled against Chevrolet in last year's first season of manufacturer-developed aero kits, Honda was granted development breaks for its short-oval, street and road course packages.
St Cyr stressed that Honda's contract extension did not have any bearing on securing those concessions.
"There was some discussion that said that we held out on our contract with IndyCar until we got what we wanted," he said.
"Well, that was never really the case, and this just shows because we wanted relief for the superspeedway as well as road course [package].
"But the superspeedway part we still feel like we're behind the eight‑ball on that one, and we're struggling to catch up on that one, as well.
"Our philosophy when we redesigned the aero kit for 2016, both the 9.3 and the 9.2 [rulebook] parts, what we found last year is that one of the issues that we had aerodynamically was that our cars were a little bit hard to drive.
"So both in conjunction with the 9.3 parts and the 9.2 parts, the entire package now worked together to help our teams to be able to drive the car faster."