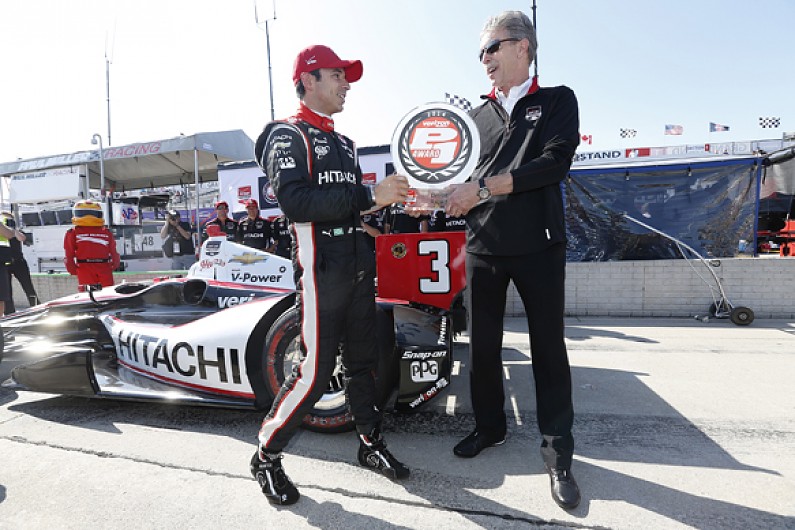 Helio Castroneves will start the first race of this weekend's IndyCar double-header in Detroit from pole position after dominating qualifying on the Belle Isle street circuit on Saturday morning.
The Penske driver, who was narrowly denied a fourth Indianapolis 500 win less than a week ago, was quickest in the second qualifying phase despite a brush with the wall, and carried that speed through to the Fast Six.
"I missed an opportunity in Barber and I didn't want to miss another one today, so for me this was kind of like redemption," Castroneves said.
"This feels great. This is Roger [Penske's] home ground, and I'm biased about this place because I got my first win here. This was outstanding, and it was a great job by everyone on the team."
His 1m17.5362s pole lap was 0.4 seconds quicker than nearest rival James Hinchcliffe, who had jumped up with his final lap to knock rookie Jack Hawksworth off the front row. The Brit will start alongside compatriot and one of last year's Detroit winners Mike Conway, leaving Ryan Briscoe and Juan Pablo Montoya to round out the top six.
The cooler early morning conditions no doubt played some part in the number of usual frontrunners who were eliminated early.
Will Power was parked by the Penske team before the first phase had even ended, with team president Tim Cindric conceding that "we just didn't have a good car."
It was a similar story for Scott Dixon, who admitted that in set-up terms he was "a little bit lost and don't know why yet" after getting knocked out in phase two, while Indy 500 winner Ryan Hunter-Reay faces an even tougher race after a disastrous morning - including contact at Turn 11 - left him beached on the last row of the grid.
Meanwhile, there was a streak of controversy early on when Simon Pagenaud was docked his two best laps in the first phase for blocking Montoya.
At the time, Pagenaud was still on his original set of harder black tyres while Montoya had just changed to a new set of softer reds, and the Frenchman was mystified by the decision to penalise him.
"I know what happened, but I don't understand the call," he said. "I was running as fast as I can to get the tyres up to temperature.
"It's not like I have time to dick around. Montoya was on newer tyres and came up on me, and that's fine - he was faster."
Follow both IndyCar races on AUTOSPORT Race Centre Live from 8.30pm UK time each evening

Pos  Driver              Team/Engine      Time        Gap
 1.  Helio Castroneves   Penske/Chevy     1m17.5362s
 2.  James Hinchcliffe   Andretti/Honda   1m17.9788s  +0.4426s
 3.  Jack Hawksworth     Herta/Honda      1m18.0731s  +0.5369s
 4.  Mike Conway         Carpenter/Chevy  1m18.3015s  +0.7653s
 5.  Ryan Briscoe        Ganassi/Chevy    1m18.8098s  +1.2736s
 6.  Juan Pablo Montoya  Penske/Chevy     1m19.7296s  +2.1934s
 7.  Sebastien Bourdais  KV/Chevy         1m17.9806s  Round 2
 8.  Tony Kanaan         Ganassi/Chevy    1m18.0200s  Round 2
 9.  Graham Rahal        Rahal/Honda      1m18.0355s  Round 2
10.  Scott Dixon         Ganassi/Chevy    1m18.0630s  Round 2
11.  Carlos Munoz        Andretti/Honda   1m18.1450s  Round 2
12.  Carlos Huertas      Coyne/Honda      1m18.4772s  Round 2
13.  Sebastian Saavedra  KV/Chevy         1m18.3622s  Group 1
14.  Josef Newgarden     Fisher/Honda     1m18.5309s  Group 2
15.  Takuma Sato         Foyt/Honda       1m18.3689s  Group 1
16.  Will Power          Penske/Chevy     1m18.6807s  Group 2
17.  Simon Pagenaud      Schmidt/Honda    1m18.4709s  Group 1
18.  Marco Andretti      Andretti/Honda   1m18.8743s  Group 2
19.  Justin Wilson       Coyne/Honda      1m18.5181s  Group 1
20.  Charlie Kimball     Ganassi/Chevy    1m19.1176s  Group 2
21.  Ryan Hunter-Reay    Andretti/Honda   1m19.8292s  Group 1
22.  Mikhail Aleshin     Schmidt/Honda    1m19.6300s  Group 2

All drivers use Dallara chassis