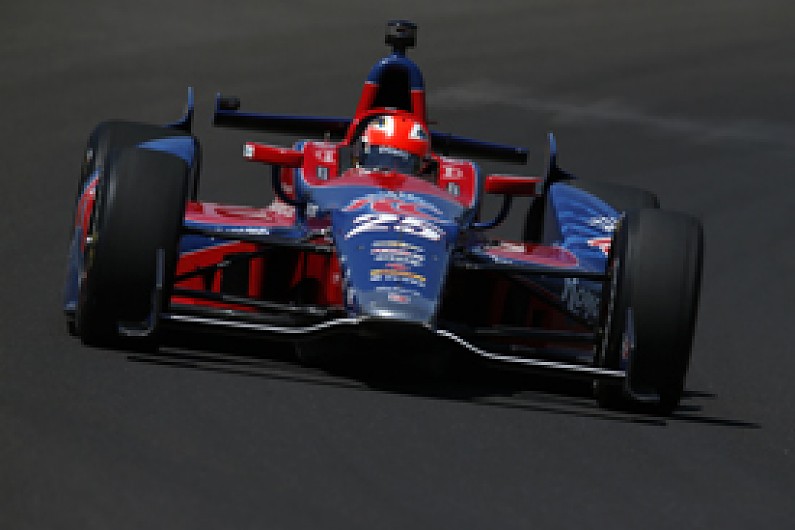 Andretti Autosport continues to set the early pace at Indianapolis, with James Hinchcliffe ending the fourth day of practice with the fastest time.
Driving team-mate Marco Andretti's car, and leaning on a tow from Grahm Rahal, Hinchcliffe went to the top early in the afternoon with a 224.210mph lap that would ultimately remain the best time of the day.
Panther's JR Hildebrand came closest to toppling the Canadian with his 223.652mph effort, while Andretti took the same car that Hinchcliffe had used to the third-fastest time.
Helio Castroneves, Ryan Hunter-Reay and EJ Viso rounded out a sweep of the top six for Chevrolet-powered cars, with Josef Newgarden proving to be quickest of the Honda-powered runners.
Conditions were considerably warmer than they had been for the opening three days, which created challenges for some drivers as they worked to refine their set-ups.
"Today was the first day it has been warm outside, which was something I had not experienced yet," said Penske's AJ Allmendinger, who finished up 10th-fastest.
"The track changed throughout the day, getting slicker than it's been on the cooler days, but we were able to make adjustments that helped us put down some pretty good laps.
Almost all of the drivers that intend to attempt to qualify for the race were on track, with Buddy Lazier's self-run car the only confirmed entry still not to have turned a lap.
The third car entered by Schmidt Peterson Motorsport, which is rumoured to be earmarked for Jay Howard, is also yet to appear.
Several teams plan to make scheduled engine changes overnight, with Rahal Letterman Lanigan also planning to swap Rahal and James Jakes into their race cars after using the back-up cars during the opening days of practice.
Pos Driver               Team        Engine  Mph      Time      Gap
 1. James Hinchcliffe    Andretti    Chevy   224.210  40.1410s
 2. JR Hildebrand        Panther     Chevy   223.652  40.2411s  + 0.1001s
 3. Marco Andretti       Andretti    Chevy   223.570  40.2558s  + 0.1148s
 4. Helio Castroneves    Penske      Chevy   223.556  40.2584s  + 0.1174s
 5. Ryan Hunter-Reay     Andretti    Chevy   223.332  40.2987s  + 0.1577s
 6. EJ Viso              Andretti    Chevy   223.138  40.3337s  + 0.1927s
 7. Josef Newgarden      Fisher      Honda   223.123  40.3365s  + 0.1955s
 8. Carlos Munoz         Andretti    Chevy   223.110  40.3389s  + 0.1979s
 9. Oriol Servia         Panther DRR Chevy   222.093  40.5236s  + 0.3826s
10. AJ Allmendinger      Penske      Chevy   222.005  40.5397s  + 0.3987s
11. Marco Andretti       Andretti    Chevy   221.972  40.5456s  + 0.4046s
12. Townsend Bell        Panther     Chevy   221.898  40.5592s  + 0.4182s
13. Will Power           Penske      Chevy   221.654  40.6038s  + 0.4628s
14. Sebastian Saavedra   Dragon      Chevy   221.119  40.7021s  + 0.5611s
15. Sebastien Bourdais   Dragon      Chevy   221.088  40.7077s  + 0.5667s
16. Simona de Silvestro  KV          Chevy   220.963  40.7308s  + 0.5898s
17. Ed Carpenter         Carpenter   Chevy   220.897  40.7429s  + 0.6019s
18. Charlie Kimball      Ganassi     Honda   220.722  40.7753s  + 0.6343s
19. Tony Kanaan          KV          Chevy   220.645  40.7895s  + 0.6485s
20. Simon Pagenaud       Schmidt     Honda   220.591  40.7995s  + 0.6585s
21. Dario Franchitti     Ganassi     Honda   220.502  40.8159s  + 0.6749s
22. Ryan Briscoe         Ganassi     Honda   220.100  40.8905s  + 0.7495s
23. Tristan Vautier      Schmidt     Honda   220.017  40.9060s  + 0.7650s
24. Scott Dixon          Ganassi     Honda   219.848  40.9373s  + 0.7963s
25. Conor Daly           Foyt        Honda   219.688  40.9672s  + 0.8262s
26. Pippa Mann           Coyne       Honda   219.588  40.9859s  + 0.8449s
27. Justin Wilson        Coyne       Honda   219.423  41.0601s  + 0.9191s
28. Ana Beatriz          Coyne       Honda   218.998  41.0962s  + 0.9552s
29. Alex Tagliani        Herta       Honda   218.213  41.2442s  + 1.1032s
30. Graham Rahal         Rahal       Honda   216.633  41.5450s  + 1.4040s
31. Takuma Sato          Foyt        Honda   216.616  41.5482s  + 1.4072s

All cars Dallara DW12