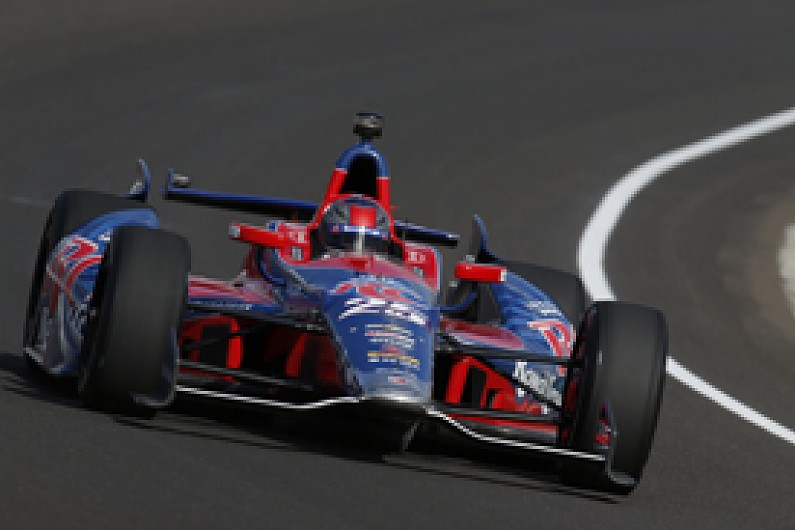 Marco Andretti edged Helio Castroneves to claim the quickest time at Indianpolis Motor Speedway as practice for the Indy 500 reached the end of its third day.
Both drivers tipped into the 225mph range for the first time this year, with Andretti taking the honours with a 225.100mph average, just 0.025mph quicker than the time set by three-time Indy winner Castroneves.
Andretti said that the five-strong Andretti Autosport team was using its numbers to its advantage in trying to simulate racing conditions as closely as possible.
"Obviously it helps when you can simulate a mini-race, so we had that luxury and we've been taking full advantage of it," he said.
"Personally, I feel like that's how the Ganassis beat us last year.
"It was the first year for me that pole was in reach, so I got too fascinated with just how fast would the car go instead of getting the proper car underneath [me] for the race."
Castroneves, meanwhile, said that at this early point, the Penske team is looking after its engines and sticking to its practice programme.
"We are kind of managing mileage on the engine, so yesterday we did not run," he said.
"Right now we're trying to follow the schedule. We're not worried about the result. I dream about becoming a four-time winner, but you have to work before you achieve your dreams. And that's what we're going to do."
Better conditions resulted in faster times across the board, with eight drivers going quicker than the 223.023mph benchmark laid down on Sunday by rookie Carlos Munoz.
Among the drivers taking to the track for the first time were Briton Pippa Mann, who completed her veteran refresher in the third Dale Coyne entry before going on to run a total of 29 laps, and Conor Daly, who arrived from racing in GP3 at Barcelona over the weekend to tick off his rookie orientation programme in the second AJ Foyt car.

Pos Driver               Team        Engine  Mph      Time      Gap
 1. Marco Andretti       Andretti    Chevy   225.100  39.9823s
 2. Helio Castroneves    Penske      Chevy   225.075  39.9866s  + 0.0043s
 3. Ryan Hunter-Reay     Andretti    Chevy   224.386  40.1095s  + 0.1272s
 4. Will Power           Penske      Chevy   223.784  40.2173s  + 0.2350s
 5. JR Hildebrand        Panther     Chevy   223.624  40.2462s  + 0.2639s
 6. Takuma Sato          Foyt        Honda   223.363  40.2391s  + 0.3108s
 7. AJ Allmendinger      Penske      Chevy   223.264  40.3111s  + 0.3288s
 8. James Hinchcliffe    Andretti    Chevy   223.075  40.3452s  + 0.3629s
 9. Tony Kanaan          KV          Chevy   222.833  40.3890s  + 0.4067s
10. Josef Newgarden      Fisher      Honda   222.340  40.4785s  + 0.4962s
11. Carlos Munoz         Andretti    Chevy   222.239  40.4969s  + 0.5146s
12. Oriol Servia         Panther DRR Chevy   222.069  40.5280s  + 0.5457s
13. Alex Tagliani        Herta       Honda   221.950  40.5497s  + 0.5674s
14. Justin Wilson        Coyne       Honda   221.810  40.5752s  + 0.5629s
15. Charlie Kimball      Ganassi     Honda   221.801  40.5770s  + 0.5947s
16. Simon Pagenaud       Schmidt     Honda   221.704  40.5946s  + 0.6123s
17. Simona de Silvestro  KV          Chevy   221.613  40.6114s  + 0.6291s
18. Ryan Briscoe         Ganassi     Honda   221.531  40.6263s  + 0.6440s
19. EJ Viso              Andretti    Chevy   221.250  40.6780s  + 0.6957s
20. Ed Carpenter         Carpenter   Chevy   221.154  40.6957s  + 0.7134s
21. Townsend Bell        Panther     Chevy   221.137  40.6987s  + 0.7164s
22. Dario Franchitti     Ganassi     Honda   220.549  40.8072s  + 0.8249s
23. Pippa Mann           Coyne       Honda   220.500  40.8163s  + 0.8340s
24. Scott Dixon          Ganassi     Honda   220.419  40.8313s  + 0.8490s
25. Graham Rahal         Rahal       Honda   220.360  40.8423s  + 0.8600s
26. Ana Beatriz          Coyne       Honda   219.975  40.9137s  + 0.9314s
27. Sebastien Bourdais   Dragon      Chevy   219.498  41.0026s  + 1.0203s
28. Conor Daly           Foyt        Honda   219.044  41.0877s  + 1.1054s
29. Sebastian Saavedra   Dragon      Chevy   218.633  41.1649s  + 1.1826s
30. James Jakes          Rahal       Honda   218.351  41.2181s  + 1.2358s
31. Tristan Vautier      Schmidt     Honda   217.556  41.3686s  + 1.3863s

All cars Dallara DW12