Ed Carpenter opened the 2013 Indianapolis 500 by going fastest on the first day of practice on Saturday.
The owner/driver's 220.970mph lap was just 0.05mph quicker than second-fastest Josef Newgarden's effort for Sarah Fisher Hartman, with Andretti rookie Carlos Munoz claiming the third-best time.
Sixteen car/driver combinations took to the track during the day, with Ganassi pair Scott Dixon and Dario Franchitti running in both their race and spare cars, and Helio Castroneves turning some laps in AJ Allmendinger's Penske Dallara-Chevrolet before handing it over to the American.
"The biggest thing for me, and you hear everybody tell you, [was that] you can't let your guard down around here," said event rookie Allmendinger, who ended the day eigth-fastest.
"Just because for four laps in a row you went wide open, you think, 'OK, I've got this'. You can't relax.
"A couple of times down the back straightaway, I kind of caught myself.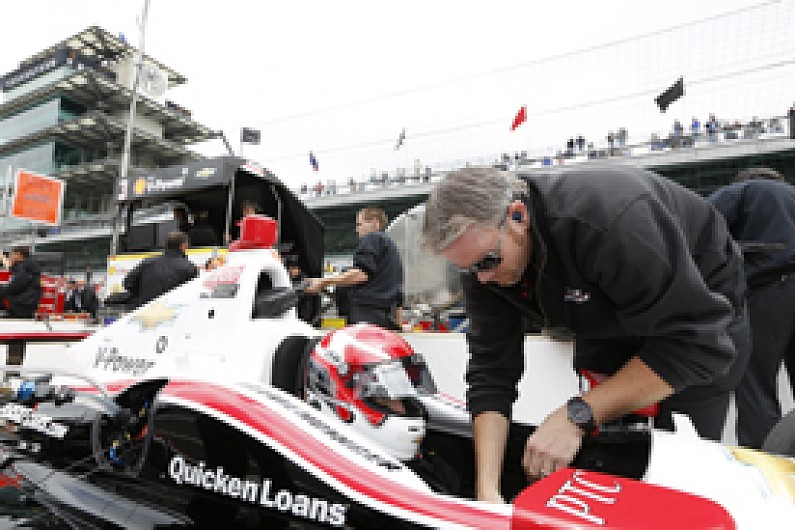 "It's just the way this place is; that's what makes it so special. You have got to give it its respect every lap.
"Not just when you show up. Not just in qualifying. Not just in the race. Every lap you have got to show respect."
Allmendinger, Munoz and Tristan Vautier also completed their rookie orientation programmes during the day.
Conor Daly, who will attempt to make his Indy 500 debut with AJ Foyt Racing, was at Barcelona racing in GP3 and is expected to do his rookie orientation runs on Monday.

Pos Driver              Team       Engine  Mph      Time      Gap
 1. Ed Carpenter        Carpenter  Chevy   220.970  40.7296s
 2. Josef Newgarden     Fisher     Honda   220.920  40.7387s  + 0.0091s
 3. Carlos Munoz        Andretti   Chevy   220.720  40.7756s  + 0.0460s
 4. Charlie Kimball     Ganassi    Honda   220.633  40.7917s  + 0.0621s
 5. Alex Tagliani       Herta      Honda   220.248  40.8631s  + 0.1335s
 6. Dario Franchitti    Ganassi    Honda   219.873  40.9328s  + 0.2032s
 7. Tony Kanaan         KV         Chevy   219.125  41.0725s  + 0.3429s
 8. AJ Allmendinger     Penske     Chevy   218.967  41.1020s  + 0.3724s
 9. Scott Dixon         Ganassi    Honda   218.214  41.2439s  + 0.5143s
10. Helio Castroneves   Penske     Chevy   217.923  41.2990s  + 0.5694s
11. Takuma Sato         Rahal      Honda   217.734  41.3348s  + 0.6052s
12. Will Power          Penske     Chevy   217.595  41.3612s  + 0.6316s
13. Simona de Silvestro KV         Chevy   216.938  41.4866s  + 0.7570s

All cars Dallara DW12
When drivers used two cars, only their fastest time listed