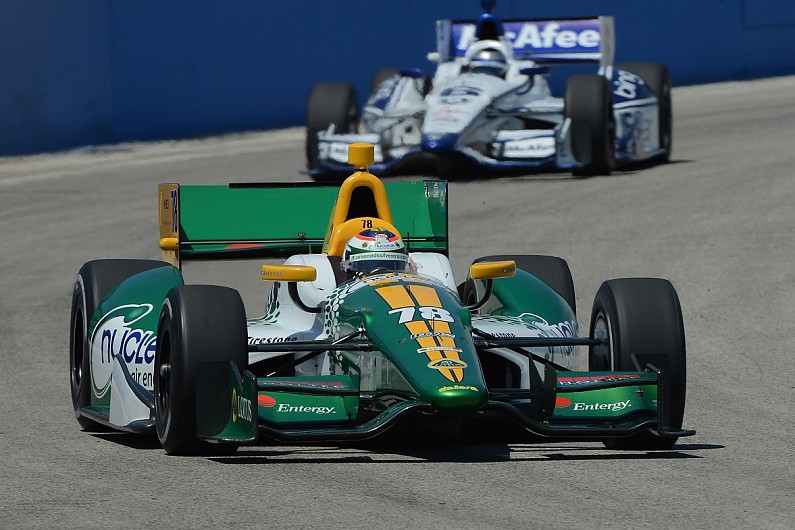 Lotus has left the IndyCar Series after a disappointing campaign during 2012.
The legendary sportscar constructor joined Chevrolet and Honda as an engine supplier to the series this year, but its programme was beset with problems from the outset.
After starting the year as a supplier to the Dreyer & Reinbold, Dragon, Bryan Herta Autosport and HVM teams, it was left with only the latter outfit after the Indianapolis 500 - a race at which its two cars were ordered to park early on due to a lack of speed.
IndyCar announced on Friday that Lotus had been released from its contract to supply engines to teams in the series.
Lotus chief operating officer Aslam Farikullah said: "Lotus is grateful to IndyCar for the opportunity to compete during the 2012 season and for the support provided throughout.
"The decision not to continue was not an easy one and Lotus does not discount the possibility to re-enter the series at some time in the future.
"For the time being, Lotus will focus on core business activities as a leading sportscar manufacturer and world class engineering consultancy."
IndyCar president of operations and strategy Brian Barnhart said that the decision by Lotus had been taken for business reasons.
"We appreciate the effort that Lotus made in helping return manufacturer competition to IndyCar," he said.
"However, Lotus has made a business decision not to return in 2013 and asked for its release. We wish them well and would welcome their participation again in the future."
The announcement means that Chevrolet and Honda must now each be able to supply a minimum 60 per cent of the 2013 grid as per the terms of their agreement with the series.