There's a much used saying warning us to never meet our heroes, and we've no doubt all had mixed results when coming face to face with our idols. But IndyCar race winner James Hinchcliffe is firmly calling 'bullshit' on that old adage....
With his warm, wide smile, infectious sense of humour and bright red racing gloves, it's not difficult to see the echoes and influences of Hinchcliffe's great hero. From the moment he began karting as an impressionable nine-year-old, he already knew he wanted to emulate his fellow Canadian, Greg Moore.
This week is the 20th anniversary of the tragic crash that robbed the world of Moore's sublime talent during the 1999 CART season finale at Fontana - an event that left a very profound impression on the young Hinchcliffe.
"I think the timing was a bit serendipitous," recalls Hinchcliffe. "I started in go-karts the same year Greg got into IndyCar. He was a young Canadian kid who'd had a very successful year in Indy Lights, and I was just starting my racing career having been a fan of motorsport, literally as far back as I can remember. So, it was easy to default to this 'young Canadian kid' when I considered myself the 'young Canadian kid' too, you know, in a different way."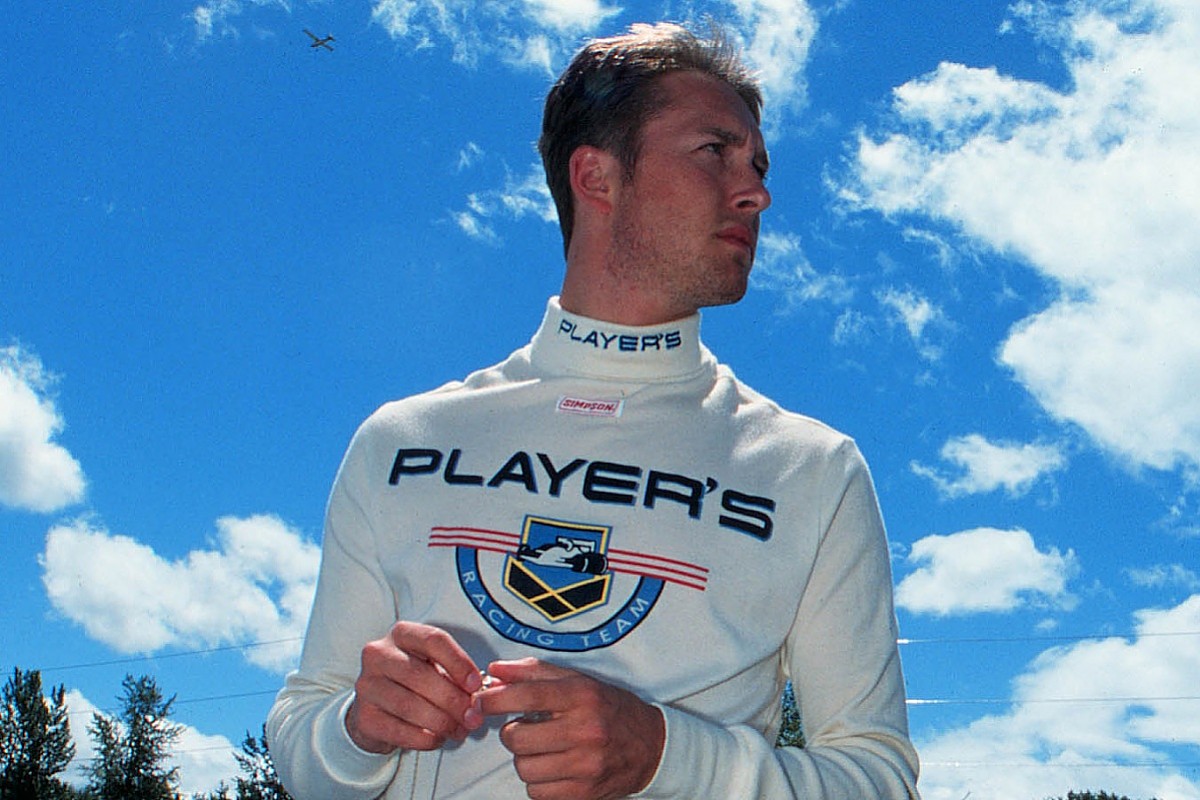 At the time, Moore was considered one of American open wheel racing's brightest up and coming stars, but it was far from just his on-track ability that captivated young Hinchcliffe.
"I think his influence was probably more off track at first. Everybody was impressed with how he drove and his skill on the track, but what stood out to me, even as a kid, was his interviews, his composure off the track and with fans.
"He was a good old-fashioned Canadian guy and that really resonated with me. I remember thinking from a very young age, 'if I ever get the opportunity to be in a position like that, I'd want to be like Greg Moore'. I want people to think about me the way I think about him.
"I stood outside his trailer for about three hours. I was always kind of in the wrong place!" James Hinchcliffe
"Certainly, how I went about my career and conducted myself off track, was very strongly influenced by Greg."
When the opportunity to meet Moore presented itself at the Toronto CART IndyCar race one year, the 'never meet your heroes' rule wasn't even a consideration to the star-struck 12-year-old. Hinchcliffe recalls his patient wait to meet Greg, and how he owes his sister for the subsequent 'cliched' but accurate words of advice he received, and still lives by today.
"I stood outside his trailer for about three hours," remembers Hinchcliffe. "He'd come out various times during that period and he would sign some autographs to the left, and to the right and then he would leave. And I was always kind of in the wrong place!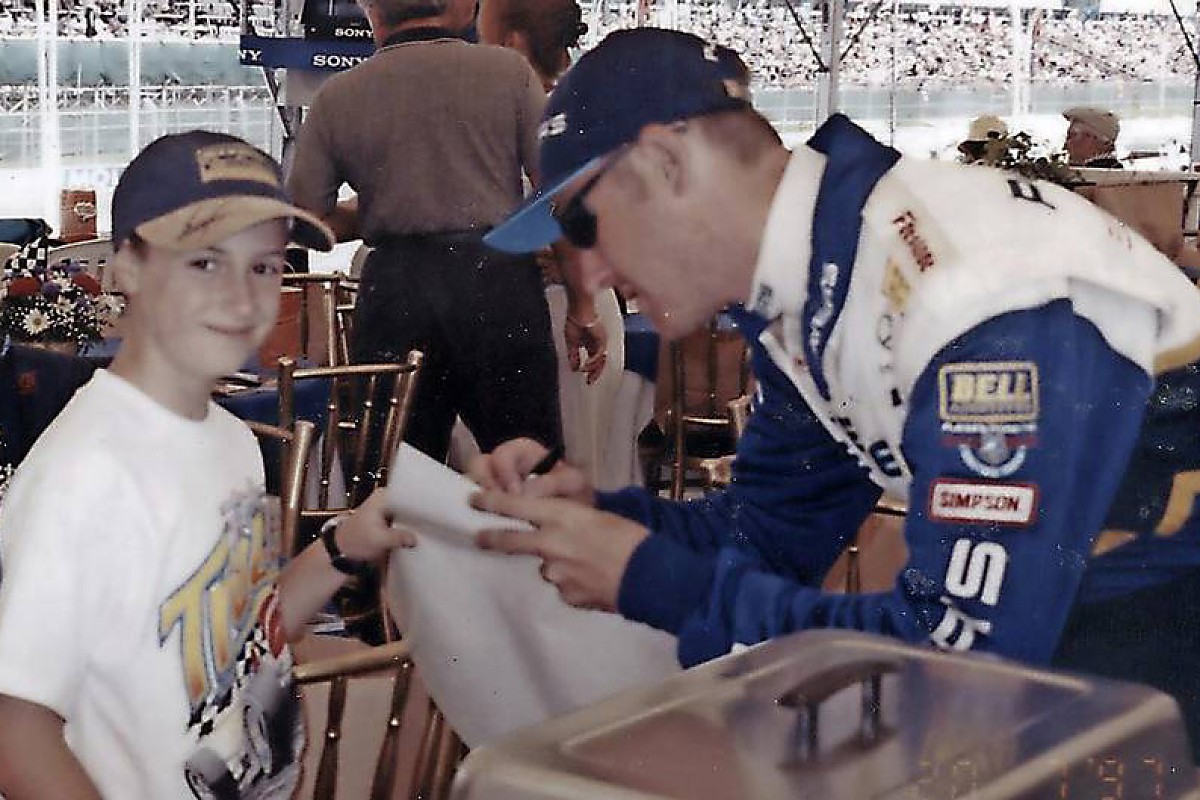 "Eventually, we'd been standing there for so long that one of his mechanics came up and said, 'hey do you need something?' So, I said, 'funny story, I'm actually holding the steering wheel that came off Greg's Formula Ford 1600 car, that he raced in the Ontario Championship, and I'd love for him to sign it'. The mechanic was like, 'that's the coolest thing I've ever heard!'
"So, he ran into the trailer, brought Greg out, and my sister and I got to stand there and chat with him for a bit.
"Thank God my sister was there because, you know, I was a 12-year-old kid and my jaw was on the floor. Just looking up at the character that was larger than life to me and I just couldn't believe I was in his presence.
"My sister had the wherewithal to say to him, 'hey my brother's a karter, do you have any advice for a young kid?' What he said, in a sense it sounds so cliche, but I have subsequently answered this question the exact same way when kids have asked me the same thing. Even though it's so cliche, it's so true.
"The number of times I've thought to myself, 'Greg said this so I'm going to stick with that'. It's simple, he said, 'Never give up'.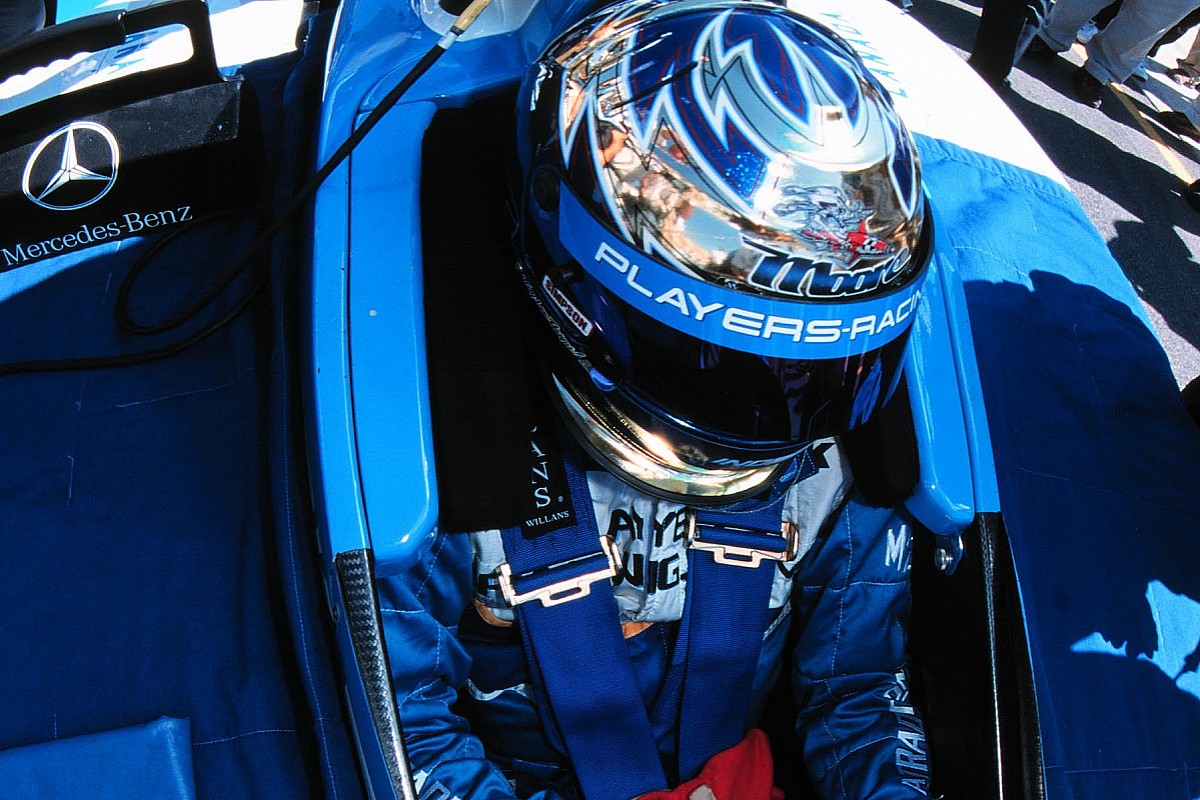 "He was, 'this business is tough, racing's a hard gig but you've just got to keep at it. The harder and longer you work and the more you just stay dedicated, stay focused and keep working at it, it'll all come together'.
"It's such a cheesy line in a lot of ways... but it gets said so often, because it's so correct, both in racing and in life."
Losing his idol during that fateful race at Fontana in 1999 was a hard blow for Hinchcliffe. And like so many of us, he still feels one of the hardest parts of Moore's death was the sense of unfulfilled potential. That 'what if', with him having just signed a three-year deal to drive for Team Penske.
"It really just added to the whole tragedy of Greg's accident that he never got the chance to race at Indy," adds Hinchcliffe. "Obviously, he raced at the Michigan 500 and won it, the race that CART had created to mimic the Indy 500, but, specifically, he never had the chance.
"And when you look at the way that Penske performed in those years where he would have been in that car, I think everybody believes he would've been a multi-time Indy 500 winner. It was just so sad he never got the chance to do that."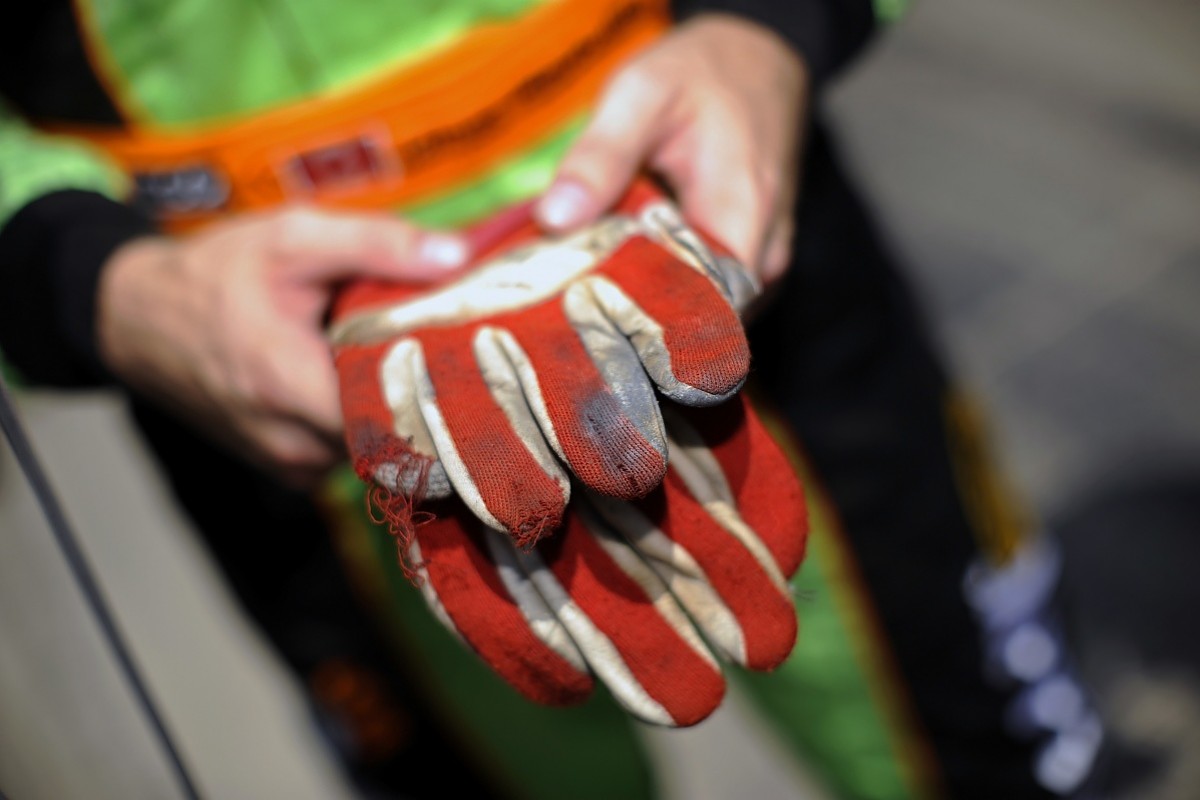 It's no secret that Hinchcliffe has endured a somewhat tumultuous relationship with the Indianapolis Motor Speedway over recent years. But, one of his proudest moments there came in 2012, with the opportunity to honour his hero in the best and most fitting way possible.
"I was there at the beginning of the month of May when an old mechanic of Greg's approached me and introduced himself. We chatted and he expressed the same thoughts that it was unfortunate Greg never got the chance to do the coolest IndyCar race in the world.
"He said he had this pair of gloves that Greg had given him when he'd been working on Greg's car. So, he asked if I would either wear the gloves for a session or just put them in the car, something like that, and take them for a lap around Indy.
"I was honoured by that opportunity, so I took the gloves. I had them with me the whole month, all through practice and I was trying to think of the right time to do it.
"If you ask drivers, one of the coolest things we do all year is qualify at Indy. Those four laps, the car on the absolute limit, it's just one of the best, most hair-raising things that we do all year.... and I figured that's what Greg should get to experience.
"So, for our qualifying run on the Saturday, I slipped his gloves inside my suit and we went out and set the fastest time of the day. So, it was a pretty cool experience and I was super happy that it worked out that way."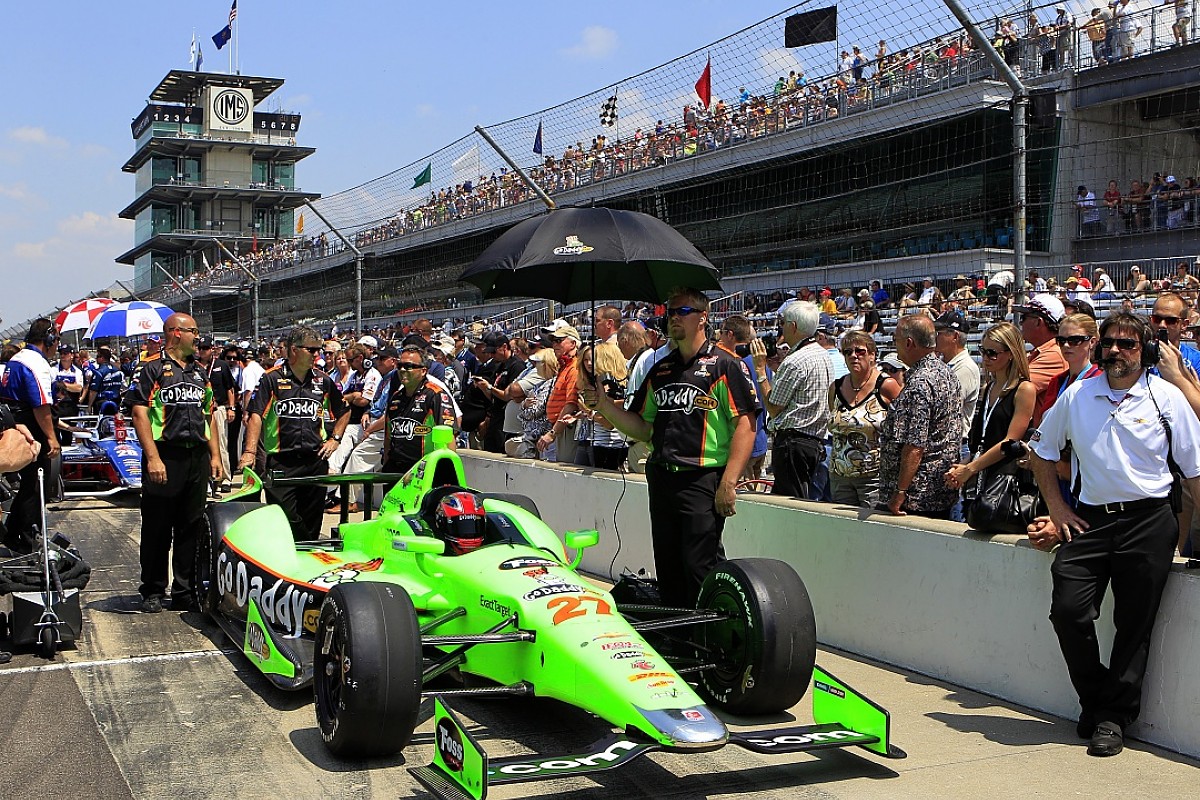 Hinchcliffe continues to honour his hero throughout his career, still emulating Moore's warm, fun-loving and welcoming attitude off the track as well as wearing 'red gloves' on it. He's even incorporated some of Greg's distinctive helmet design into his own.
"If you look back to my very first custom paint job, right from the get-go it had the blue and gold checkers in it that were sort of Greg's signature. It's been a part of my design really ever since.
"I know that he is everything that I thought he would have been" James Hinchcliffe
"I think one or two years I kept the same pattern but changed up the colours, but I didn't like it and I didn't seem to do well those years, so I've defaulted back to my blue and gold!
"For the first time this year I switched helmet painters to the guy that used to paint Greg's lids [Troy Lee Designs] It was always kind of a dream of mine to get a helmet painted by him and this year we got in touch, chatted about it and agreed to change colour.... so now my helmet's painted with the same gold and the same blue and by the same shop. It's kinda neat."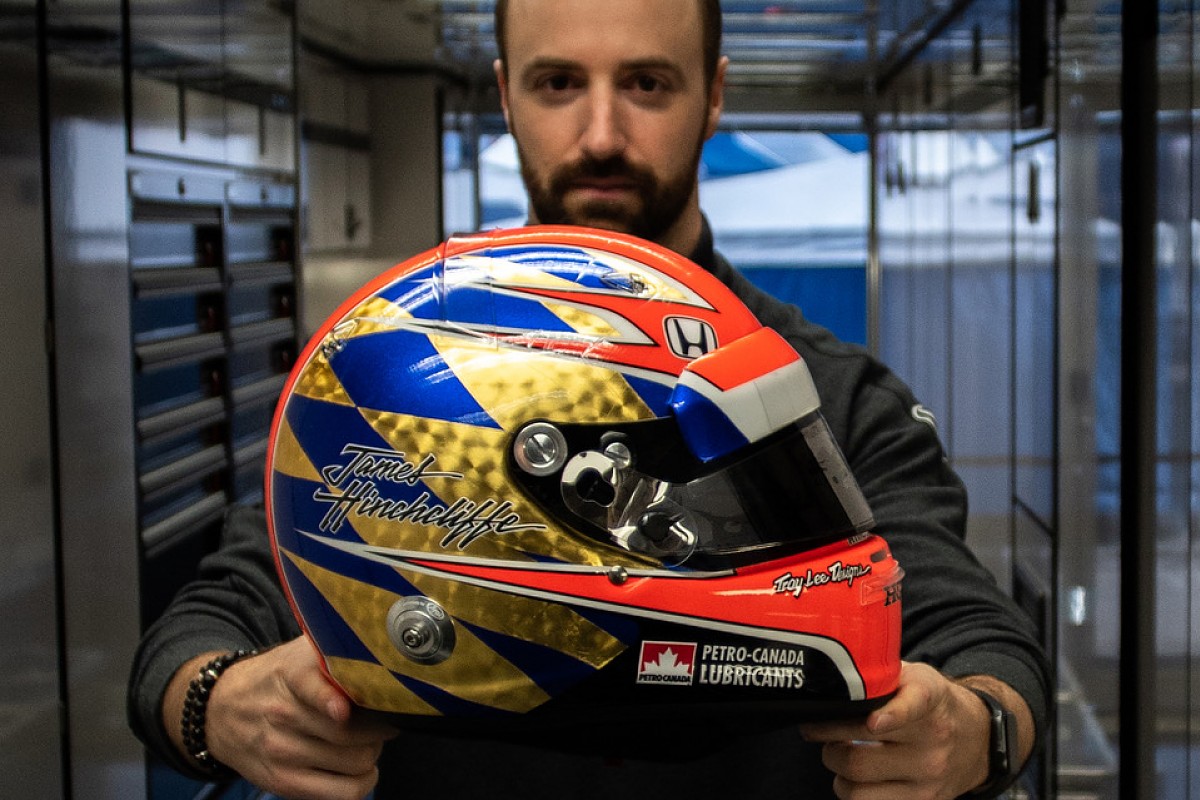 Image: Dream
Hinchcliffe even took Moore's old Formula Ford 1600 for a spin around Mosport back in the mid-2000s.
"I wanted to say that I'd at least put it in competition one time. I did a Formula Ford race up there in Mosport which was my home track and a place Greg raced many, many times in that very car. Had a great battle with a car that was about 15 years newer, but I finished second.
"I'm ashamed that I got beat but I had this great back and forth battle with a guy that's been racing Fords there since the dawn of time!"
Seeing how much Hinchcliffe has been influenced by Moore, both professionally and personally, it's hard not to imagine how these two larger than life characters would have got along had fate been kinder that Halloween night two decades ago. It's not too difficult to imagine the pair spreading their particular brand of mischief and fun throughout the IndyCar paddock together.
"I can't help but think that we probably would have ended up kinda being buddies. Looking at the people that I've had the chance to meet and opportunity to befriend in the series, and just knowing how I get along with Dario [Franchitti, pictured with Moore and Tom Kristensen in 1999] and the likes.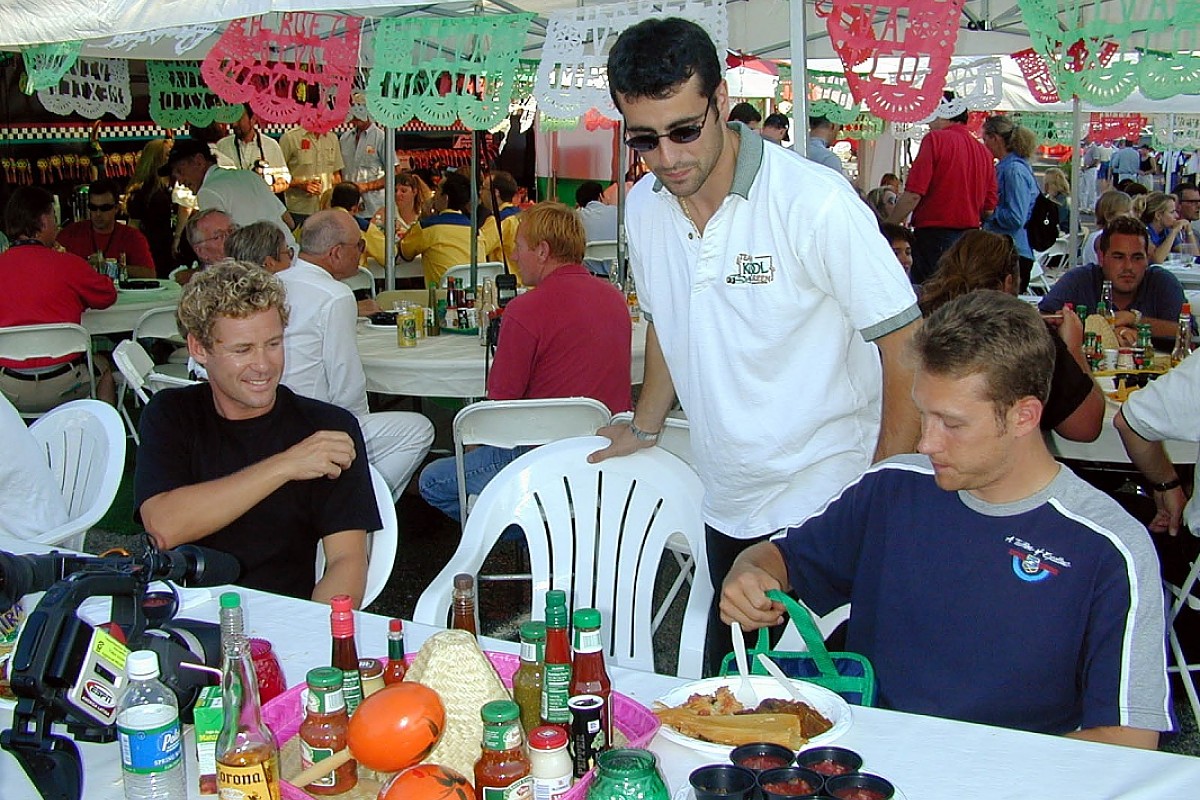 "I really do call bullshit on the 'don't meet your heroes' saying, because I met mine very briefly as a kid. And now I also know about the people he was good friends with, and I know the kind of people they are....
"I know that he is everything that I thought he would have been. I know he would've been just as great a character and just as much of a mentor if that opportunity had arisen.
"I think I picked a good hero because I don't think I'd be disappointed in any stretch or any sense of the word if I'd had the opportunity to get to know him better."
The deep respect and love that Hinchcliffe still holds for Moore is blatantly evident, tangible even. The fact that 20 years after his death, it's echoed by Greg's friends, peers, fans and even those who never met him, is a massive testament to a young man who was not just revered for his talent on the track, but for the special person he was off it. A magnetic personality who could bring people together and was always looking for the next way they could have fun.
With that in mind, we finish by jokingly asking Hinch whether he could imagine his hero following in his nimble footsteps on Dancing with the Stars....
"Well I mean, historically speaking IndyCar drivers do OK! So, I'd have to think he'd at least be in the top two!" laughs Hinchcliffe... "Yeah, as long as he could've worn red gloves... Red sequin gloves! There you go!"
Because, as we all know, "Red Gloves Rule".