Fresh from declaring the Monaco Grand Prix as "probably the most boring race ever in Formula 1", Fernando Alonso will have settled down with higher expectations for the 2018 Indianapolis 500.
A brand-new car package that improved racing at St Petersburg, the often-dull Phoenix oval and the tricky to pass Barber only heightened the expectation ahead of IndyCar's biggest race.
Sure, Alonso wasn't in an Andretti-McLaren-run car this year, but there were enough tantalising additional storylines to convince people to tune in. Danica Patrick was completing her racing career swansong, Helio Castroneves was gunning for a record-tying fourth Indy 500 win and Penske looked set to hit back at Andretti's recent dominance.
But the racing failed to match the buildup intrigue, and this wasn't too surprising, considering complaints about how the new-for-2018 car impacted traffic management practice early in the Month of May running.
The first days were spent setting up the car mechanically before learning how it behaved aerodynamically, a process streamlined by the loss of the manufacturer aerokits that were covered in aids and winglets.
Without them, the drivers were lifting through the corners for the first time due to significantly lowered downforce levels - around 25% compared to last year's car package - with the knock-on effect of more significant tyre degradation. The new car's sleek, more simplistic look was also efficient at punching a hole in the air at the front to enable towing. But further down the field, the feedback was that drag levels made passing far more difficult to achieve.
Overtaking concerns were first raised early in May. But just 10 days before the Indy 500, the first signs of more forceful complaints became apparent after Rahal Letterman Lanigan Racing's Graham Rahal topped practice, and one-off entry and IndyCar returnee JR Hildebrand crashed after running high out of Turn 3 and colliding with the wall at Turn 4.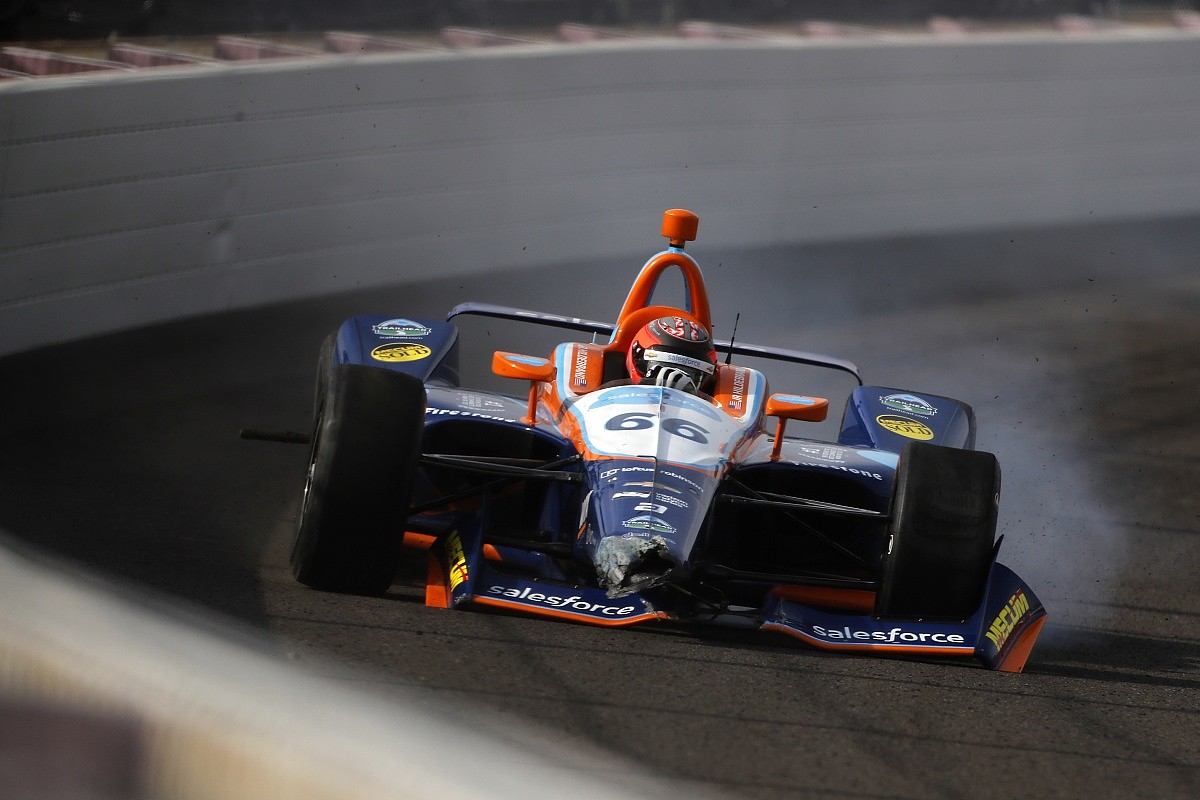 "I think [running] first and second [on track] is awesome," Rahal said. "Anything beyond that is tough. You see that.
"With JR's incident, I can't tell you how many times I thought I was going to be in that scenario where the right front tyre is so overworked, you have so much slip angle in it, it just gives up.
"When it gives up, it's like ice and then, bang, you hit a kerb. You turn into a neighbourhood, it doesn't turn. We've all done it. That's exactly what it feels like. It's difficult because you don't know what a fine line [it] is. Sometimes it's slide, slide, slide, then OK. Other times it never comes back. The further back you are, you just have to hang on.
"It's really hard to pass that guy even if he makes a small mistake, whereas momentum seemed to be key last year" Scott Dixon
"These cars, you got to drive the you-know-what out of them. The rear is sliding around, the front is pushing. It's not pretty, that's for sure."
There were also still questions to be answered, such as whether leading the race would be essential to success now the non-stop drafting of the previous years was set to end.
"If you do get a tow, it is massive," Rahal added. "When you get 10-car lengths back, the acceleration rate is unbelievable. [2017 Indy 500 winner and RLLR team-mate Takuma] Sato and I were even joking about it.
"'Do you want to lead the last lap or not?' 'Where do you place yourself if you're in that position in the race?' I don't know. If you're leading, you could be in trouble."
Chip Ganassi Racing's Scott Dixon and Marco Andretti both added to concerns over passing, with Dixon saying: "The track temps are pretty high. That typically falls in that category [of making passing harder], too. But even if the guy gets a bit of a wash-out, but still has enough of a train in front of him, the acceleration [from the tow] is just insane.
"So it's really hard to pass that guy even if he does make a little bit of a mistake, whereas momentum seemed to be a bit of a key last year."
Considering the largely drab first three-quarters of the 500 over a week after those comments and questions were aired, it should be noted that IndyCar did have the chance to react. But instead, it took encouragement from drivers and teams struggling to understand the car.
Jay Frye, IndyCar's president of competition and operations, made the salient point that the field had been somewhat spoiled last year, working with manufacturer aerokits that were frozen for development for 2017 - meaning teams could call upon a wealth of data from '16.
When asked by Autosport if the series would consider a change in downforce to help overtaking ahead of the race, Frye said: "No, absolutely not. We're hearing lots of different things from lots of different drivers and actually, we're encouraged by that too because the range of opinions is all spread out. It's a little different for everybody."
Those diverging viewpoints naturally took a backseat by the time qualifying came around, as the 2018 universal aerokit-equipped car proved to be at its best in qualifying trim.
Consider that Dale Coyne Racing's Sebastien Bourdais slightly lifted into Turn 1, admitting that his serious 2017 crash played on his mind, that eventual 500 winner Will Power and Penske team-mate Josef Newgarden bemoaned the smallest margins of set-up preventing them from beating Ed Carpenter to pole and that average lap speeds of 230mph were being defined by such miniscule factors - clearly the formula was spot on.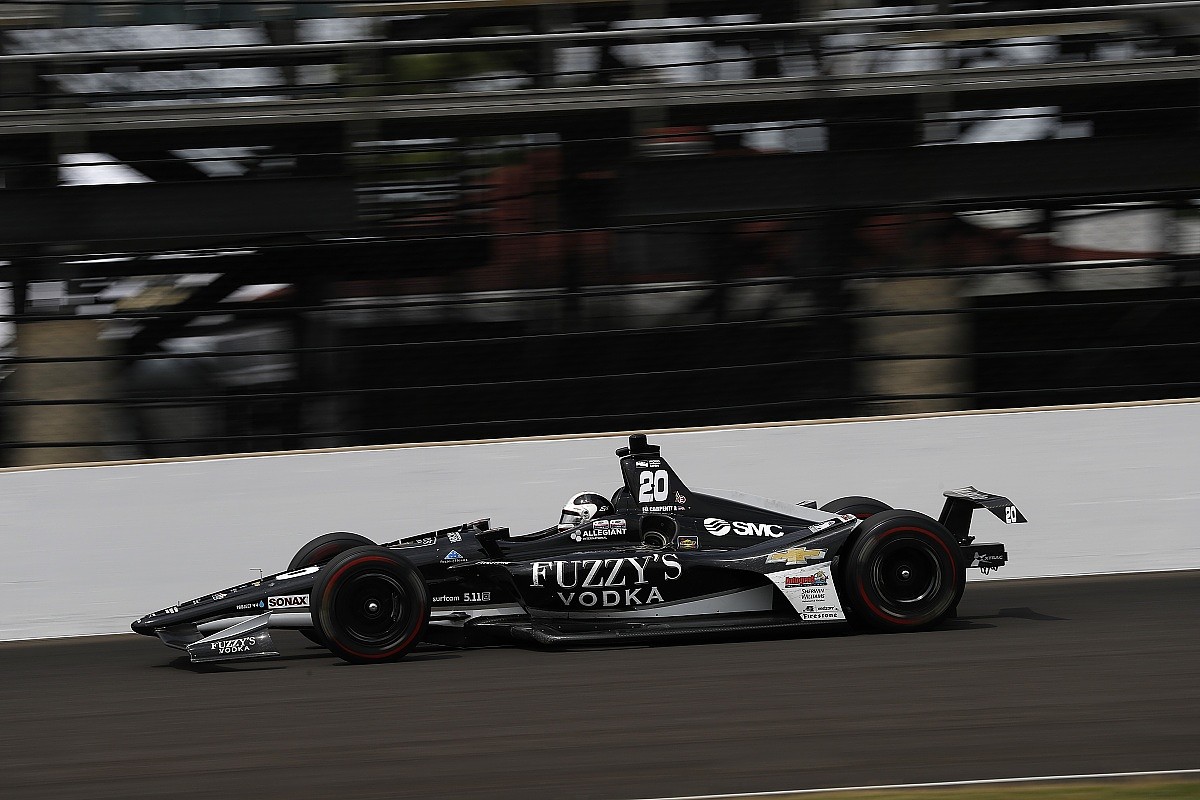 That was notably helped by high temperatures of 50C for the 'Fast Nine' shootout, compared to 37C for Saturday's qualifying.
"This car is more sensitive to track temperature," said 2017 champion Newgarden. "It's when the track temp rises this car suffers. I think it's just more relying on the floor [where significant downforce is generated], and that really seems to dictate the tyre life.
"We all thought qualifying was going to be easy this year because of the trim steps, and then it heated up, and it wasn't that easy. It was on the edge when the track was hot. There's guys that took off side walls and they could not be flat. [Andretti's Alexander] Rossi had not so great of a run [missing out on the Fast Nine] when he took the sidewalls off."
There was more than enough evidence to suggest IndyCar will be required to go back to the drawing board

So, throughout the build-up to the race, the extensive practice and qualifying running had clearly revealed a car that was tough to drive on the limit and was likely to split the field between the leading pack and the rest, with overtaking opportunities hindered further back.
Those factors, combined with others such as more tyre degradation in a race that had its highest temperatures since 1937 - with an air temperature of 32C - meant the racing was ultimately underwhelming.
Sure, Power was drawn into a race-deciding battle with Ed Carpenter through the first half, then picked off off-sequence drivers in the final laps to win. And yes, Rossi had the ability to carve through the field, with his five-car overtake through one corner being simply breathtaking, to make up a colossal 28 places in the race. Plus there were even 15 different race leaders and 30 lead changes.
So underwhelming may sound like a surprising statement, but there was more than enough evidence to suggest IndyCar will be required to go back to the drawing board with its superspeedway-spec aerokit.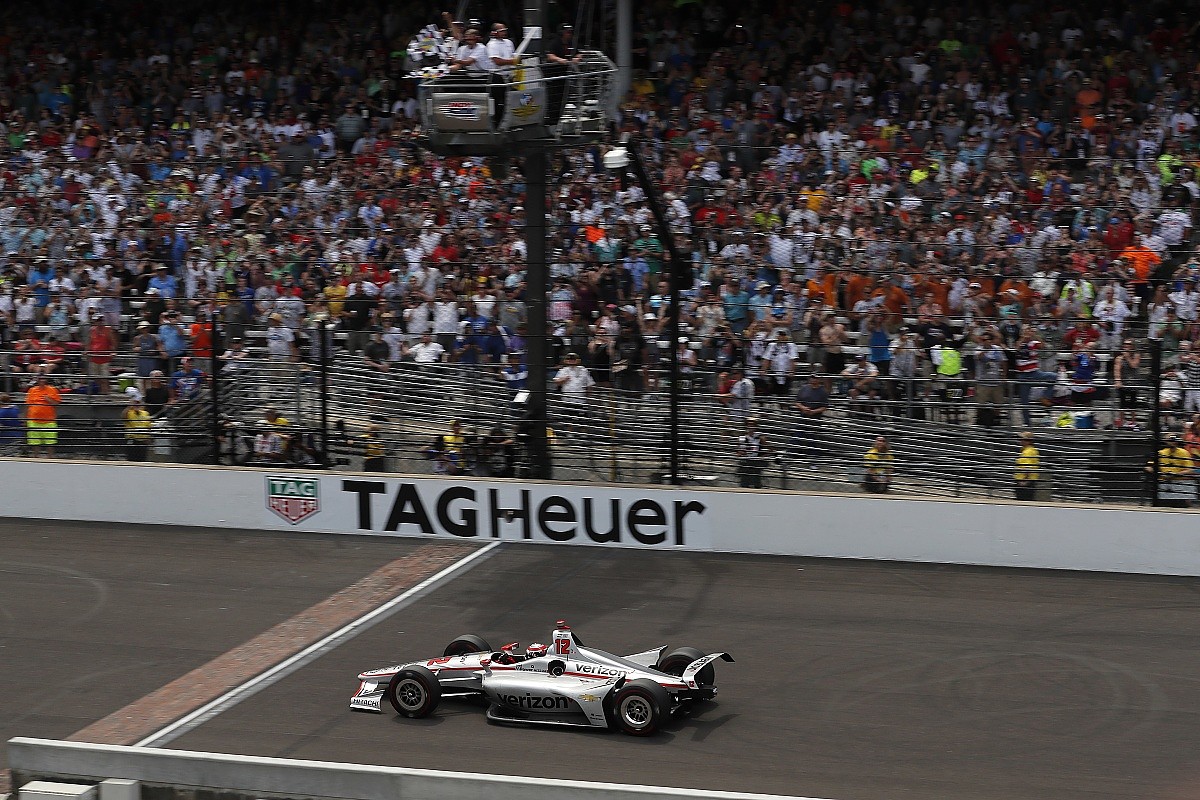 But by digging deeper into those headline numbers there's justification to calling the 500 underwhelming. Only one-fifth of those lead changes came on track, and even then, almost all of them were completed on the restarts.
The importance of restarts has never been in doubt, but the drivers' difficulties with overtaking in the 500 meant they took on greater emphasis.
"The tow is very strong, the draft of the car is significant," Newgarden explained at the 500 media event a few days before the race. "So you can get runs off people, and I think on restarts you'll probably get some of the best. You'll see this three, four wide craziness going into Turn 1 and then carrying all the way down to Turn 3."
But that "craziness" never developed like it did during the drafting era of the previous car. Instead, the race was run largely with the pack in single-file. Essentially, it was a case of playing the long game as drivers balanced tricky tyre degradation with fuel-saving early in a stint. That naturally lent itself to passing early in a stint or on the restarts.
And that had been something Simon Pagenaud noted pre-race.
"You'll see good cars at the beginning of a run, but some of those will go backward midway through a stint," the Penske driver explained. "So you'll have a chance to pass people who have a lot of degradation.
"A good car will be rewarded, as will a driver who can manage his tyres. So, it's going to be a mental game. It's not going to be a drafting game as much as it used to be. I welcome that and think it will be a fantastic race."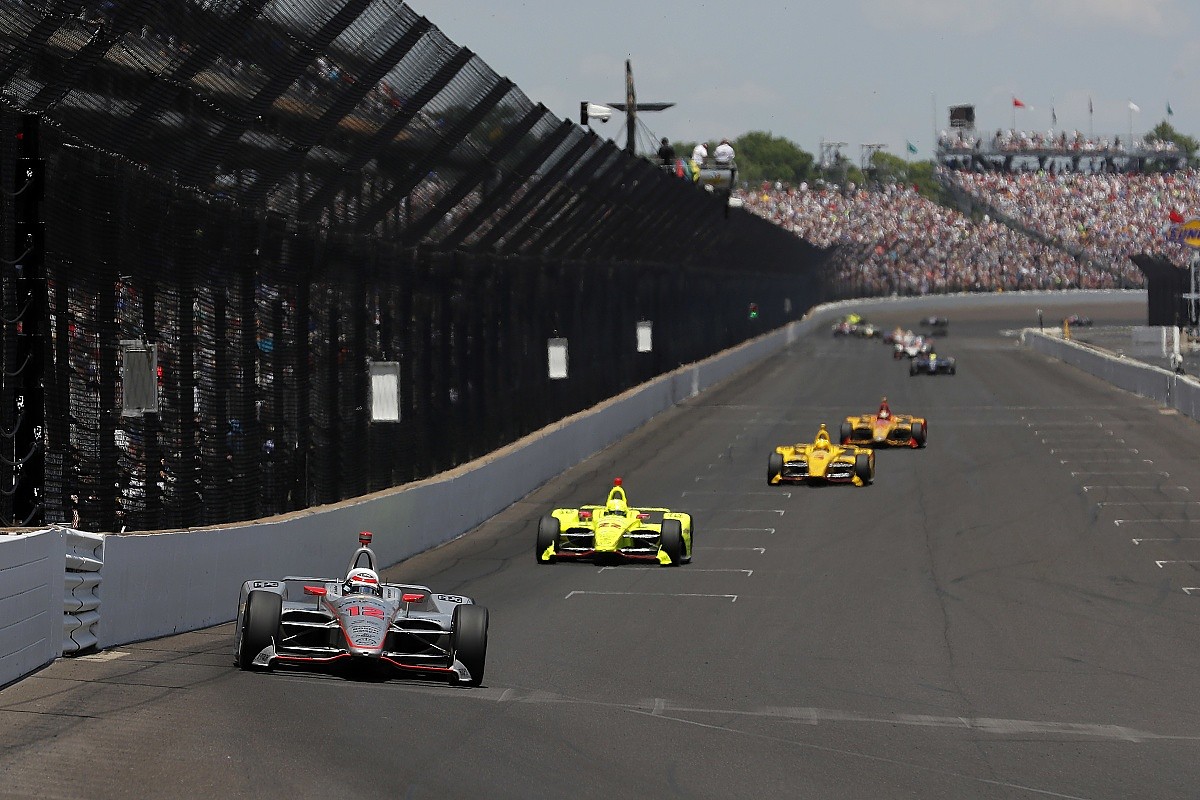 Instead, it transpired into a race that was mostly run with cars split by a margin of around one-second, all in single-file. No matter how you present that fact, it doesn't lend to nail-biting action.
But it would be too simplistic to say that the new car and its associated factors alone prevented the "fantastic" race Pagenaud had expected - the loss of star names and veterans of the course of the race played a part too.
Sato, Patrick, Castroneves, Bourdais, and Tony Kanaan all crashed out. While the 2017 500 winner was caught out by James Davison lapping at 203mph with a roll-bar problem, with Sato unable to take evasive action quick enough, the other incidents were remarkably similar.
The quartet who crashed after Sato all lost the car on their lonesome going through a corner, with Patrick and Castroneves unable to explain how their crashes occurred. Bourdais said his car "snapped" and Kanaan blamed himself for his shunt.
It would be too simplistic to say the new car and its associated factors prevented a fantastic race
Last year's race was dominated by Alonso's starring cameo, but IndyCar was able to have several genuinely interesting storylines to sell this year with - not just Castroneves and Patrick returning - but Bourdais looking for redemption after his dramatic crash in qualifying in 2017 and Kanaan's attempt to revitalise the fortunes of one of the series' famous marques at AJ Foyt Racing. The stop-start nature of leading names crashing out only further stressed the need for the actual racing to excite.
But at least one of the 500's long-running storylines did return to the fore as Penske regained its Indianapolis crown with Power's fully-deserved victory giving the team its 17th Indy 500 triumph.
There had been a sentiment that the change in racing style would reward a driver who qualified up front and stayed there, with no drafting to help weaker cars close in. The way in which Power discarded polesitter Carpenter's challenge further strengthens that view.
While the right driver won in this case, the biggest consolation for those hoping for a better race next year comes from IndyCar itself and the way in which it is forensically evaluating the progress of the 2018 car.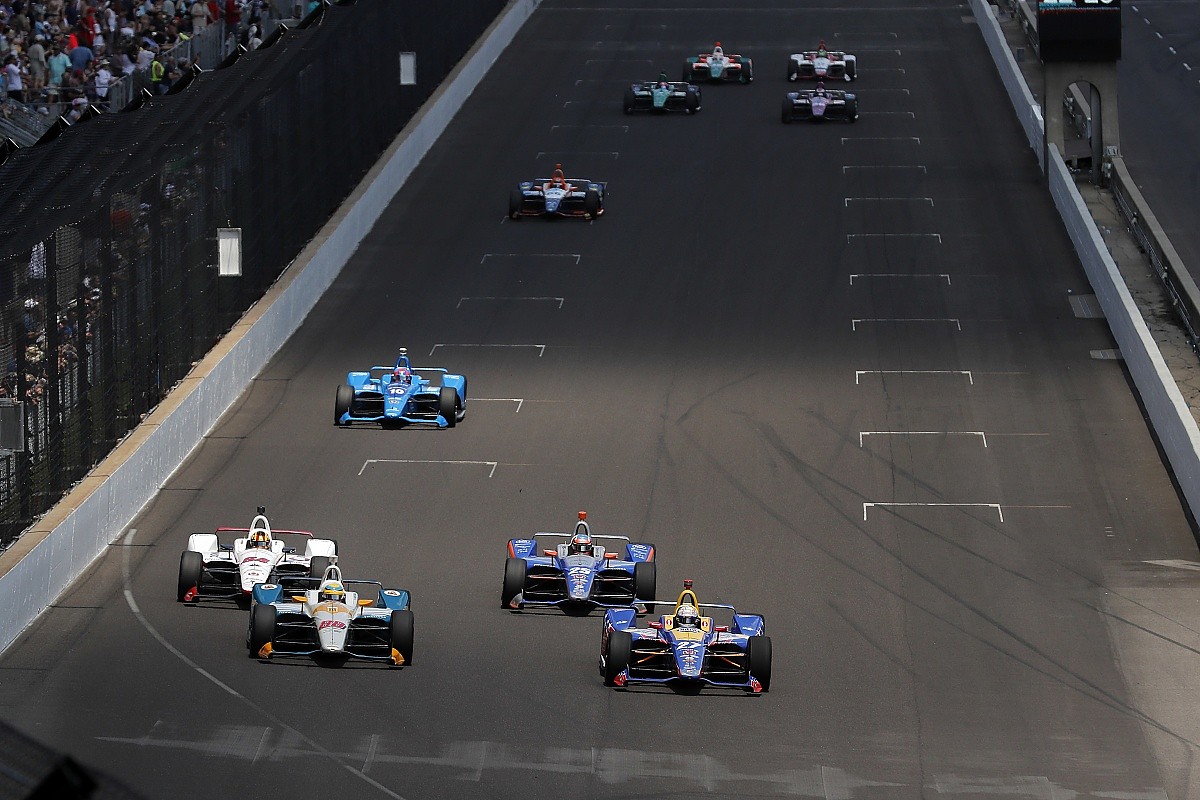 "We monitor the fan forums, we manage all the statistics we can get," IndyCar's director of aerodynamic development Tino Belli said before the race. "So far this season everything has been positive.
"We felt we were much better at St Petersburg, we were better at Long Beach. We made a significant improvement at Phoenix, although we registered that the fans did not necessarily feel the same way.
"We will work very hard at those configurations where we are a little bit weaker. Some of the teams around here, they're getting used to saying it's quite a different car, has a very different centre of gravity. They have to get used to tuning their suspension, every part of the car, to get more than the others.
"After every race, we assess it [the car and the racing], and going forward we will try to make any changes that will help where we think we're weak."
The fact that drivers including the vastly experienced Dixon were "unsure" as to whether there would be one key fix to make in order to improve racing at the 500 suggests Carpenter's feeling of "little improvements" is the direction IndyCar needs to go next year.
It does need to act, but it certainly does not need to panic, particularly if you consider Rossi's starring role in moving through the field from 32nd to fourth.
"It's just opportunity," Rossi said post-race. "It's not anything to do with anything else. You try to make the most of the opportunities that are presented to you. It's just a different mindset. You've got to do some things you're uncomfortable with and hope they work out."
Rather than hit and hope, small tweaks - like the chance IndyCar could have taken with altering downforce levels before last Sunday - are likely to be all it needs to ensure the pattern of thrilling Indy 500's returns in 2019.