The vast expanse of the exhibition centre that doubled as the IndyCar paddock in Sao Paulo played havoc with the acoustics. As a result, it took a moment or two for the freakish wail that suddenly arose - a disembodied, otherworldly shriek that sounded like a distant seance taking a spooky turn - to make sense.
A quick jog towards the source of the uproar, past Ganassi on the left, past Penske on the right, revealed a group of maybe a hundred fans, camera phones aloft. Trying to navigate his way through them was Rubens Barrichello, equipped with motor scooter, a bemused grin, and the stare all Formula 1 drivers adopt (which allows them to look just over the right shoulder of dozens of people simultaneously). Within a few moments he had reached the sanctuary of the barrier that segregated the fans from the race control area and disappeared into the drivers' briefing room, leaving behind a gaggle of locals high-fiving each other in delight at their momentary brush with royalty.
The rapture wasn't reserved for Barrichello alone. An appearance by Helio Castroneves triggered almost as much excitement even before he'd wandered over to the barrier to sign autographs and pose for pictures. And loud shouts for Tony Kanaan were rewarded with a wave as he whizzed past on his scooter. Even the relatively low-profile Ana Beatriz ('Bia', as she's known in Brazil), who was appearing in the first of her scheduled two races for Andretti Autosport, triggered hysteria every time she poked her head above the parapet. But when Rubinho appeared, it was as if the fans had found a way to crank their cheering up to 11.
IndyCar's Brazilian fans proved their hardcore credentials last year, when they defied the pouring rain to remain seated in grandstands awaiting a race they knew would almost certainly be deferred for a day. The prospect of seeing Barrichello win on home soil - something the Sao Paulo native had famously been unable to do during his many visits to Interlagos, 16 miles to the south - lifted their excited devotion to an entirely new level.
Were they being unrealistic? The easiest answer is: less so than they were on some of the occasions they took the same hopes to Interlagos. Barrichello hasn't caught on to all of the idiosyncrasies of IndyCar racing yet, and that's before you take into account that the ovals are still to come. But he's learning fast. A tough debut in St Petersburg has been answered with three consecutive top 10 finishes. Numbers don't mean much in themselves, but his average finishing position of 11th after the first four races stacks up respectably against that of reigning champion Dario Franchitti (10.75) and KV Racing team-mates Tony Kanaan (15.75) and EJ Viso (11.75).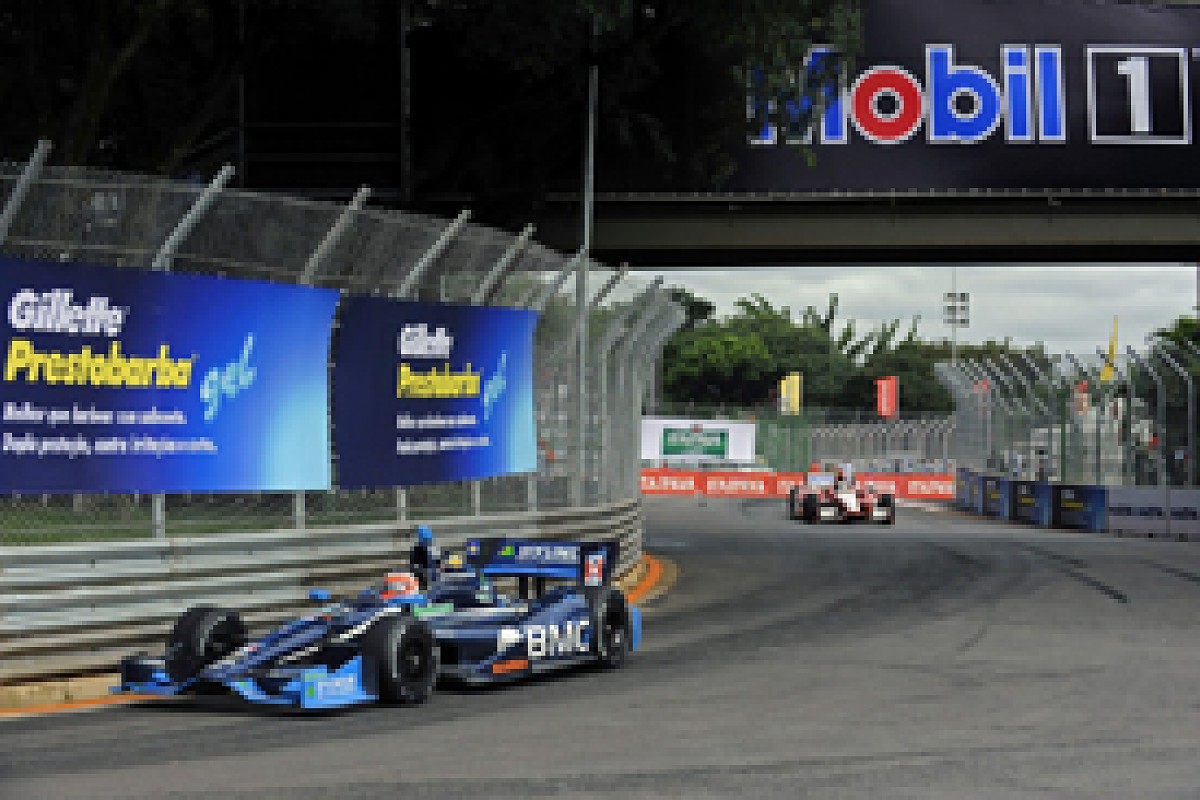 No home win, but Barrichello was quick in Sao Paulo © LAT
More tellingly, the 10th place he claimed around the streets of Sao Paulo's Anhembi Park owed as much to the timing of the last couple of cautions as anything else. Had they fallen slightly differently, he would have been in the top four on merit. IndyCar race strategies are a little more elastic than those in F1, and the timing of a yellow flag can easily affect a driver's track position by 10 places. Barrichello caught the wrong end of it in Brazil, and admitted that it threw him slightly.
"I have to say, I did not understand the race," he said. "I was running third or fourth, and all of a sudden I was 17th. We did have a few problems with the pitstops, but strategy was such a big factor. In fact, when I saw Dario after the race, I asked him when you should spin so you can come in and take on fuel."
Earlier in the season he'd sounded downright disgruntled, telling USA Today after his debut that he wasn't enjoying his first taste of fuel mileage racing: "I'm the type of driver who wants to push," he said. "I want to go flat out at all times, but this race was save, save, save all the way. I wasn't really allowed to push the car as hard as I could, and that was frustrating."
His irritation was understandable - a fuel gauge problem had deceived him into running out of fuel near the end - but it would be intriguing to know whether his views have changed since then. Fuel conservation may not be as critical in Formula 1 as it is in IndyCar, but there have been times when tyre management has been. Preserving rubber at minimal detriment to the lap time and conserving fuel at minimal detriment to the lap time are different skills, but they stem from the same starting point.
Also, since that first race, he'll have seen fellow Chevrolet driver Will Power lapping faster than everyone, including Barrichello himself - then stopping two laps later than the other frontrunners. Power is a freak when it comes to saving fuel, but even so, Barrichello's performances should show him that there's a happy medium between speed and strategic flexibility that the Brazilian hasn't nailed down yet.
It's when you consider how much Barrichello still has to learn that you appreciate how much he has already achieved in IndyCar. Before the season began, it was widely expected that Barrichello would spend the first few races leaning on close friend Kanaan for guidance. For the most part, however, Kanaan hasn't yet been able to catch him, although Barrichello's entry into the series has been smoothed by a schedule that kicked off with four road or street courses. You'd expect him to be looking to capitalise on the 2004 series champion's experience more, now that the ovals are coming into play.
Less than a year ago, IndyCar was so desperate to encourage cross-over appeal that it came up with a $5 million win bonus at Las Vegas in an effort to tempt a NASCAR driver onto the grid. It's impossible to measure how many F1 fans are paying more casual attention to IndyCar in the wake of Barrichello's arrival than they did last year, but the fact that the Brazil race was a sell-out suggests that that he has made an impact. The cacophony that greeted him every time he emerged from KV's makeshift team area in the paddock was the exclamation mark that drove the point home.
Barrichello has a bit of catching up to do before he sells as many T-shirts as Danica Patrick did, but his strong, ready-made fanbase has done much to offset the loss of the series' previous marquee driver. And if his early pace is any guide, those supporters will soon be cheering more than his mere presence in the series.