Perhaps it's time, once and for all, to give Michael Andretti proper credit. Not for the 42 victories over the course of his indycar racing career or his 1991 championship. Not for his 39 wins, three IndyCar Series titles or two Indianapolis 500 victories as a team owner. Not even to make amends for the house of mirrors that was his transitory and awkward expedition into Formula 1 with McLaren in 1993.
No, what's needed in Andretti's case is some outside appreciation of his latest effort regarding the future of North American open-wheeler racing; More accurately, his commitment to what has always been the sport's third rail - its ladder system.

Regardless of what people think of him as a racer and a person (and let's be honest, he's always been a tough sell to the American racing public), he has one thing no other owner has: Teams and drivers in all three support series under the IndyCar umbrella. So admit it, even if it pains you. Michael Andretti is more than just good for IndyCar's present and future; He cares about it.
If you need evidence, here goes: He's fielding cars for former McLaren AUTOSPORT BRDC Award winner Stefan Wilson in Indy Lights, Sage Karam in Star Mazda and Zach Veach and Spencer Pigot in USF2000. In the past he's had a hand in the development of JR Hildebrand, Raphael Matos, Jaime Camara, Hideki Mutoh and, of course, Marco Andretti. Sam Schmidt notwithstanding, Michael is a pioneer of using IndyCar's farm system to full advantage.
"I don't know if would consider myself a pioneer," Andretti says. "I consider myself someone who cares. Honestly, running all of these teams is a pain in the butt and I think that's why more team owners don't do it. It's not profitable, by any means. We know that going into it, but we're doing it for the good of the sport. It's not worth it to the other owners, but I know that we're creating our future stars, and the future is what it's all about to me. I'm proud to say that every one of our Indy Lights guys has ended up driving in the IndyCar Series."
That includes Marco, who stormed from what then was the Indy Pro Series into a spot on his dad's IndyCar team. The anti-Andretti crowd will tell you beyond earshot that Andretti Autosport exists only to field a car for Marco, but that's just noise. Michael has transformed himself from an introverted driver to one of the best salesmen in racing, piecing together deals that have kept four cars on the track under the Andretti Green Racing, and latterly the Andretti Autosport banner since 2003.
Andretti remembered more for his F1 failure than his incredible indycar success © LAT
"He puts his heart and soul into this sport, and I don't think many people see that," Marco says. "I've seen him go in to business meetings with potential sponsors and be completely charming and engaging but still tenacious. He's very good at that part of the business. People just don't see it. They also don't see how hard he works at it. He's in the office all the time. This team is his life, and putting this all together and seeing it work is extremely important to him."
So why don't we get it? What is it we're not seeing in Michael Andretti? We see it in his father Mario, the beloved ambassador of motorsport and one of the greatest drivers of all time. But we don't see it in Michael or Marco. We're like that over here in the States. Self-made men are golden; their sons are wretched, spoiled members of the lucky DNA club. To paraphrase Superbowl-winning NFL coach Barry Switzer, some men are born on third base and damned proud of themselves for hitting a triple. But Michael wasn't just living on the name having thought he'd hit a triple. He achieved in his own right, and continues to achieve to this day.
He won 42 times in Indycar racing (all during the Champ Car era) to put himself third overall in the history books behind only AJ Foyt and Mario, yet instead we point to his failure to win the Indy 500. He won the 1991 Champ Car title and finished as runner-up on five occasions, yet we point to F1. He's a successful team owner, yet we constantly compare him with Roger Penske and Chip Ganassi. He's contributed immensely to the sport, yet we continue to compare him with his father. Honestly, we can be such insufferable louts.
Here's a little secret that might change your loutish view of Michael; One of the biggest achievements in his world during the past five won't even register on your radar. Sure, he's proud of Tony Kanaan's runaway title in 2004, Dan Wheldon's Indy 500/championship double in '05 and Dario Franchitti's repetition of that in '07, and, of course, he's proud of his team's three wins so far this season. But Andretti quietly beams when asked about the emergence of JR Hildebrand this year. Why? Because Andretti ran Hildebrand in Indy Lights in 2009, when he won four races and the championship.
"We've put up some really good guys," Andretti says, adding Matos to the list. "They're future stars. We didn't have anywhere to put them on the IndyCar team, so they ended up with other teams, but that's good for the series. I'm bummed that JR isn't driving for us, but I'm happy for him for being able to show people what he can do. I'm proud that we had a hand in his success, and that comes down to looking at the big picture. They ended up in the series. I get great joy in seeing Hildebrand run up front, and I'm confident that Rafa will end up back in the series soon. Even though we're not benefitting from their advancement, the entire series is. That's why we're doing this."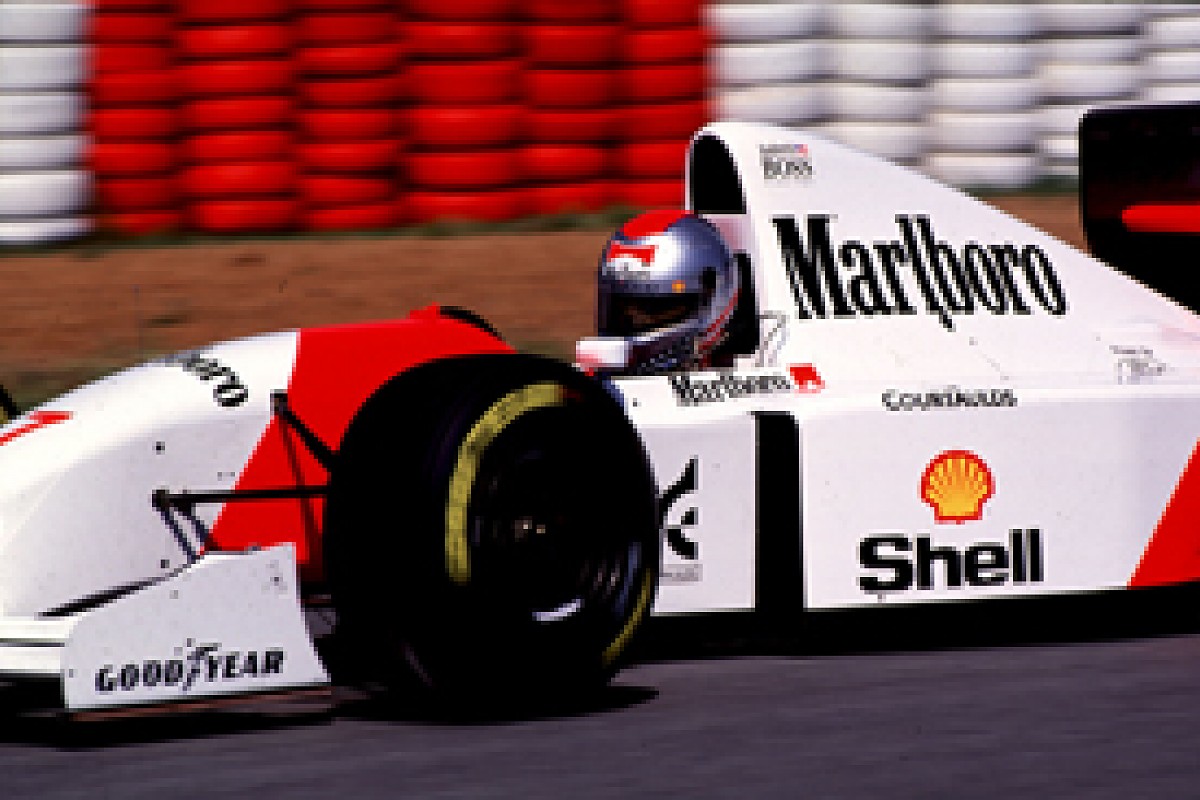 Andretti is rightly proud of what he's achieved with the IndyCar ladder © LAT
At the moment, Andretti's contributions are two 16-year-old peach-fuzzy faces with inestimable capabilities; Veach and Karam. (Author's disclosure: I once did a telephone interview with Karam during a break in his classes at junior high school. His principal handed him the phone. Some time ago, Jack Roush said the future of racing is signing foetuses to long-term developmental deals. He wasn't far off).
Together Veach and Karam are the Butch and Sundance of IndyCar's future, yet it's highly unlikely - especially considering the rumor that Wheldon is in line to replace Danica Patrick in 2012 - they'll both end up at Andretti Autosport in the next few years. It's possible then, that one day Michael's future stars will be someone else's present stars.
"We've got a bunch of good young talent that is our future, and I don't mean our team's future. I mean the league's future," he says. "Sage I've known since he was five years old. He's a true talent. It would make me feel so good to go through every step with and eventually get him into an IndyCar. He's halfway there. It takes time to do this, and we do spend a lot of time on it. Everyone involved in our IndyCar team is involved with the ladder series teams, but we're building for the future. It would be great to have a good young star who could be here for a long time, but if we can't keep them, then we've made a contribution to the larger picture."
Sit with Andretti for a few minutes and listen to him. See the fire behind the eyes. Hear his zest for the sport. He's not your preconceived notion of what Michael Andretti should be. He's impassioned, opinionated and articulate. Check your negative opinion at the door and give Andretti the respect earned. He gives a damn - a very large damn - about the future of his sport. "We've got a great product," he says, sermon just beginning. "We've got great talent. We've got history. There's no reason why we shouldn't be one of the top sports franchises in the world."
If it ever happens, some of the credit will have to go to a guy who isn't getting much of it right now.