"What this series needs is some good, old-fashioned hate."
Journalist Robin Miller coined that sentence a few years ago, but until this year it never got very far beyond the paddock at IndyCar Series races. That's before he repeated it on TV broadcasts. Now it's the championship's unofficial motto, and it's gaining traction.
The intended meaning, of course, is fairly straightforward: IndyCar racing needs some rivalries. Heated rivalries. Angry stuff. The kind of NASCARish, helmet-throwing fury that draws an audience. It isn't enough that the racing is compelling; what matters is that it has a sharp edge. Will Power must be calling Dario Franchitti "princess" on Twitter or open-wheeled racing as we know it in the States will be relegated to the scrap heap of professional womens' basketball or indoor football.

But long before the insults were hurled and cars were punted this season, IndyCar racing already had its good, old-fashioned hate. OK, perhaps hate is too strong. Intense dislike fits better. Before everyone started bashing each other around the racetracks with alarming and embarrassing frequency, the participants were quietly but intensely disliking someone else: Brian Barnhart.
The off-the-record comments about Barnhart are far better than any post-crash tweet. To put it in PG-rated terms, IndyCar's president of competition and racing operations is seen by drivers and team owners as ineffective, indecisive and, even incompetent. The sentiment about him has settled around IndyCar transporters like a fog for some time, but rarely did it reach print until 2011. That's right. The year of splintered carbon will also be known as the year they openly questioned the man.
Their low opinion of Barnhart stems from years of perceived confusion over the clarity of the rules and the administration of penalties, and it reached its lowest point earlier this month at Toronto, where, coincidentally, almost everyone on track appeared to be channeling Milka Duno. Power railed at Franchitti and Alex Tagliani. Tony Kanaan railed at Ryan Briscoe, who was angry at Mike Conway. And on and on it went.
But most of all, they ganged up on Barnhart and, to a lesser extent, Al Unser Jr and Tony Cotman, who have been given the unforgivable task of meting out punishment. The arguments of drivers and team officials about Barnhart are three-fold: firstly that the rules aren't clearly defined, secondly that the punishment is discretionary and finally that Barnhart plays favourites. To which Barnhart replies firstly that yes, they are, secondly that no, it isn't and finally that such a claim is ridiculous.
The drivers have been unable to keep away from each other this year © LAT
Unlike the occasionally comical and highly entertaining dislike between angry drivers, the dislike of nearly the entire field of a racing series for its race steward isn't comical or entertaining. It's not healthy at all. The situation improved somewhat with a series of proper punishments - some were quietly calling them no-brainers - during last weekend's race at Edmonton, but it remains tense.
"It was good to see that a couple more penalties were given out for driving infractions at Edmonton, but what I see is that none of the rules seem to be black and white," said Team Penske driver Briscoe. "We never really know how far we can take it. Some guys know they can break the rules and get away with it. It would be nice to see it more strict like it is in Formula 1. If there's a white line and you're not supposed to cross it and you do, then you get a penalty. Here, we're never sure. There's a lot of discretion involved. When you're out there, you're wondering how much you can push it. How much of this can I break before I get penalised? The rules need to be set more in black and white. You can't just crash into people."
To make their point, Team Penske drivers and officials met with Unser before the Edmonton race to air their concerns. They believe the meeting had an indirect effect on the clarity of the punishments in the race; Barnhart believes the calls at Edmonton were easier to make because they were so obvious. The primary issue teams are having, he says, is the decision to not hand out an avoidable-contact penalty if a driver damages his own car during the crash.
"People don't understand that part of it," Barnhart says. "If it's avoidable contact and because of it the instigator takes himself out of the race or damages his car to the point where it ends up in the pits or at the back of the field, then there's not a specific penalty called. Some of the penalties have been self-serving because the instigator takes himself out. If it remains green and he's still going, then it's a drive-through penalty."
He cites a penalty given to Ryan Hunter-Reay at Barber Motorsports Park in April after he sent Briscoe into the gravel while battling near the front of the field. Hunter-Reay continued, was given a drive-through penalty, but still raced back to 14th, seven positions ahead of Briscoe. How much punishment is enough punishment? There's no way to make Hunter-Reay finish behind Briscoe, yet the former was fast in the race, possibly fast enough to win. While Barnhart knows nobody is happy after such an incident, he does at least insist that the rule is clear and concise. Others naturally disagree.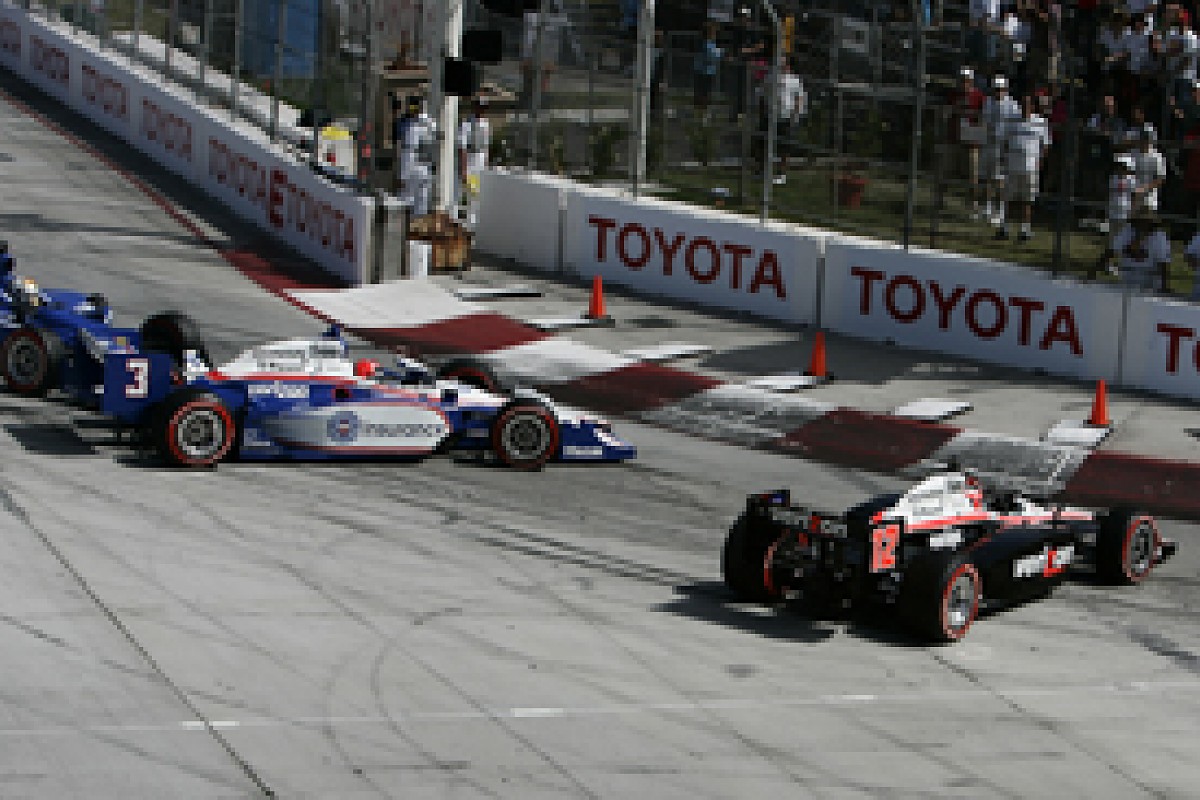 A collision between the two Ryans at Barber Park proved controversial © LAT
"I wouldn't want Brian's job, or Al Unser Jr's, or Tony Cotman's," Franchitti said during the post-race press conference at Edmonton. "It's a very difficult one. But I think all the drivers are kind of looking for more of a - I don't know how to say it - but we want to know what's acceptable and what's not. I think Brian and the guys are trying to address that. Hopefully we'll get back to what we know is acceptable and what isn't."
As intense as the dislike may be, Barnhart isn't rattled by it. At times, he stops just short of hurling it back publicly. You're the ones who are driving like fools. Have been all season. It's not the lack of clarity that makes you dive-bomb your competitor into a hairpin. The rules aren't making you slam into each other. You're doing a fine job of that all by yourselves. What we're trying to do is balance fairness with entertainment. Right now, you're not helping the on-track product.
"They want the punishment given out until it applies to them," Barnhart says. "But what bothers me more is that they've heard this hundreds of times. Whether it's the blocking rule or avoidable contact or blending from pit out, the rules have been consistent and the penalties have been administered consistently."
Behind the scenes the friction is conspicuous. You'll find dozens if not hundreds of guys in the pits who want Barnhart gone. That's not anything new; the rumours of his impending ousting have been following him since the Helio Castroneves/Paul Tracy decision at the 2002 Indianapolis 500 and have increased in volume since Randy Bernard look over as series CEO last year.
But what's going on this season - whether you blame Barnhart or the drivers - doesn't reflect well on either. It's just ugly. It diminishes the show.
The other good, old-fashioned hate, the kind among drivers, draws a crowd. It entertains. It's even cute sometimes.
But intense dislike between the participants and the chief steward? There's nothing cute about that.