Talk of Marco Andretti's struggles doesn't make him bristle anymore. Not this week, anyway. Now he just chuckles quietly when the subject arises. 'Drought? Slump?' his eyes seem to say. 'That's a bit harsh, right?'
But the truth is, the haters have been on Andretti's porch for some time, howling behind interweb anonymity about the silver-spoon racer who had little more than a name and one victory on his resume. They chirped with every horrid qualifying session and post-race grumble. It seemed the very mention of Marco Andretti made some folks' skin crawl. For every race without a trophy, the volume of the derision amplified. At one point, he was leading a blog's W***er of the Year contest. Until the blog floated to the top of the online pond belly-up, presumably when its owner was forced from his parents' basement in search of gainful employment.
Well, here's a cornstalk in your eye, hater boy: Marco Andretti can race. In fact, he can rip it up. At the Iowa Corn Indy 250, he delivered what has been promised for some time, a fearless slashing that left wide-open eyes begging for another 20 laps. Yes, the youngest Andretti has what we'd only seen in flickers. It had been nearly five years and 76 races since we saw that first win at Infineon (haters can't talk about it without mentioning team-mate Bryan Herta's spin, which prompted a yellow that proved important to Andretti's strategy), but the talent is there. Always has been.
"All the talk of this whole five-year drought is kind of funny to me," Andretti says, addressing the derision directly. "We've been close, and there have been lots of times when we actually ran out front, but I do feel like I should have more to show for it. At the same time, I'm still young. Hopefully we can just get on a roll of strong results and continue to improve. Sport is all about momentum and confidence. Hopefully we've got both now."
Dario Franchitti and Tony Kanaan congratulate their then-team-mate Andretti on his 2006 Sears Point win © LAT
For quite a time, he had neither. Nor had his team. Andretti Autosport had just four victories in the past three seasons after a sensational nine wins in 2007. Marco's seat-of-the-pants victory over former team-mate Tony Kanaan at Iowa Speedway last weekend was the second in six races, a streak of frequency unfamiliar to a team that went all of 2009 with no wins among four drivers.
"I'm going to be looking to make a habit of this, that's for sure," Andretti joked after the win. "It definitely gets the monkey off our back a bit because we can quiet a lot of my doubters at the same time. The drought, so to speak, made me appreciate what we have here in IndyCar racing. From the drivers to the teams, it just makes us appreciate being here that much more because we know we can beat those guys."
This much we know about what has happened to Andretti Autosport: Since Kanaan won the IndyCar championship for then Andretti Green Racing, the team has been an untethered entity. Dan Wheldon left for Ganassi after the 2005 season. Herta retired after the 2006 season. Dario Franchitti went to NASCAR in 2008. All the while, Marco flailed and thrashed. In 2009, the lowest of the low years, he led just 10 laps in 17 races. At times, he called his own shots as team-mates grumbled behind the scenes that he was siphoning the team's best talent and top engineers - and still not winning races.
It all came to a monumental peak this year at Indianapolis, when Andretti Autosport foundered embarrassingly. Marco became the point man for the team's lousy on-track product; Michael was trashed for the team's off-track product. He brokered a deal with AJ Foyt to get Ryan Hunter-Reay into the race after failing to make it on speed. After qualifying, Andretti gassed Tom Anderson, the team's senior VP of competition. The porch was crowded and loud.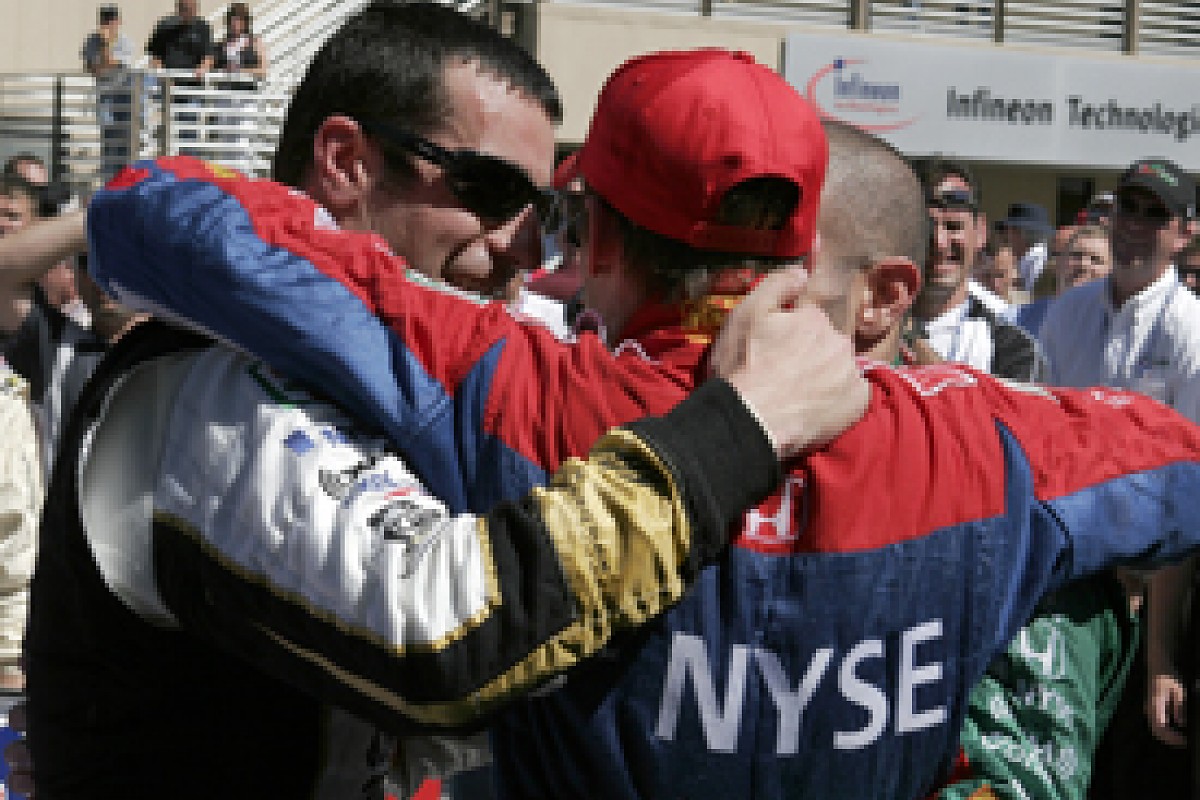 That, along with Marco's struggles, made Iowa so sweet. "I'm just so happy and relieved for him," Michael proclaimed after the win. "There's been a huge monkey on his back, and it was on mine, as well. There was just a lot of pressure on us - him as a driver, me as an owner - because of some of the past things that happened at Indy and stuff. So to come back and win like this, it was just a great, great day."
Kanaan sees the sweetness of it, too, even if he was on the blunt end of some of the personnel moves that favoured Marco.
"He's been pushing pretty hard to have Marco to succeed," Kanaan says straightforwardly of Michael. "He's giving Marco everything he can as far as equipment, team, personnel to make the kid successful, and it paid off. He's been driving great, and he got it. I think the kid proved that he can win. Now he did his second one. I told him, 'Now it's just a matter of getting more.'"
Marco ponders that theme for a moment, but still can't get over the race itself. He's just watched a replay of the race, marveling at how well every chop and buzz between Kanaan and himself played on TV. What had been one of IndyCar's strengths a few years ago - hair-raising action on short ovals - is back, just like the name the series wants desperately to return to the top of its box scores.
"I think relieved is the right word," Marco says. "We both needed it. But honestly, it just adds to the pressure. Now we've done it, so we have to do it again. We have to keep the momentum going."
Or else the haters will be back on the porch, loud as ever.