Tony Kanaan spent his entire off-season, all five months, in Brazil chasing sponsorship money. Just once during that time did he return to Miami, only to hear news via voicemail that he was needed back in Brazil to continue the pursuit of cash. He went directly to the ticket counter, purchased a one-way ticket and returned, never unlocking the door to his Miami home or even stepping outside the terminal.
Then, with a ride secured just days before the first race of the season, Kanaan flew back to Miami. "On the flight back, I had to fill out my customs form. I forgot my address," he says without a hint of the usual TK frivolity. "I'm not kidding you. I had been gone for so long that I forgot where I lived."

He couldn't have made up a better illustration of his off-season. From October until March, Kanaan lost a job, found a job, lost a job again and then found another. All without racing a single lap. Eight days before Sunday's IndyCar Series season opener in St Petersburg, he wasn't certain he'd be racing. And certainly never dreamed he'd be on the podium at the end of the first race of the season.
It wasn't until the day before the race that he had a proper firesuit. For practice on Friday, he wore a blank suit with the GEICO patch affixed by Velcro. The entire weekend was a last-second logistical scramble. Boots? Balaclava? When will the suit arrive? Where are we staying? He was so unfamiliar with the controls on his steering wheel, he twice pressed the overtake button under caution during the race, thinking he was making a radio call.
Tony Kanaan in his temporary Friday kit © LAT
"The firesuit was actually a minor detail," he explains, the uncertainty and subsequent unexpected result finally turning to comic reality. "Everything was late. We didn't have any hotel rooms. I didn't know anybody on the team. It was not one single thing. I was like, 'Okay, I'm ready to race. Where are my earplugs? Where is my helmet? Where is my firesuit? Where is my balaclava? What's the name of my engineer?' All those kinds of things. It was a crazy, uncertain weekend."
Much like the previous five months. At the season finale at Homestead in October, Kanaan learned that 7-Eleven would not return in 2011 as his sponsor with Andretti Autosport. He waited to be released from his contract, then began pursuing money in his native Brazil. Everything was in line when he signed with de Ferran Dragon Racing, then fell apart a few weeks later, resulting in the team's demise. From that point, everything appeared shaky. Teams wanted him, of course, but they needed money to go with it.
That's when KV Racing Technology put together a deal to put GEICO with Kanaan, and the scramble began in earnest. Kanaan flew back, recalled his address in the nick of time, gathered his racing gear and got to St Pete. Nobody, not even the ever-confident Kanaan, thought anything near a podium was in the offing.
"If you had told me that I was going to land a good seat so late before the season opener and then drive that car to a third-place finish, I would have said not in a million years," he says. "I'd say it's probably one of the highlights of my career, along with starting last in the Indy 500 last year and running second near the end. It was completely unexpected."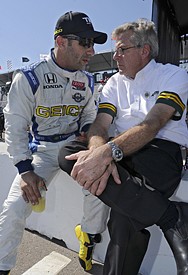 Kanaan's mixture of speed and heartbreak at Indianapolis has endeared him to fans © LAT
Funny he should mention last year's 500. When Kanaan threatened to take the lead, the crowd erupted. Think American race fans won't get behind a driver who's not American? Nonsense. Kanaan resonates with American fans because of his never-quit style and his nothing-happens-easy story. He is irresistible to watch, and his run in St Pete is further proof.
By now, his story is well-known among IndyCar fans. A promising young karter in Brazil, Kanaan suddenly became his family's sole breadwinner when his father died. At 13, he went to work for a kart manufacturer, foregoing pay for the use of karts. At 16, he was in the Brazilian Formula Ford Championship. At 18, he went to Italy and slept on the floor of the team's shop. The following year, he won the Formula Alfa Boxer championship. Two years later, he arrived in Columbus, Ohio, in the middle of winter with little English, no winter coat and no gloves to race with boyhood friend Helio Castroneves for Tasman Motorsports in Indy Lights. The following year, he won the championship.
But it's Indianapolis - or more accurately, his heartache at Indianapolis - that has endeared him to American fans. He led his first seven 500s, but something always got in the way. Last year, he crashed twice on qualifying weekend and had to start the race at the back. He roared out of nowhere to briefly contend before finishing 11th. It is never easy for Kanaan, yet he is always somewhere in the mix.
"I keep saying, 'When was it ever easy?'" he says. "I don't know why I'm ever bothered or pissed or even impressed with what happens. It's always been like that for me. Nothing is ever simple or easy. It's always been a struggle."
On Sunday, it was more of the same. But this time, the result of the struggle was utterly unexpected. This time, he wasn't supposed to contend, but he did. And the combination of Kanaan and veteran engineer Michael Cannon and KV's proficiency for putting fast cars on track leads one to believe this could be a highly entertaining year for the guy who leads the league in highly entertaining.
"We may have made it look too easy and raised the bar too high with this one," Kanaan says, suppressing a chuckle. "But I'll take it."
So, too, will the viewing public.