This is an absolutely critical season for the IndyCar Series. But it's not what happens on track that is so crucial, it's the backroom decisions about the championship's future that will decide whether IndyCar has any hope of recapturing American open-wheel racing's mid-90s glory years, or whether it's doomed to fizzle out as an ever more obscure niche sport.
On the surface, everything looks pretty healthy - there should be a field of at least 20 cars at each race, and that could rise to 25-30 at times if all the proposed part-time programmes and late entries come off.
But that grid is bolstered by drivers bringing personal sponsorship and by teams stretching to make ends meet. Last year's champion Dario Franchitti's chameleonic selection of liveries showed that even series giant Ganassi was working with fewer resources than in the past, and while Penske is up to three full-time entries this year, two of its cars have no primary sponsor as the anti-tobacco laws finally ended its Marlboro/Philip Morris partnership.
The nub of the problem is that at present, with television ratings dwindling - a situation exacerbated by the Versus/DirecTV dispute that means a significant proportion of the American fanbase can't watch the championship live from their living rooms - the potential value of sponsorship in IndyCar doesn't really cover the cost of running competitively in the series under its current rules.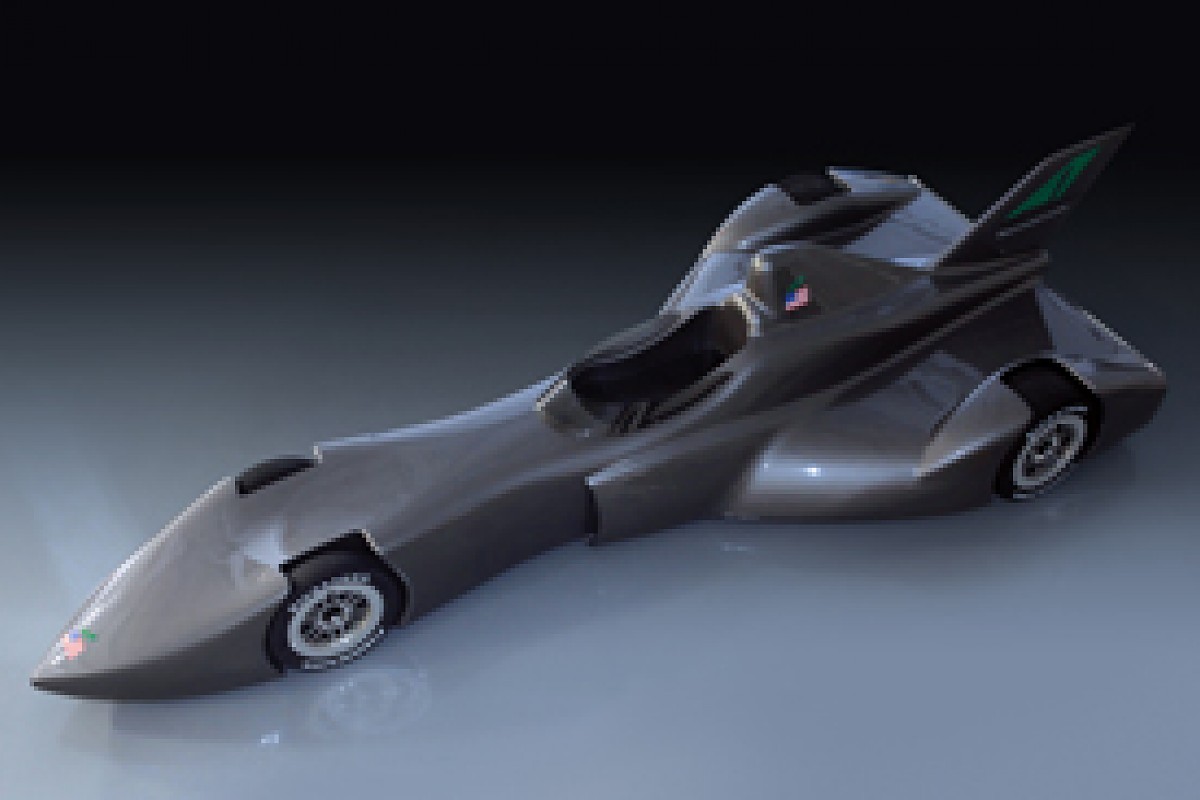 The Delta Wing proposal for 2012
The proposals for the 2012 chassis all aim to reduce costs enough to make that unhealthy equation a thing of the past, while new title sponsor IZOD's determined promotional efforts will be a big step towards increasing IndyCar's visibility.
The series also has a new leader in Randy Bernard, who is credited with the rise of Professional Bull Riding as a mainstream sport. At first his arrival as CEO was greeted with scepticism - did a troubled championship at such a crucial juncture need a motorsport novice from a 'cowboy sport' at the helm? But Bernard openly admits that his expertise is in making a sport popular, regardless of whether that sport features four wheels or four legs, and he has won over many of the doubters already. Graham Rahal, who is without a full-time driver but has just inked a deal for two early races, recently raved via Twitter that Bernard had done more to help him in 12 hours than anyone else had in his career.
Bernard's challenge is both to keep things ticking over healthily through to 2012 - and to make sure that the 2012 package is the right one. Should IndyCar go with the more traditional designs espoused by Lola, Dallara, Swift and BAT, or opt for team owners' favourite DeltaWing's radical reimagining of what an IndyCar should be?
DeltaWing has divided the fans and drivers so far. To some, it's just too dramatic a change to cope with, more suited to a totally new category than something with IndyCar's heritage. Others feel that given the championship's current low profile, even a much-improved version of a traditional Indy shape simply won't be enough to awaken new audiences. They insist that the 2012 car has to be a jaw-dropper, even if it splits opinions and alienates some championship loyalists. And with the top teams having strongly backed DeltaWing, which was commissioned and funded by Ganassi originally, rejecting the project risks causing friction.
Even though that's all a matter for the future, with the 2012 rules decision due in early summer, the debates and the ramifications are set to dominate the IndyCar news agenda.
But the track action should not be overlooked, for there is a huge amount of quality in the field, and the potential for a five-way title fight between Penske trio Will Power, Helio Castroneves and Ryan Briscoe, and Ganassi's champion pair Dario Franchitti and Scott Dixon.
Dreyer & Reinbold hopes that ramping up its technical facilities and recruiting Justin Wilson can make it a shock title contender too, while KV Racing expects to be a bigger threat with Takuma Sato and EJ Viso on board, and possibly some combination of James Rossiter, Paul Tracy and Mario Moraes involved too.
IZOD has brought Ryan Hunter-Reay to the reorganised and slightly renamed Andretti Autosport team, which could help turn the struggling squad around and be the career break Hunter-Reay needs - although he's not confirmed for the full season yet.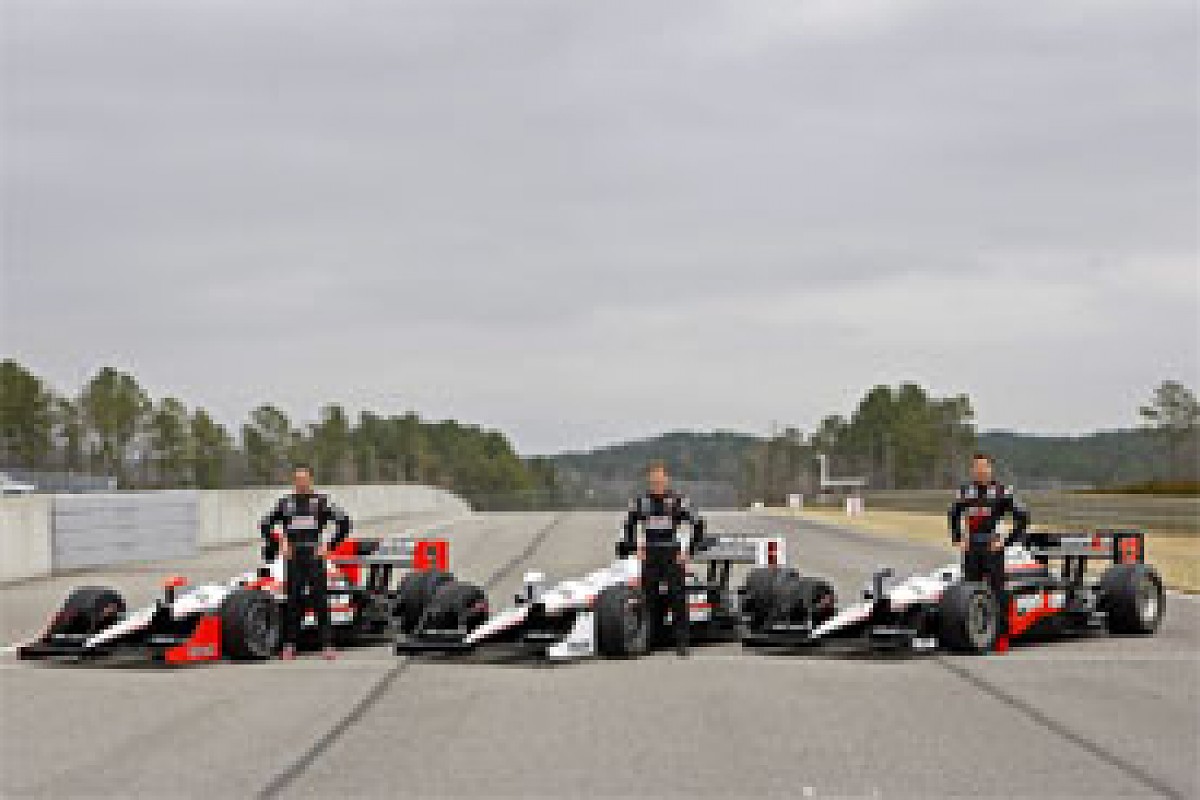 Team Penske unveils its new livery © LAT
There are other green shoots: Canadian businessman Andre Azzi's new FAZZT team brings Alex Tagliani back, Sarah Fisher Racing is expanding its programme and will run Rahal in at least two races, Conquest returns for the full season after last year's frustrating partial campaign, and although Indianapolis 500 winner and double Champ Car champion Gil de Ferran couldn't pull off his original plan of running a two-car De Ferran Motorsports team in IndyCar, he has joined forces with Luczo Dragon Racing, which retains 2009 rookie of the year Raphael Matos. The partnership will also run Davey Hamilton at three races - including Texas, the scene of his leg-shattering crash in 2001.
And the IndyCar teams' equal opportunities approach deserves plenty of praise. HVM has signed Atlantic star Simona de Silvestro and Indy Lights race winner Ana Beatriz is in at Dreyer & Reinbold for the opener at least. With Danica Patrick still contesting the full IndyCar schedule around her NASCAR exploration, Milka Duno entering every round for the first time and Fisher around more often, there could be five female drivers in the field at times.
On the down side, Newman/Haas/Lanigan's hopes of running three cars for Rahal, Alex Lloyd and Hideki Mutoh were dashed when sponsor deals fell through, so it will only field the latter, and last year's underdog hero Dale Coyne Racing could be less of a threat. Wilson has gone to DRR, engineer Bill Pappas is now at KV, and Duno is Coyne's only confirmed driver so far. It has Boy Scouts of America backing for a second car, which Lloyd will drive at the topener. The team also recently tested Indy Lights champion JR Hildebrand.
With Hildebrand yet to get a break and Tony George's Vision Racing failing to find sufficient sponsorship and therefore sidelining Ed Carpenter, American representation is at an all-time low. Patrick and Marco Andretti are the home nation's only confirmed full-time drivers at present - and that's bad news because US open-wheel racing is at its best when it has a healthy blend of international talent and US stars.
It's hard to see where the next generation of Americans is coming from. The Atlantic Championship has folded, its champion Jon Edwards couldn't find the funding required for IndyCar so is off to Grand-Am's GT class, and Indy Lights only had 13 cars at its pre-season test - and only one with an American in the cockpit.
The Indy Racing League's 'Road to Indy' promotion aims to bring F2000, Star Mazda and Lights properly into the fold, but needs to show results quickly if it to convince young US drivers that it's worth following the Indy ladder rather than heading for NASCAR.
And it all comes back to that central conundrum Bernard and the IRL must solve this year: if the costs come down and the championship's profile and therefore sponsorship value rises, then it's going to be a lot, lot easier to convince US companies and talents that the open wheel route is where they must be.